"I think what impacted the game the most was Wisconsin -- how they play."
That's what John Calipari said Saturday after his team was denied a 39-0 clip in its 71-64 national semifinal defeat. "How they play" is about as perfect as it gets in college basketball: Wisconsin spreads the floor, defends and executes. Saturday night was classic Bo Ryan basketball, and it's the reason I picked Wisconsin to upset Kentucky.
Wisconsin's Big Ten counterpart, Michigan State, was completely outclassed by Duke, falling 81-61 in the other Final Four game. Now, we've got a rematch of a regular season tilt between the Badgers and Blue Devils.
Let's take a look at what you need to know entering Monday night's final between the two No. 1 seeds.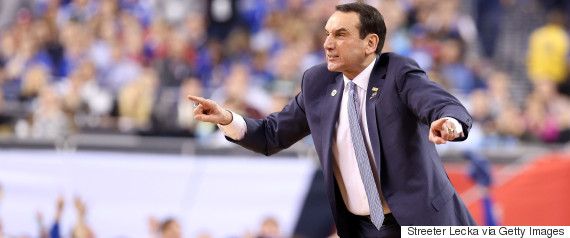 Bo Ryan and Mike Krzyzewski both have four national championships. The only difference is that Ryan's four came at the Division III level. But don't let that fool you. Ryan's brilliance as an offensive tactician is undeniable, but this season was his best because of what he didn't do.
That's right -- Ryan's trademark "swing" offense has won him a ton of games in Madison, but Ryan moved away from it this season with the immense talents of 7-footer Frank Kaminsky. Kaminsky, in turn, earned AP Player of the Year honors, and the Badgers played with more pace than any previous Badger team under Ryan.
Moreover, the strategy generated the No. 1 adjusted offensive efficiency clip in all of college basketball, per KenPom. Kaminsky's ability as a scorer in the low block and on the perimeter presents a slew of matchup problems for the opposing bigs, which then opens up driving lanes for Sam Dekker. The Kaminsky-Dekker duo is as good as it gets, perhaps with the exception of Jahlil Okafor and Justise Winslow. In fact, how Dekker and Winslow handle each other on both ends could determine this game.
Coach K made a point very early in the season about the 6-foot-6 Winslow comparing favorably to Dwyane Wade. As good as Okafor has been, Winslow gives Krzyzewski a tremendous two-way weapon that will go after Dekker for 40 minutes. As a result, Duke frequently plays through him, and opens the floor for him and Okafor to play the two-man game. Per KenPom, the Devils rank third nationally in adjusted offensive efficiency.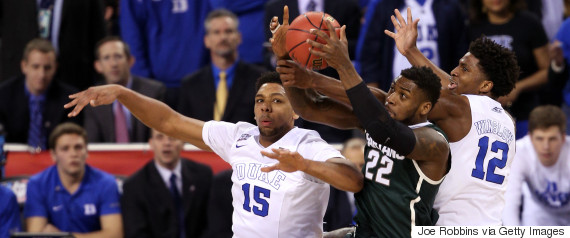 We talk a lot about Duke's offensive prowess, and it's the reason I picked them to win it all. But what has made this team truly special is a defense that morphed from average to great over the past several weeks. And remember, this change comes on the heels of one of the worst defensive stretches of any team in recent memory under Coach K -- at one point this year, the 68-year-old Hall of Famer had to employ a zone because his team simply could not consistently produce stops.
But during its five NCAA Tournament wins, Duke has limited its opponents to 55 points per game on a miserable 37.6 percent shooting. It even held Gonzaga -- which ranked first in field goal percentage this season -- to 44 percent.
Okafor, while still a work in progress as a defender, has made a vast improvement, challenging more shots at the rim and becoming more active in the paint. Little-used reserves Amile Jefferson (think Lance Thomas) and Marshall Plumlee (think Brian Zoubek) are hedging high ball screens 25 feet from the hoop. Michigan State, which had been out-executing everyone in the tournament, shot a miserable 22 percent from 2-point range in the first half.
During March, Wisconsin has been equally impressive on that side of the floor, winning the Big Ten Tournament for the first time since 2008, and then winning five more games to reach Monday night. The Badgers play a similar style of rugged man-to-man defense, relying on bigs to aggressively hedge ball screens and on a litany of selfless rotations to avoid surrendering open 3s. Against Kentucky, they allowed just three successful 3-pointers, eliminating both kick-out triples and second-chance points.
Ryan demands tremendous discipline on both sides of the floor, and his kids respond. Duke is an offensive juggernaut featuring three potential lottery picks -- including freshman point guard Tyus Jones -- and a monumental defensive effort will surely be required from Bucky.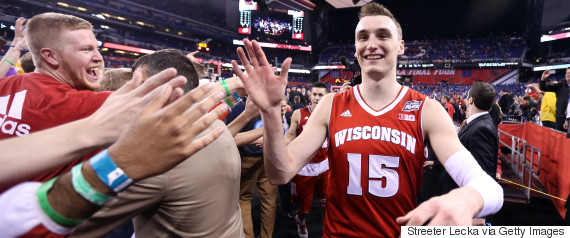 It feels like an eternity ago, but don't forget that on Dec. 3, the Dookies went into the famed Kohl Center and physically manhandled Wisconsin, emerging victorious 80-70, while shooting 65 percent from the floor. Dekker scored just 5 points, and his team was held to under 41 percent shooting -- an almost impossible number for a team coached by Bo Ryan.
Since then, the Badgers have not only lost just twice, they've also changed point guards, shifting away from previously injured senior Traevon Jackson to sophomore Bronson Koenig. The bigger and more efficient Koenig has helped provide a calming influence, and he's a superior 3-point shooter who converts nearly 41 percent. He is flanked by another physically tough guard in senior Josh Gasser, a 1,000-point scorer who gets it done on both ends. In the months since the Duke loss, 6-foot-7 sophomore forward Nigel Hayes -- who scored 4 points against Duke -- has emerged as a potential first-round pick while shooting a sensational 50 percent from the floor.
Oddly enough, it was Rasheed Sulaimon -- the first player ever to be dismissed from a Coach K team -- who helped lead the charge in that game, totaling 14 points. Sans Sulaimon though, the Devils have leaned heavily on sophomore Matt Jones, who has responded in a big way. Jones has fully lived up to his reputation as a knockdown 3-point shooter, while also assuming the role of defensive stopper and all-around glue guy.
Jones and senior Quinn Cook (think Nolan Smith) will undoubtedly have to play well on Monday night. But if the Devils get added offense from Jones, it's a huge plus. His quality play allows Coach K to go small and switch 1-4 defensively. The key though, is the play of Okafor, who is like Kaminsky in that nobody can guard him without a double team.
Krzyzewski spoke after the Michigan State win about adapting to personnel. He has done just that this year with the 6-foot-10 Okafor, telling his team to play through the post and force opposing coaches to decide whether or not they want to guard him with one defender or with a double, which leads to open 3s.
Email me at jordan.schultz@huffingtonpost.com or ask me questions about anything sports-related at @Schultz_Report, and follow me on Instagram @Schultz_Report. Also, be sure to catch my NBC Sports Radio show "Kup and Schultz," which airs Sunday mornings from 9 to 12 EST, right here.
REAL LIFE. REAL NEWS. REAL VOICES.
Help us tell more of the stories that matter from voices that too often remain unheard.