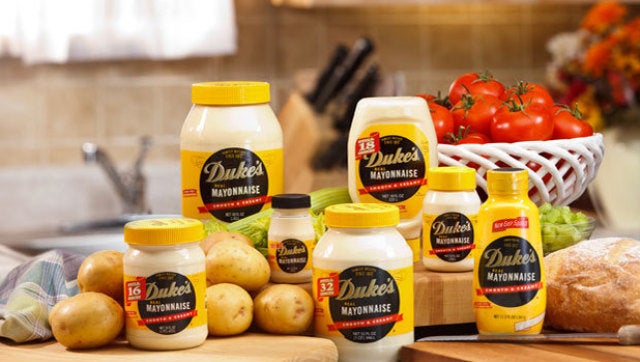 I didn't know that I could feel this way about mayonnaise. Collectively, we at HuffPost Taste absolutely believe that there are foods to carry flaming torches for. For some of us, it's green chile. For others, avocados. We all have pretty special and important feelings about cheese. Until recently, mayo was a food that I liked, but never really gave a second thought to talking about with anything resembling spirit or gusto. That is, until I met Duke's Mayo.
Duke's Mayonnaise is a staple of the southern diet. Some would go so far as to call it THE mayo of the south (southerners, if that is not correct, feel free to let us know). According to Duke's, this is how they came to be:
The legacy of Duke's began nearly a century ago in 1917 during WWI when Mrs. Eugenia Duke of Greenville, South Carolina spread her homemade mayonnaise on sandwiches she sold to soldiers stationed at nearby Fort Sevier. Her sandwiches and the mayonnaise that gave them their special flavor, became so popular that soldiers wrote to Eugenia requesting her recipe. Eugenia also sold sandwiches in drugstores and eventually, a local grocer agreed to take a few bottles of her mayonnaise on consignment. The volume of orders continued growing until she progressed from operating out of her kitchen to a separate outbuilding on her property.

Eugenia finally invested in a delivery truck on the day that she sold her eleven thousandth sandwich.
Is that story mythologized? Probably. Do we care? Absolutely not. Because even after being sold to larger food production outlet, The C.F. Sauer Company in 1929, the recipe has remained largely unchanged. What's so special about the recipe, you ask? It's missing something -- sugar. Duke's is the only mass-produced mayo on the market without any natural or artificial sweeteners and it makes a huge difference. It is the reason that a tomato sandwich is better than the sum of its parts(it's been called the best sandwich in the universe by Eatocracy), and has helped me make the best deviled eggs that have ever come out of my kitchen.
Now for the bad news: unless you live in the Southern or Southeastern U.S., Duke's can be hard to come by in stores. But, because Duke's knows just what a gem they have, you can order some up on their website. For those of us in the New York area, you can find your jar of Duke's at Brooklyn's Court Street Grocers.
Run, do not walk, to Duke's Mayonnaise.
*Please note, as with all our regional food love-affairs, this post has been neither sponsored, nor influenced by the company mentioned. There is no sponsorship that could incite love this nerdy.