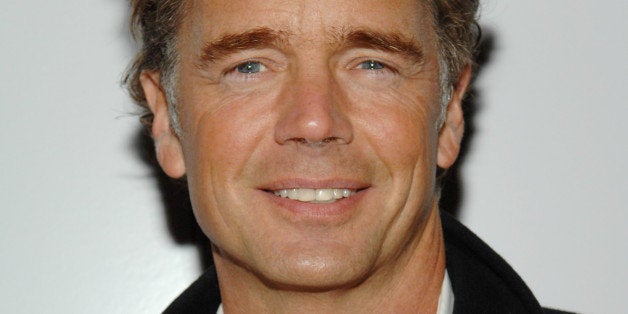 "The Dukes of Hazzard" star John Schneider is furious over TV Land's recent decision to pull his classic series from the air. In the midst of a national debate over the use of Confederate imagery, he interprets the scheduling change as an unfortunate response to recent public outcry that threatens to demean the legacy of the show.
"'The Dukes of Hazzard' was and is no more a show seated in racism than 'Breaking Bad' was a show seated in reality," he told The Hollywood Reporter in a Wednesday interview. The actor, who played Bo Duke from 1979 to 1985, lamented that the show's positive values were being ignored in favor of broad, unwarranted accusations of racism.
"Are people who grew up watching the show now suddenly racists?" he asked. "Will they have to go through a detox and a 12-step program to kick their 'Dukes' habit? 'Hi ... My name is John. I'm a Dukesoholic.'"
Schneider also tweeted about the controversy, posting a photo of accused Charleston shooter Dylann Roof burning the American flag while wearing a Gold's Gym tank. "I am grossly offended by flag burning. But ... is the Golds Gym logo to be considered a symbol of racism as well now?" he wrote.
Though he told The Hollywood Reporter that he was "kidding, of course," Schneider maintains that the show's frequent use of the Confederate flag has nothing to do with race or racism. "I am saddened that one angry and misguided individual can cause one of the most beloved television shows in the history of the medium to suddenly be seen in this light, he said. "Come on, TV Land, can't we all just watch TV?"
"Our beloved symbol is now being attacked in a wave of political correctness that is unprecedented in our nation of free speech and free expression," Jones wrote in an extended, all-caps Facebook post. "Activists and politicians are vilifying Southern culture and heritage as being bigoted and racist. We know that is not the case. And we know that in Hazzard County there was never any racism."
TV Land confirmed Wednesday that it had removed all reruns of the show from its schedule, but did not comment on the motivations behind that decision.
CORRECTION: A previous version of this article misidentified Ben Jones as "Bob Jones."
REAL LIFE. REAL NEWS. REAL VOICES.
Help us tell more of the stories that matter from voices that too often remain unheard.