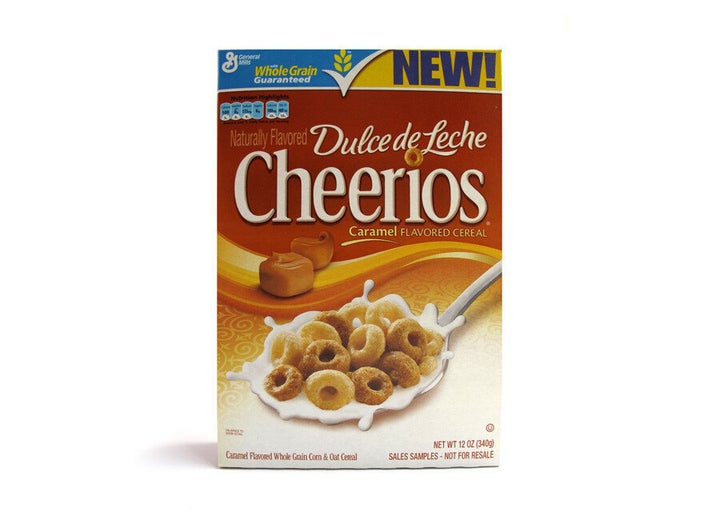 We can totally get down with Honey Nut Cheerios. Apple Cinnamon Cheerios have a special place in our heart. And, of course, the original flavor is as good as ever. But when a sample box of Dulce de Leche Cheerios arrived at HuffPost Food HQ, we were a little taken aback. That's right, folks. Dulce de Leche Cheerios. It's traditional Latin American flavor meets classic American cereal. We were all excited to try it.
Unfortunately, our high expectations were dashed as soon as put Cheerios to lips. "I think these would be a great substitute for Rice Krispies Treats -- they seem better suited for a dessert than for breakfast," said one editor. Another went even further, "I am seriously disappointed in Cheerios. I hope the experience of eating these milk caramel loops have not forever ruined my love of dulce de leche." Lastly, one taster thought that these Cheerios "vaguely reminds me of a crunchy version of butterscotch-flavored fluorine at the dentist." Ouch.
Perhaps Cheerios knows that this sweet mix may be best for other uses than breakfast (Haagen Dazs had the right idea taking the ice cream route). Included in our package was a bundle of recipes including a snack mix, popcorn balls and even a cheesecake recipe.
Some props are in order though -- it's a cool, and somewhat bold move to create a flavor that isn't necessary familiar to a lot of American palates. We can applaud the move, but just wished it actually tasted like real Dulce de Leche.
Look for Dulche de Leche Cheerios on store shelves starting January 2012.

Popular in the Community