If Dee Dee Penny's sequin nylons weren't enough, her Elvis-tinged vocals and gimlet eyed stare mesmerized those of us who expected to see the same garage rocker--torn stockings and Ray-Bans--from the End of Daze tour in 2012. But her aesthetic, along with rest of the Dum Dum Girls standing beside her, matched the sound on their new LP Too True, which is covered in a metallic gleam that sparkles brighter than their more minimalist origins.
Two years removed after nearly destroying her voice (the drawback of endless touring), Dee Dee's vocal range remained intact throughout a glistening set at the Echo on Tuesday. Her voice is now a more tender version of her trademark Chrissie Hynde motorbike rumble. But throughout the set, her distinct "All Shook Up" delivery showed a level of range you don't see from her peers--none of them have Dee Dee's pipes.
During 15 polished songs, the crowd witnessed the transformation of Dee Dee from lo-fi punk into full-blown goth queen; possessing an unearthly quality that mirrors the music on the new Dum Dum Girls LP, Too True. It was as if we'd all been transported to Bingenheimer's English disco, circa 1973, watching a star, less flamboyant than say a Jobriath or Bowie, but equally in control of her element.
"This is where it all started," Dee Dee told the crowd, reminding us that the Echo was where her vision for Dum Dum Girls first began, in front of a much smaller crowd, and during a time when nobody expected her to have this kind of presence; which is withdrawn, a bit mysterious, but all a part of her mystique as Morrisseyesque songstress.
Dee Dee, originally from L.A., is a New Yorker now, and after a few years under sunless shadows of the city's skyscrapers, her bedroom songwriting touch has evolved from sunny garage minimalism into a more moody variety of new wave that glows in the dark.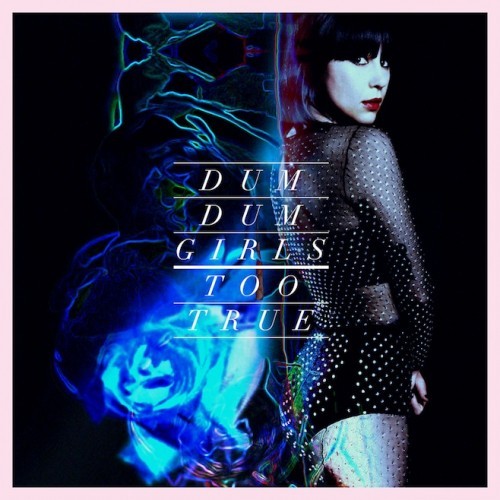 Courtesy of Sub-Pop Records

Standing next to her in a Victorian-era black dress, bassist Malia James kept Dee Dee grounded with an anchoring groove, syncing perfectly with her rhythmic sister Sandra Vu, who continues to be underrated as a drummer--she's a force of nature behind the kit. Jules Medeiros and a new guitar player (David) added the texture needed to recreate the echoing new wave cuts from Too True, such as "Rimbaud Eyes," played faster and much grittier live.
Throughout the set, which included a Pale Saints cover, Dee Dee's lips would curl as she reached deep into her lower register, "I will get stoned, cause I'm far from home," the opening words to "I Got Nothing" from 2012's End of Daze. Digging in, Dee Dee would bend her knees, shake her bangs away from her eyes, and gently sway to the beat in her vampire heels--sending goosebumps down my spine in the process. She's still got it, and any concerns about her future as vocalist should be put to rest.
Amongst the 15 songs they played that night, "Rimbaud Eyes," followed by their favorite to play live, "Season in Hell," were the most memorable points of a set that glimmered from start to finish. I just wish they would have played their brilliant Smiths cover of "There Is a Light That Never Goes Out," which is a rare Smiths cover that is better than the original. OK maybe that's going too far.
Full Set List:
Bedroom Eyes
Rimbaud Eyes

Season In Hell
Sight of You - Pale Saints cover
Related
Popular in the Community