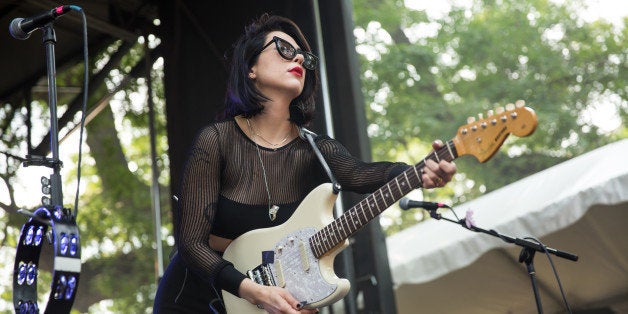 With three critically acclaimed albums and four EPs already under their belts, Dum Dum Girls are practically veterans of the indie music scene. That staying power is with good reason: this is one bad-ass, self-assured band.
But all of the praise and experience playing shows all over the globe doesn't mean the band's lead singer and songwriter Dee Dee Penny, who started Dum Dum Girls as a solo bedroom recording project in Los Angeles in 2008, doesn't still get butterflies when she meets certain fellow musicians. Particularly her heroes.
In an interview with The Huffington Post at the Pitchfork Music Festival in Chicago, Dee Dee recounted a "comical" run-in with legendary Chicago-born New Yorker Patti Smith, whose "Horses" album the singer-songwriter has cited as "the most impactful record" she's ever heard. Dee Dee moved to New York in 2012 and it wasn't too long before the two crossed paths.
Dee Dee was having lunch with friends at Souen in Soho when they saw Smith walking by. Their instinct to run out of the restaurant "and try to just say hi or something" was thwarted when it turned out the "Gloria" singer was actually coming into the same restaurant to have a meal herself.
"The hostess misunderstood what had just happened, thought we were waiting for her and offered to seat Patti at our table like she was meeting us there. We were like, 'Oh no, no, we're just fans!'" Dee Dee told HuffPost. "My husband was there and he happened to be wearing a Patti Smith shirt so there was this funny exchange where she said she wished she could open up her jacket and have, like, a picture of us on it. It was sweet and we tried to eat lunch but we couldn't because we were just thinking about her."
It's not inconceivable that other musicians would also chase the Dum Dum Girls founder down for a chance to say hello. Backstage at Pitchfork, multiple singers and other performers stopped a leather jacket-clad Dee Dee as she walked to our interview site.
That she appears unfazed by the attention stands in direct contrast to the singer-songwriter's admission that she suffered from stage fright when she first started playing in bands. That changed when Dum Dum Girls transformed from an idea into an actual band, as Dee Dee and her bandmates adopted a cool, dressed-in-black style to match their hazy '60s girl group garage-meets-shoegaze sound.
Their vibe, Dee Dee explains, was inspired in part by the recorded concerts of '50s, '60s and early '70s artists her parents were into that she heard as a child -- performers like Grace Slick, Janis Joplin, Jim Morrison, Mick Jagger and Tina Turner. The first concert she went to as a teen -- seeing Shirley Manson fronting Garbage on their first U.S. tour in the mid-'90s -- also had a "pretty severe" impact, she said.
"All those people have really compelling and captivating stage personas, but I wouldn't say that I'm trying to channel Jim Morrison or anything," she said. "I'm trying to be very present when I perform and I'm trying to convey the fact that I care about what I do. So if it translates at all, then I feel like that was somewhat of a success."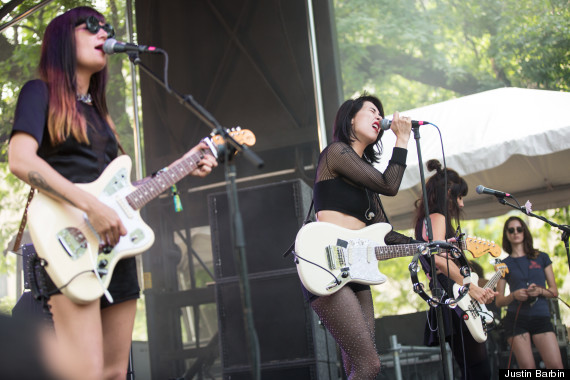 Dee Dee of Dum Dum Girls (center) during Pitchfork Music Festival at Union Park in Chicago. (Justin Barbin/The Huffington Post)
Taking the stage in the hot mid-afternoon sun at the Pitchfork festival on Sunday, Dee Dee and her band grab the crowd's attention almost immediately with "Cult of Love" off their latest album "Too True." The band's harmonies are impeccable and their presence is stoic and mesmerizing. Their swagger is tough to deny as the band strums, struts and even seems to breathe in perfect unison.
"We're kind of a well-oiled machine [now]," she said of their stage presence, laughing. "I feel like I'm charging into the world with this totally reliable and wicked battleship and I can kind of just prance around."
By the set's end -- the emotional and epic "Coming Down" off 2011's "Only in Dreams" -- the audience is theirs. When Dee Dee nails two sustained high notes at the top of her range about two-thirds of the way through the almost six-minute song, the crowd cheers. Some are in tears. It is these notes, she explained, that served as her "ultimate litmus test" for her voice as she recovered from serious vocal issues that forced her to take several months off prior to the completion and release of "Too True."
With those problems behind her, Dee Dee is now focused on whatever comes next, an immediate future that even Dee Dee admits she "has no idea" what form it will take. She said "it's no secret" an EP of cover songs could be next up beyond a handful of festival appearances later this year. She's also just starting to write some new songs.
Noting that songwriting has always come naturally to her, and that the songs on "Too True" came together "very quickly," she also said writing for the Top 40 pop world is something she finds potentially very interesting. If Beyoncé or Rihanna were to call tomorrow, those are calls she'd definitely pick up.
"I feel like [Beyoncé] is a great example of somebody trying to affect a quality, trying to inject something that maybe gets lost sometimes when they're just dealing with songwriters and artists," she said.
Meanwhile, Dee Dee and her Dum Dum Girls are ready to soldier on, one fishnet-wrapped foot after the other.
"I'm at a fun place where I have no idea what the next step is other than that I'm going to take it soon," said Dee Dee.
Before You Go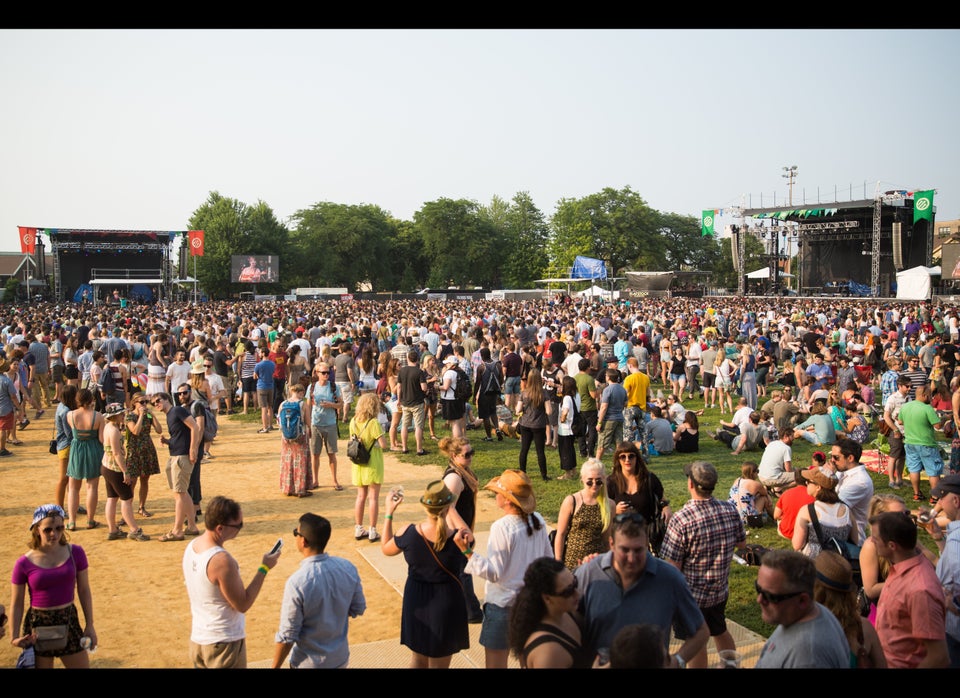 Pitchfork Music Festival 2014 -- Day 1 and 2 Photos
Popular in the Community