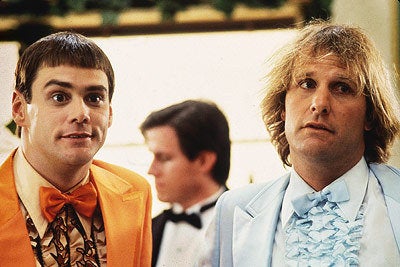 So you're saying there's a chance?
Promoting their new gross-out, relationship comedy "Hall Pass," the Farrelly brothers admitted at a press junket in Sydney that they were in the nascent stages of developing a true sequel for their mid-90's classic, "Dumb and Dumber".
"[Dumb and Dumber] has run a bunch of times on TV in the states, and kids will come up and they'll be able to quote lines from that - lines that I've long forgotten," Bobby Farrelly said (via Moviehole). "If we could get those two guys back together, Jim Carrey and Jeff Daniels that might be a worthwhile sequel - and that ball is in motion. We're starting to think about what those two dimwits would be doing twenty-years later in life, and hopefully we'll be able to come up with something worthy of a sequel."
Of course, there was the prequel film "Dumb and Dumberer," but that didn't star either Carrey or Daniels. Which made it difficult to accept as a true part of the film's canon.
REAL LIFE. REAL NEWS. REAL VOICES.
Help us tell more of the stories that matter from voices that too often remain unheard.