UPDATE: The Comedy Central show "Nathan for You" announced that it was behind the Dumb Starbucks storefront that appeared in a suburb of Los Angeles over the weekend, confirming speculation of the show's fans and this column.

Nathan Fielder, the host of "Nathan For You," said in a press conference Tuesday afternoon that the coffee shop was an undertaking for the show's second season. Fielder is reportedly to have disclosed that health inspectors would be attempting to close down the operation. Fielder stated he plans to open another Dumb Starbucks in Brooklyn in coming weeks, according to KTLA's account of the press conference. The storefront has since been closed, according to reports.
As soon as word spread around the Internet that a storefront that called itself Dumb Starbucks opened this weekend in Los Angeles, many fans of the Comedy Central show "Nathan For You" suspected that the mysterious (and probably illegal) store is the handiwork of Nathan Fielder.
For the uninitiated, "Nathan For You" was a surprise hit for Comedy Central last year. The quasi-reality show stars comedian Fielder as a consultant who gives (real) small businesses mostly terrible advice in improving their product, and its second season is currently in production.
A few examples of the show's business enrichment ideas have included:
A clothing store that encourages its customers to shoplift;
A caricature artist who specializes in racist depictions of his subjects;
A haunted house that scares attendants by making them think they have an incurable disease.
Fielder has fooled the press before, as well. Before the show aired, he made a YouTube video for a petting zoo that showed a pig rescuing a baby goat. The video, which was completely staged, spread quickly on the Internet and beyond before it was revealed to be a hoax on an episode of his show. He's also gotten media attention for his tweets that encourage his followers to deceive their friends and family with odd text messages.
So how does this prove that Fielder's show is behind Dumb Starbucks? It does not, of course, and a representative of Comedy Central has not yet returned The Huffington Post's email asking for comment. But plenty of circumstantial evidence points to Fielder's involvement.
First of all, Dumb Starbucks appears to be suspiciously well funded. Based on reports, the store looks exactly like a real Starbucks, both inside and out, with the exception of the word "dumb" appearing in front of the names of the drinks. Even small details, like CDs, appear to be painstakingly crafted to reflect the "dumb" branding. Plus, the store is only giving away free coffee and lattes -- i.e., it's devoted most of its resources to visual elements that would show up on camera. While an independent art collective may not have the resources to devote to an esoteric and risky project like this, a large corporation -- such as, say, Comedy Central, which is owned by Viacom -- may be more willing to devote funds to such an endeavor.
Speaking of resources, the legality of this project is shaky at best. Dumb Starbucks provided a disclaimer explaining that the storefront falls under fair use laws, but as Luke O'Neil at Gawker points out, fair use is a defense against copyright infringement, not trademark, which protects things like corporate logos. Again, a smaller company might be afraid of the legal ramifications of a Starbucks lawsuit, but Comedy Central and its lawyers would be less likely to cower. (Starbucks has said that they are "evaluating next steps" regarding the store's legality.)
Finally, the manner in which word spread appears to fit right in the wheelhouse of "Nathan For You." The store opened in the L.A. neighborhood of Los Feliz, an enclave known for its young, artistic habitants. If the show's intention was to attract curious customers and press, they would be wise to place it in a place where creatively-minded twentysomethings would be attracted to such a wild, comedic stunt. It's worth noting that the well-known comedy hub Upright Citizens Brigade Theatre is located less than two miles away from Dumb Starbucks.
This is all speculation. Many of these arguments could be used for any TV show or movie who want to take a possibly illegal risk to create viral sensation. But "Nathan For You" is the most likely property where this type of stunt sounds like it would fit into its defined sensibility. On its own, Dumb Starbucks has people scratching their heads about its meaning, but within the context of a comedic segment on the show, the stunt will likely make more sense as an outrageous prank intended to attract customers and attention. And they appear to be correct.
Before You Go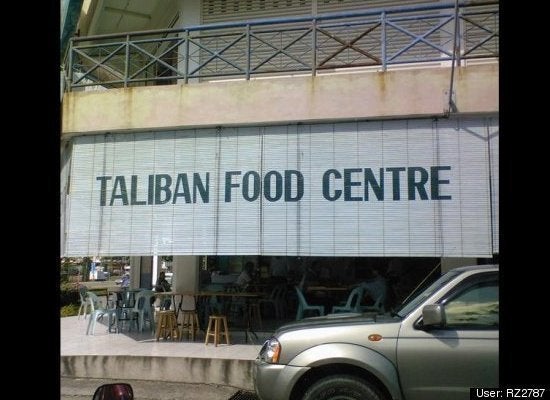 The Most Inappropriate Business Names
Popular in the Community