A new "Starbucks" has opened up in Los Angeles. Ordinarily, that wouldn't be news, but this isn't an ordinary Starbucks -- it's plain old dumb.
In Los Angeles neighborhood Los Feliz, a coffee shop named "Dumb Starbucks" opened over the weekend. Everything is a mirror image of the regular Starbucks, except the two aren't affiliated.
How did they get away with the concept without being sued? Parody law.
According to their FAQ, which was posted on Forbes, "Although we are a fully functioning coffee shop, for legal reasons Dumb Starbucks needs to be categorized as a work of parody art. So, in the eyes of the law, our 'coffee shop' is actually an art gallery and the 'coffee' you're buying is considered the art. But that's for our lawyers to worry about. All you need to do is enjoy our delicious coffee!"
According to one patron, the lines to get into the "Dumb" coffee shop are up to an hour long -- and the coffee isn't nearly as good as the real thing. "This is pretty awful," an unnamed patron told KCAL9 of their latte.
Here are people waiting to get into the coffee shop:
Check out these "Dumb" CDs:
And here's the drink menu. Guess we'll see how long this lasts before Starbucks' lawyers get to it.
UPDATE: February 10, 11:00 a.m. -- On Monday morning, a Starbucks spokesperson told The Huffington Post that the company is aware of the Dumb Starbucks store. "It is not affiliated with Starbucks," the spokesperson wrote in an email. "We are evaluating next steps and while we appreciate the humor, they cannot use our name, which is a protected trademark."

Related
Before You Go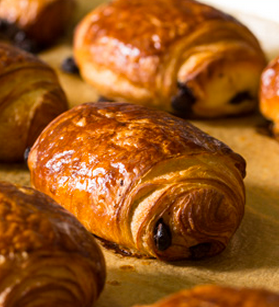 Starbucks' New Bakery Offerings From La Boulange