Here's a list of ingredients from two similar snack products. Compare the following two lists and tell me which you'd rather eat:
Product A: Whole corn, vegetable oil (corn, soybean, and/or sunflower oil), salt, cheddar cheese (milk, cheese cultures, salt, enzymes), maltodextrin, wheat flour, whey, monosodium glutamate, buttermilk solids, romano cheese (part skim cow's milk, cheese cultures, salt, enzymes), whey protein concentrate, onion powder, partially hydrogenated soybean and cottonseed oil, corn flour, disodium phosphate, lactose, natural and artificial flavor, dextrose, tomato powder, spices, lactic acid, artificial color (including Yellow 6, Yellow 5, Red 40), citric acid, sugar, garlic powder, red and green bell pepper powder, sodium caseinate, disodium inosinate, disodium guanylate, nonfat milk solids, whey protein isolate, corn syrup solids.
Product B: Whole navy beans, whole grain rice, pure sunflower and / or safflower oil, cheddar cheese blend [cheddar cheese (pasteurized milk, cheese cultures, salt enzymes) whey, buttermilk, annatto], sea salt, tomato powder, onion powder, garlic powder spices, lactic acid, paprika, citric acid guar bean gum
So which of these nacho cheese chips would you rather put in your body: Product A, Doritos or, Product B, Beanitos? I think most people would opt for the Beanitos given the choice, but the fact is that Doritos, Cheetos, Fritos and several more of Frito-Lay, PepsiCo's snack brands earn about $1 billion dollars worldwide each! Unless a product is laced with pure gold, it isn't easy to compete with the largest globally distributed snack food company in the world. As of 2009, Frito-Lay, Pepsi Co snack foods comprised 40 percent of all "savory snacks" sold in the United States and 30 percent of the non-U.S. market. Remember, 2009 was considered a bad year for the economy. This all sounds good if you want to invest in their stock, but definitely not stuff I want to put in my body.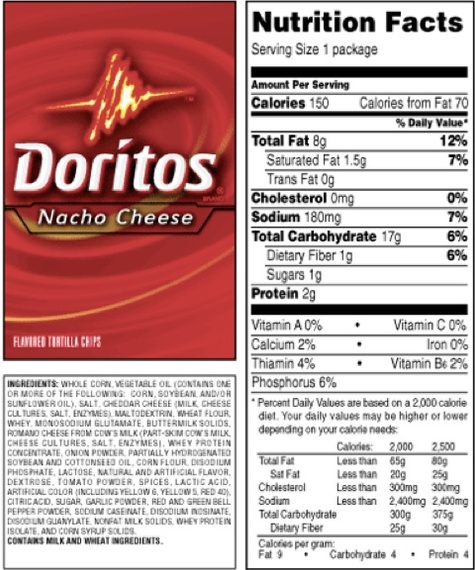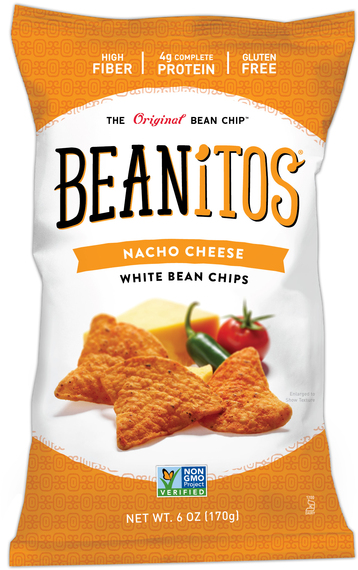 If you never have cravings for salty or savory snack foods, then you can stop reading right now. But if you're mostly human, there are times when you stop by a convenience store or vending machine and those bags of chips look awfully appetizing. Maybe you buy a bag. You dive in and have your fill, after all, you can't eat just one. Then the guilt sets in because even before you turn the bag over and look at the nutritional information and the list of chemically engineered, hard to pronounce ingredients, you knew you did a bad thing.
The makers of natural food products know how you feel. Healthy, minimally processed snack foods with natural (many non GMO) ingredients are not only available but are plentiful. Check out the Natural Products Expo sometime and your head will spin. There are corn chips, bean chips, bean puffs, quinoa chips, egg white (high protein) chips, popcorn, popcorn chips and more. These snacks have more fiber, less bad fat, usually less calories and taste a whole lot better than the junk food brands that are teeming with preservatives that will hold them together until the next ice age.
I remember around 10 years ago, the options for healthy, yet tasty snacks were limited and only available at stores like Whole Foods, Trader Joe's and specialty health food shops. Now that there are so many more choices, where are they all? The problem says Doug Foreman, founder and chairman of Beanitos (who make bean chips and bean puffs) is, "when a consumer is in the chip aisle he is going to see 99 percent of the shelves stocked with Frito-Lay products. Many of those have been around for years and have loyal followers. Products like Beanitos have to fight for that same space so consumers can find us." And, Foreman adds, it's hard to get consumers to buy a new product they're not familiar with until they've tried it. So it will no doubt take some more time before his products and other better for you snack brands like, Hi I'm Skinny, Gourmet Basics, Salvéo, Simply 7, Angie's Boom Chicka Pop to name just a few, will share equal real estate on the snack food shelves of major chains. But demand is growing as consumers are starting to take greater stock of their health and what goes into their bodies.
And the natural snack market in the U.S., according to the Nutrition Business Journal, generated $1.9 billion dollars in sales in 2012, a 16 percent increase from the previous year. Not too shabby!
Overall, the future looks bright for the companies providing us with healthy product choices. According to the NEXT: Natural Products Industry Forecast 2014, the natural products industry is projected to grow 51 percent to $226 billion by 2018.
Are you listening, Stephen Colbert? It's time to ditch those Doritos and start supporting the movement for low guilt snack foods!
Calling all HuffPost superfans!
Sign up for membership to become a founding member and help shape HuffPost's next chapter