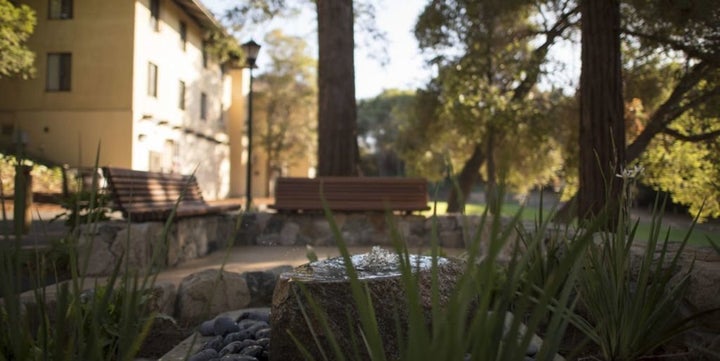 Stanford University turned the dumpster site where Brock Turner sexually assaulted an unconscious young woman — known as "Emily Doe" to protect her privacy — into a tranquil, reflective space thanks to the efforts of one law professor.
Turner sexually assaulted Doe behind a dumpster after a fraternity party on Stanford's campus in January 2015, and he was convicted of three sexual assault felonies in March 2016. After being sentenced to serve only six months in prison — which caused a public outcry, as well as petitions to recall Judge Aaron Persky — Turner was released for time served after a mere three months. He's required to register as a sex offender, according to CNN.
At Turner's sentencing, Doe shared a powerful 12-page letter, which Santa Clara County District Attorney Jeff Rosen called "the most eloquent, powerful and compelling piece of victim advocacy that I've seen in my 20 years as a prosecutor," according to Palo Alto Online.
In the letter, Doe talked about the severe damage the sexual assault caused her, saying that she has been "irreversibly hurt." "You have dragged me through this hell with you, dipped me back into that night again and again," she wrote. "You knocked down both our towers, I collapsed at the same time you did. If you think I was spared, came out unscathed, that today I ride off into sunset, while you suffer the greatest blow, you are mistaken. Nobody wins. We have all been devastated, we have all been trying to find some meaning in all of this suffering. Your damage was concrete; stripped of titles, degrees, enrollment. My damage was internal, unseen, I carry it with me. You took away my worth, my privacy, my energy, my time, my safety, my intimacy, my confidence, my own voice, until today."
Although Doe will carry the trauma of that night with her for the rest of her life, Michele Landis Dauber, who is the Frederick I. Richman professor of law at Stanford University and a family friend of Doe's, wanted to do something positive for her. With Doe's permission, Dauber proposed transforming the site of the sexual assault into a contemplative space. The project was approved by Stanford, and the dumpster site has now been replaced with benches and a fountain. Soon a plaque will feature a portion of Doe's letter.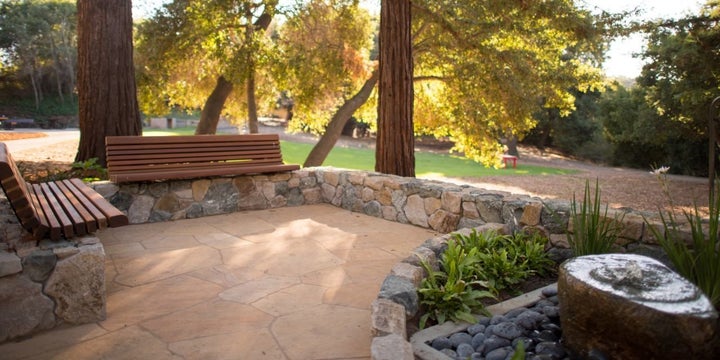 "I felt that the dumpster had become a symbol of campus rape and that to leave the space without interpretation would invite fear and confusion on the part of vulnerable students," Dauber tells Yahoo Lifestyle. "By interpreting the space as we have with a calming area and a plaque, Stanford admits that this happened here but invites a response that centers on the experience of the survivor and allows students to grapple with those events in a meaningful way."
What does Dauber hope students will take away from the site as they walk past it or sit there? "Students will have to come to their own conclusions about the events that transpired in this space. The space and the marker with the survivor's quote on it invite them to ask what their role would have been in these events or other similar events. By locating the marker where the assault occurred, students are reminded that these events are happening just steps from the back door of their residence. It reminds them that two students intervened but that many didn't even notice, perhaps prompting them to be more aware of what is happening around them. The location of the marker is an integral part of its meaning to me."
Alexis Lynn Kallen, a student at Stanford University and an office assistant at the WSD Handa Center for Human Rights and International Justice, supports the new site.
"While many students are holding back to speak up about this memorial, I am very in favor of its construction," Kallen tells Yahoo Lifestyle. "I think building the memorial in the form of a park was successful in serving as a reminder of the dangers of violence, but will not be too triggering to survivors or people walking by."
She adds, "Many parties happen in this area, where sexual assault often occurs, and I think it is important to remember the horrible sexual assaults that have happened and continue to happen at Stanford. It is my hope that this will be a reminder of the importance of consent and respect that we need to work towards on this campus, and the battle we are constantly fighting against campus sexual assault."
Kallen tells Yahoo Lifestyle that she also hopes the contemplative space "encourages [students] to step up and hold a higher campus standard around intolerance of sexual assault this year and in the years to follow."
The Stanford fraternity Kappa Alpha, whose party both Doe and Turner (though he wasn't a member) attended on that fateful night, released a statement about the memorial to the Stanford Daily, saying the fraternity "wholeheartedly agrees with the administration's decision to place a contemplative space that brings awareness of sexual assault to the greater community."
Laurie Richer, professor of clinical psychology and medical director of UCSF's Trauma Recovery Center, says that removing the dumpster and creating a quiet spot in its place "eliminates triggers" for sexual assault victims. She adds that the project is both "beautiful and unique."
"When women are sexually assaulted — and I see at least 250 a year as the medical director at the [UCSF] Trauma Recovery Center — there are so many triggers," Richer tells Yahoo Lifestyle. "Visual triggers, physical triggers. I think it's perfect to remove the dumpster and remove any kind of trigger that is a violent reminder of what happened."
Richer also applauds the inclusion of a plaque bearing Doe's words. "I think it's a great idea to put some of her words up," she says. "Anything that brings awareness to the problem is great and having her words there as a survivor is empowering and will facilitate her recovery."
For Dauber, who championed the project, the contemplative space not only helps promote healing but will also serve as a reminder of what happened for years to come. "Long after the victim and Brock Turner and Aaron Persky are forgotten," Dauber says, "this marker will remain as a reminder of both what happened here and the impact it had on her and on Stanford."
Read more from Yahoo Lifestyle: