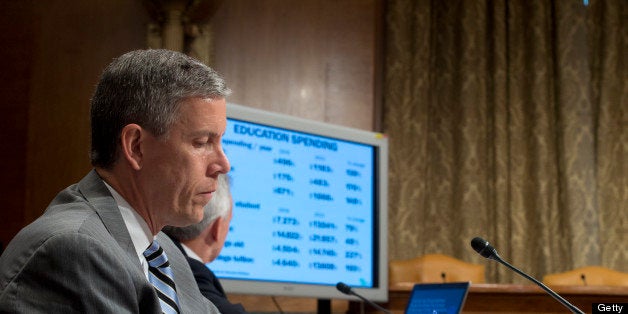 In what some see as a tacit recognition of the Obama administration's overreach into nitty-gritty management of America's schools, U.S. Secretary of Education Arne Duncan will give states a reprieve from certain aspects of teacher evaluations' consequences and the new wave of testing tied to the Common Core.
Duncan said Tuesday that he will allow the first two groups of states that received waivers from the No Child Left Behind Act to seek an extra year, until the academic year 2016-2017, before they give their teacher evaluations teeth by applying them to personnel decisions.
"Ensuring that educators are well prepared to implement those new standards is critically important," Duncan said. "After listening to teachers and education leaders, we are providing additional flexibility to states." He added that this will allow reforms to continue "on pace," but that states will "have some flexibility" in when they start "using student growth data for high-stakes decisions."
The announcement comes smack between the U.S. Senate and House hearings on clashing bills that would overhaul No Child Left Behind, replacing the current waiver system with a more coherent law. The debate between these dueling bills centers on the federal government's role in America's schools. No Child Left Behind dramatically increased that role, and now policymakers are trying to pull back -- Republicans more than Democrats. Sen. Lamar Alexander (R-Tenn.), a former U.S. education secretary who now serves as the Senate education committee's ranking member, has taken to calling the administration a "national school board" because of its prescriptive role in managing schools.
"I couldn't even make this stuff up," Rep. John Kline (R-Minn.), who chairs the House education committee, said in an interview Tuesday as he learned of Duncan's announcement. "It underscores the problem with this conditional waiver thing. That's why we need to fix the law now so that every state and every district and every school knows what the law is, instead of wondering what the secretary will do next."
Over the next few years, most states are expected to dramatically modify the way they teach students and run their schools, largely inspired by the federal government's incentives.
Most states, spurred by the administration's Race to the Top competition and commitments they made to the White House in order to receive a waiver from the most stringent parts of the No Child Left Behind Act, are setting up systems that evaluate teachers in accordance with their students' scores on standardized tests. Because of the waivers' strings, many states are also using new systems to hold their schools accountable. States are attaching consequences to these evaluations, using the ratings, instead of seniority, as a prominent factor in hiring, firing and promotion decisions. Many have signed on to the Common Core, a set of learning standards in math and reading. Most states have also agreed to change their own standardized tests to align with the standards.
These reforms have been set in motion for years, but recently, as the rubber hits the road with the new tests rolling out in 2013, the outcry has been magnified. Schools are grappling with all of these demands amid an escalating fiscal crisis. The message, coming from teachers, their unions and other advocacy groups, is clear: Too much is changing simultaneously. Protests against the Common Core standards have grown louder, with states' rights advocates saying they undermine local control and progressives saying they reduce teachers' independence. This spring, Randi Weingarten, president of the American Federation of Teachers union, asked for a moratorium on the consequences associated with the new tests.
In a letter sent to state education chiefs on Tuesday, Duncan said their complaints had been heard. "There is caution that too much change all at once could undermine our collective progress," he wrote. "With that in mind, the Department is open to additional flexibility for states in two critical areas: ... one particular element of teacher and leader evaluation and support system implementation, and ... 'double-testing' during the transition to new assessments."
An Education Department memo obtained by HuffPost states explicitly that "there will be no pause or moratorium in rollout of standards, assessments, and teacher leader evaluation ... or in accountability ... because the need for these changes is too urgent." But given the changes, "it is crucial that teachers and principals are well prepared for this shift."
Teachers will receive low ratings if their students show too little growth on the standardized exams, but cannot be fired for those ratings within the year of reprieve. "The waivers will not permit states to delay evaluation. They will allow states to retain bad teachers whom they have just rated as ineffective," said Tim Daly, who directs TNTP, a think tank that provides alternative certification to aspiring teachers. "We believe states should think very carefully about whether they want to do that."
In an effort to prevent double testing of students, Duncan will allow states participating in pilots of the new exams to administer only one test to every individual student in the academic year 2013-14. Because of the use of old and new tests, different schools within the same district could be held to different standards in the same year.
"It puts districts in a weird spot," said Kate Tromble, legislative director of the Education Trust, a lobbying and advocacy group that often aligns with the Obama administration. "You could have to explain to parents, 'I'm holding two-thirds of the schools accountable but not yours.' That's not something I'd want to explain."
Some expect these waivers will just lead to further incoherence. "You could have a teacher teaching the Common Core in the morning but old standards in the afternoon, which is a profound waste of time," said Daria Hall, EdTrust's K-12 director.
Dennis Van Roekel, president of the National Education Association, the nation's largest teachers union, lauded the move in an interview. "This is huge," he said. Van Roekel, who has monthly meetings with Duncan, said he has been pushing for this kind of flexibility for more than a year. While he would like to see more flexibility, he praised Duncan for listening.
At least one state chief has already decided he will not apply. "Today's announcement is not in the best interest of Florida's children and is a step backwards," said Tony Bennett, the state's education chief, in a statement to HuffPost. "We will continue to strive for full implementation of all accountability measures that have proven successful in preparing our children for the future."
But the new waivers garnered early support from Mississippi's state education chief, who appeared on a call with Duncan to boost the measure.
Support HuffPost
The Stakes Have Never Been Higher
Before You Go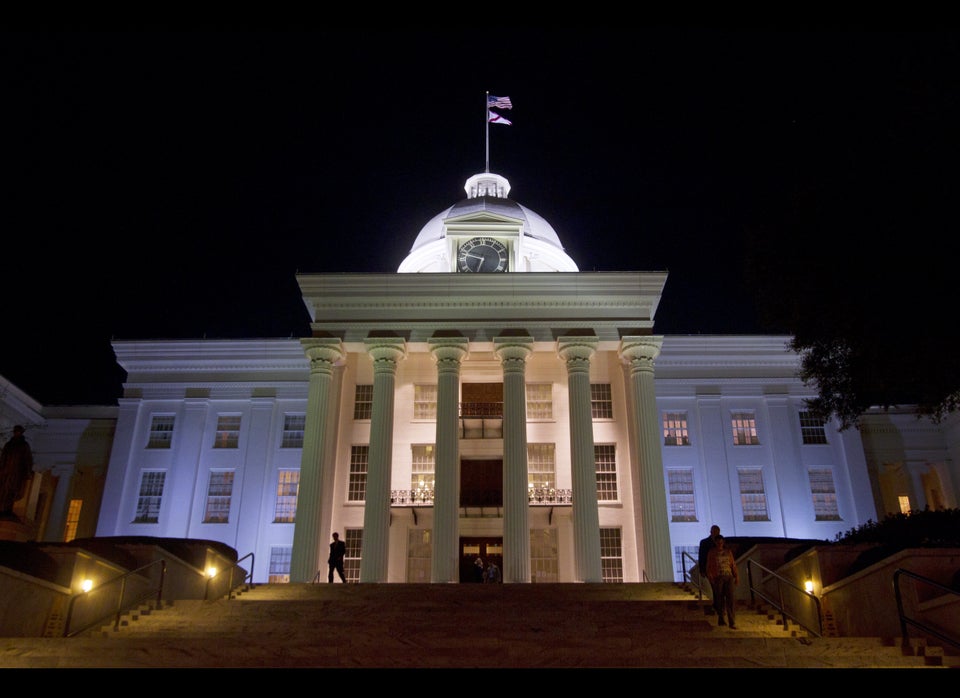 U.S. State Capitol Buildings
Popular in the Community