U.S. Rep. Duncan Hunter (R-Calif.) and his wife, Margaret Hunter, have pleaded not guilty after being indicted this week on charges of improperly spending more than $250,000 in campaign funds.
The pair were arraigned on Thursday morning in San Diego federal court on 60 charges, including conspiracy to commit wire fraud, bank fraud, the misuse of campaign contributions and falsifying records. They were both allowed to remain out of custody and released on bond, according to The San Diego Union-Tribune.
Their next hearing is scheduled for Sept. 4.
The Hunters have been accused of a yearslong campaign to conceal lavish personal expenses by hiding them as normal expenditures. Tickets to see a Riverdance performance were categorized as a fundraising event for "Republican women," shorts for the congressman were expensed as golf balls "for the wounded warriors," and $700 in dental fees became a charitable contribution to "Smiles for Life." They also allegedly spent hundreds of dollars on a plane ticket for the family rabbit to come on vacation.
Despite Hunter's $174,000 annual salary as a member of Congress, where he has served since 2009, the pair were frequently living paycheck to paycheck, according to the indictment. His personal bank account was overdrawn "more than 1,100 times in a seven-year period," resulting in more than $37,000 in overdraft and insufficient funds fees.
Hunter has defended his actions and accused the Justice Department's investigation of being politically motivated, using language favored by President Donald Trump and pillorying the charges as a "witch hunt."
"We're excited about going to trial with this, frankly," Hunter told a KGTV reporter on Wednesday. "This is modern politics and modern media mixed in with law enforcement that has a political agenda. That's the new Department of Justice."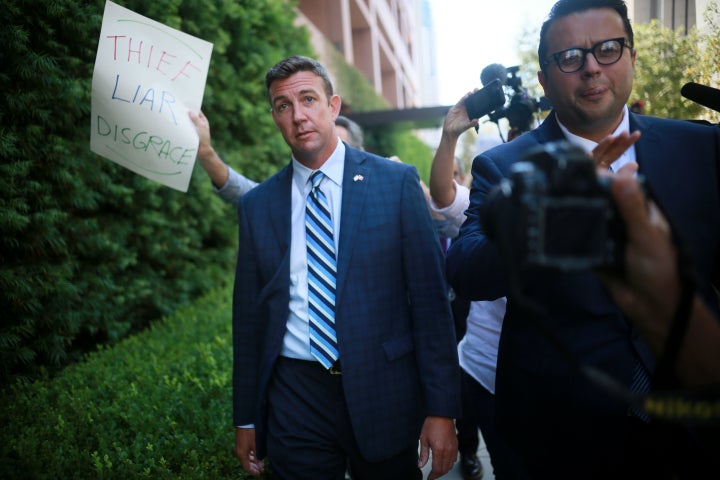 The FBI's investigation into the Hunters began more than two years ago after the Union-Tribune and the Federal Election Commission began questioning some campaign expenses. Hunter said at the time that many of the transactions were accidental and he repaid more than $60,000 to his campaign, selling his home to do so.
The lawmaker, who is up for re-election in November, was met by dozens of protesters on Thursday, some chanting "Lock him up!" and bearing signs critical of the congressman. House Speaker Paul Ryan (R-Wis.) also stripped Hunter of his committee assignments after the indictment.
His opponent, Democrat Ammar Campa-Najjar, spoke to reporters outside the courthouse following the arraignment, saying there had been "too much chaos, corruption and greed."
"My hope is to represent the people of this district and bring national pride, not national shame to this community," Campa-Najjar said, according to the Union-Tribune.
Popular in the Community