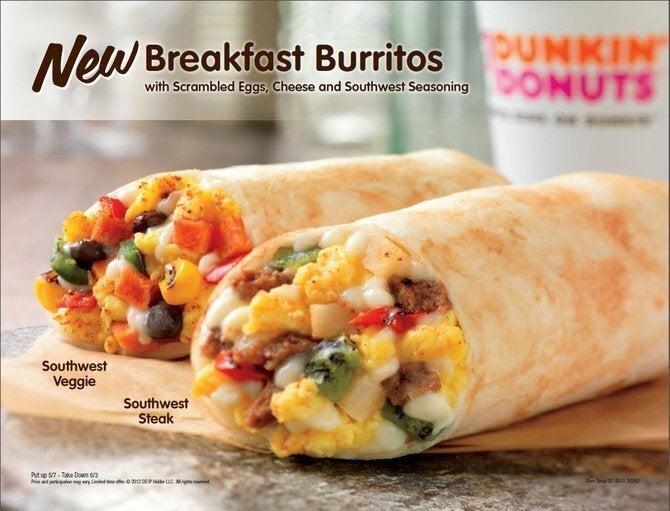 Now that National Donut Day is behind us, it's time to focus on other breakfast items. Dunkin' Donuts has been expanding its menu over the years with items like bagels and breakfast sandwiches. Now, not only is it "time to make the donuts," but it's also time to make the breakfast burritos -- a southern California favorite already made mainstream in the fast food breakfast arena by mega-chains Burger King and McDonald's. Here's how the Dunkin' burritos rate:
The Claims: Dunkin' Donuts' new breakfast burritos, filled with "scrambled eggs, cheese and Southwest seasoning," come in two varieties: Southwest Veggie, "filled with fire-roasted vegetables and southwest spices" (330 calories); and the Southwest Steak, with added steak (340 calories). Prices at participating locations may vary.
The Analysis: The ingredients of Dunkin's breakfast burritos are vague in the above descriptions. At a glance, they seem deliciously simple, but if you look up the complete ingredients list in the nutritional facts, you'll see that each of these burritos packs a whole lot more: about 20 lines of processed ingredients and fillers -- in small type. However, that's to be expected from a place that doesn't actually have ranges or skillets in their kitchen to sautée vegetables or cook scrambled eggs; the burritos are most likely factory-made and shipped to a location to be heated up.
This obviously isn't ideal, especially when you can get freshly cracked eggs prepared at hundreds of other places -- even the mega-chain fast food places with bigger kitchens -- but it is what it is. Nevertheless, if we were to ignore how these burritos were made, or how unnatural they may be, there's still the issue of taste, and there's not much here. Both options are very bland, and could use a little hot sauce -- not that every location of a place known for making donuts would even stock hot sauce. The almost flavorless steak burrito is the saltier of the two, with little bits of steak (and grill flavoring), but not much steak -- just enough to label it as such. The veggie burrito contains corn and black beans in lieu of the meat, with a pleasant, sweet corn taste dominating each bite -- which is about the only thing really going for either of these offerings, other than they'll make you full if you're starving.
The Final Verdict: D. I'm not a Dunkin' Donuts hater; the chain does things very well, e.g., the donuts, the munchkins and the coffee. I even think their bagels are decent. Although not the best out there if you live in a bagel mecca like New York City, they're steps above any of the frozen varieties out there. But when it comes to breakfast burritos, stay away. There's a reason why it's called "Dunkin' Donuts" and not "Dunkin' Burritos." The new breakfast offering isn't much of an attempt to produce something of quality, they're just something to get if you really, really can't spare the time to go anywhere else and, like the rest of America, you're already "running on Dunkin'" on any given morning anyway.