Two employees at a Dunkin' Donuts franchise in Syracuse, New York, have been fired after a viral video showed one of them pouring water on a homeless man.
Jeremy Dufresne was at the restaurant Sunday night when an unnamed employee came up from behind and dumped water on him, according to the New York Daily News.
"How many times I've got to tell you to stop sleeping in here?" the employee tells Dufresne in the video. "You're here all day."
Dufresne, who is schizophrenic and sleeps outside most nights, told Syracuse.com he was charging his phone at the Dunkin' so he could call his mom to tell her goodnight.
At some point, he put his head down, and that's when the employee dumped the water on him.
"He probably had some personal problems of his own and needed someone to talk to," Dufresne said of the worker. "And he took it out on someone else, like me."
After the video went viral, two dozen protesters gathered outside the doughnut shop on Monday and held up signs reading "Homeless lives matter" and "Homeless are human," according to Syracuse.com.
Dunkin' franchisee Kimberly Wolak issued a statement condemning the employees who did it:
"Dunkin' has been a part of the Syracuse community for many years, and as the franchisees who own and operate the North Salina Street location, we were extremely disturbed by the behavior of our employees captured in the video.

"It not only violated our written policies, but goes against our core values as an organization―which include creating a welcoming and hospitable environment and treating everyone with dignity and respect. The employees involved in the incident have been terminated, and we will be contacting the individual in the video to apologize for the negative experience.

"We also intend to work with local advocates to make sure that our employees are better educated as to how to engage with homeless individuals and where to direct them in the community for appropriate assistance."
In addition, owners are hoping to make amends to the area's homeless population by serving lunch to them on Saturday, according to Syracuse.com.
Onondaga County District Attorney William Fitzpatrick told Syracuse.com his office is considering charging the now-former employees with harassment, which carries about the same fine as a speeding ticket.
HuffPost reached out to Dunkin' corporate offices, which did not immediately respond.
Before You Go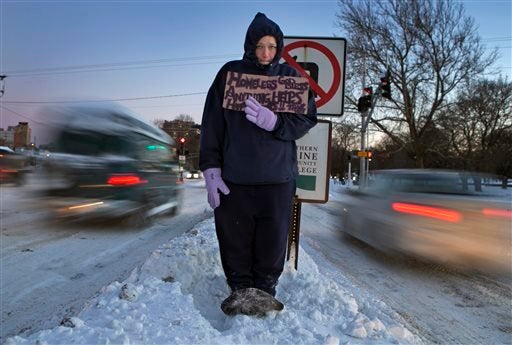 How To Help Homeless People This Winter
Popular in the Community