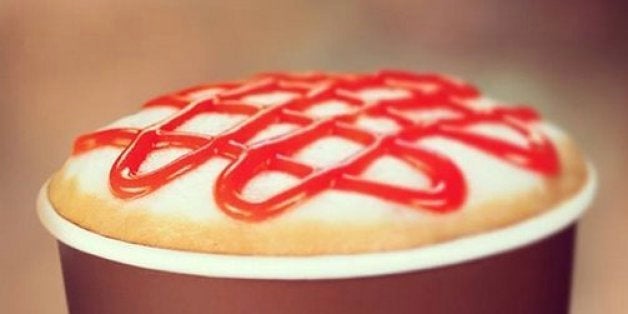 It isn't that easy to replicate a cake flavor as a latte, though. Part of the thrill of red velvet cake is the moist cake texture, especially when combined with frosting. That's lost when red velvet becomes drinkable.
The Dunkin' Donuts red velvet latte tastes like a sweet mocha. There's absolutely nothing unique about it. It's one-note and well, pretty boring. Plus, the latte isn't actually red so there's no hope of your eyes convincing your mouth that it tastes more like red velvet than it actually does.
In addition to the latte, Dunkin' Donuts has also debuted a red velvet donut. Nothing wrong with that one -- it tastes just like a normal chocolate donut that happens to be red.
Taylor Swift might be somewhat successful in convincing people that "red" is a feeling, but we're not fooled. This is just a case of unnecessary food coloring with no added taste bonus.