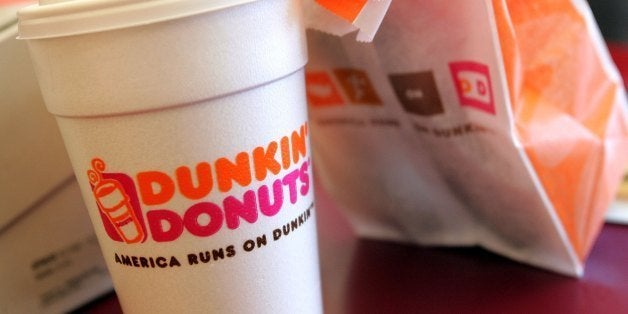 Millions of Americans rely on Dunkin' Donuts for their morning coffee -- and part of what they love about the chain is that they know they can get the exact same cup of coffee every time. But customers at Dunkin' Donuts locations in New York City will now find that something is different. The coffee is the same as ever, but the cup that contains it isn't. Instead of being made from familiar styrofoam, it's made of plastic.
Specifically, it's made of polypropylene -- polypropylene that is recyclable, as the cups proclaim in large letters, in contrast to notoriously wasteful styrofoam. The change came about because on July 1, New York City's ban on styrofoam finally took effect, and Dunkin' Donuts had no choice but to comply.
Those same cups could soon find their way into stores across the country. Dunkin' Donuts sent The Huffington Post a statement explaining that they're already being tested in selected locations in Massachusetts, Vermont and California. The company is also exploring other materials, such as paper, with the goal of phasing out styrofoam in 2016. Given that Dunkin' Donuts sells 30 cups of coffee every second of the day, that could have a huge impact on the nation's landfills.
Finding suitable alternatives to styrofoam was a challenge. Though many companies shun styrofoam because of its environmental impact, it actually offers some major benefits: it's cheap, it's light, it's easy to print on and it insulates drinks very effectively. The company tried out a number of possible replacements. Initially, the chain settled on cups made of two layers of paper as the best choice, and used them at locations in Brookline, Massachusetts, which banned styrofoam containers in winter 2013. But further testing showed polypropylene fit the company's needs better.
New York City will be the biggest test yet for the polypropylene. Dunkin' Donuts said, in the statement, that the company will "continue to evaluate and test all available cups until we believe we have found the best solution based on cost, performance, commercial viability and environmental impacts," and that the company will make a decision on the new cups by the end of 2015. But one thing is certain: whatever Dunkin' Donuts ends up choosing, it won't be styrofoam.
This page contains materials from The Huffington Post and/or other third party writers. PricewaterhouseCoopers LLP ("PwC") has not selected or reviewed such third party content and it does not necessarily reflect the views of PwC. PwC does not endorse and is not affiliated with any such third party. The materials are provided for general information purposes only, should not be used as a substitute for consultation with professional advisors, and PwC shall have no liability or responsibility in connection therewith.
Related
Before You Go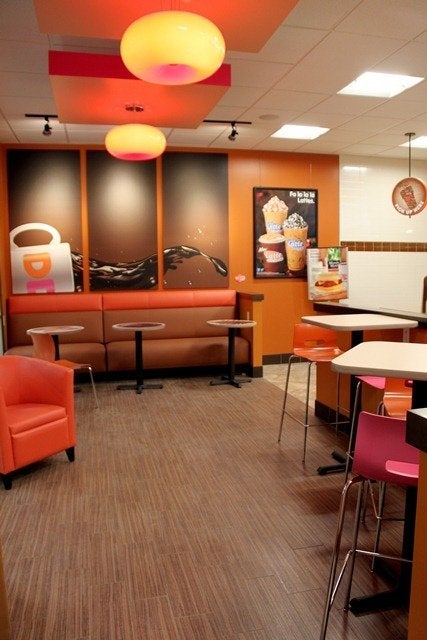 Dunkin' Donuts New Look