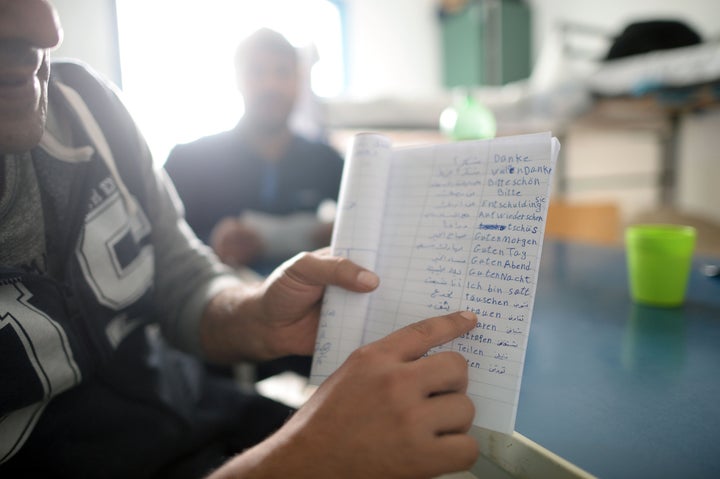 An online language learning platform is unveiling a new course that could help Arabic-speaking refugees find jobs in Western Europe.
Duolingo, a website and app that offers free language courses, announced plans on Tuesday to introduce German language lessons for Arabic speakers. "German for Arabic speakers" will provide instruction in speaking, reading, writing and listening, and is expected to become available on Oct. 3.
The company's goal is "helping people gain better opportunities and improve their lives no matter the situation they find themselves in," Gina Gotthilf, Duolingo's vice president of communications, told The WorldPost in an email. "Language education is generally unaffordable to most, but can actually double one's income potential in most countries."
"The mission applies perfectly to the situation in which Syrian immigrants in Germany find themselves in, and we thought we were in a fortuitous position to help make a difference," Gotthilf added.
Duolingo launched the course to help Syrian refugees moving to Germany, the company wrote on Twitter and Facebook. But the course could actually benefit many more people: Refugees from Arabic-speaking countries like Iraq, Libya and Sudan could also profit from the course, and they would also be able to find work in Austria, where German is the official language.
But in order to prosper in any host country, it is imperative to learn its language.
Earlier in September, German Chancellor Angela Merkel announced that her government would spend an additional 2 billion euros ($2.2 billion) in language training for migrants and refugees seeking employment in Germany, The New York Times reported. In a Sept. 18 meeting with federal ministers, Gabriel also stressed the importance of German language training in schools and refugee reception centers so newcomers become properly integrated into German society.
The Internet reacted enthusiastically to Duolingo's announcement. In Facebook comments, many users applauded Duolingo for its effort to help migrants and refugees settle in Europe; some even asked for an Arabic course for German speakers.
Duolingo is not the only language platform that aims to bridge the communication gap between Syrian refugees and Westerners. NaTakallam, a language startup created by three Columbia University grads, will enable Syrian refugees to work as "language partners" with Arabic language learners over the Internet.
Currently, Duolingo only offers English language courses to Arabic speakers, but hopes to launch more language courses for Arabic speakers in the future, Gotthilf told WorldPost.
"A lot of fans on Facebook have been asking for Portuguese given the recent influx of immigrants in Brazil," she observed.
Popular in the Community