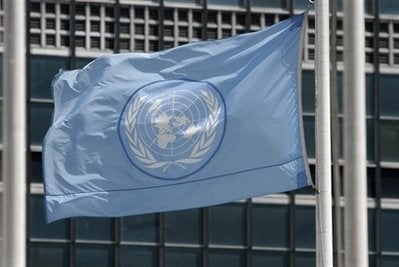 UNITED NATIONS, Mar 26 (IPS) - Amid calls for Washington to increase its engagement with the international community, U.S.-based rights groups and civil libertarians are denouncing the Barack Obama's administration's boycott of a global conference against racism next month.
"It is an embarrassment for the Obama administration to continue the Bush administration's practice of refusing dialogues with others," said Ramsey Clark, former U.S. attorney general and winner of the 2008 U.N. Human Rights Award, in a petition signed by hundreds of human rights activists.
The petition urges President Obama to commit the U.S. to full participation at the Apr. 20-24 Geneva meeting, which has been called to review progress on the decisions made at the international conference on racism held in Durban, South Africa in 2001.
The U.S. delegation chose to isolate itself from the conference due to concerns that the language in the Durban resolution specifically targeted Israel, its closest ally in the Middle East. For example, the submission of some Asian countries termed Israel's policies towards Palestinians "a new kind of apartheid, a crime against humanity, [and] a form of genocide."
Israel, Canada, Australia and the European Union also may not attend the conference.
Canadian Minister of Multiculturalism and Canadian Identity Jason Kenney said the 2001 conference had "degenerated into open and divisive expressions of intolerance and anti-Semitism that undermined the principles of the United Nations and the very goals the conference sought to achieve." He said that the 2009 Durban Review Conference appeared to be on a similar track.
However, rights activists say the boycott is unreasonable because the draft text has been amended to appease U.S. and Israeli concerns over comparisons between racism and Zionism.
Initially, the Obama administration indicated its willingness to participate in the conference by sending delegates to the planning sessions, but later pulled out of talks after conservative Jewish groups intensified their lobbying efforts for a boycott.
"The document being negotiated has gone from bad to worse," said Robert Wood, the U.S. State Department's acting spokesperson, in a recent statement. "As a result, the United States will not engage in further negotiations on this text, nor will we participate in a conference based on this text."
U.S. officials say they want to see a "shortened" text that does not fully reaffirm the Durban Declaration and Programme of Action. "It must not single out any country or conflict, nor embrace the troubling concept of 'defamation of religion,'" said Wood, without mentioning Israel and Zionism.
The Obama administration's position has been welcomed by a number of conservative think tanks and pro-Israel political and media organisations, including the Heritage Foundation.
"Hopefully, this will serve as a valuable lesson that criticism of the previous administration's alleged lack of commitment to multilateral negotiations was often off target," said Brett Schaefer and Steven Groves in an article published on the foundation's website. "Multilateralism is only a means to an end, and participation in multilateral negotiations is no guarantee of beneficent outcomes."
In their view, sometimes U.S. participation "only lends credibility to a process that deserves none. This is a lesson that applies in the case of Durban II but should also lead the Obama administration to reconsider its decision to participate as an observer in the U.N. Human Rights Council, which oversaw the Durban II debacle."
However, Clark and other human rights activists believe that racism must be seen as an institutionalised system of oppression and exploitation that is reinforced by a complex and pervasive system of beliefs, policies, and laws, which are also prevalent in the United States and Israel.
"Given that the U.S. has consistently stressed human rights when formulating foreign policy and criticising other nations for the behaviour, the Bush administration's unwillingness to address similar problems identical within its own borders stand as nakedly hypocritical," said Ajamu Baraka, executive director of the U.S. Human Rights Network, an umbrella group comprising hundreds of organisations.
Last year, Baraka's group submitted to the Geneva-based U.N. Committee on the Elimination of Racial Discrimination (CERD) a 600-page report citing hundreds of cases of individuals belonging to racial minorities who faced harassment and discrimination at the hands of authorities and employers all across the country.
U.N. investigators completed their inquiry, found the charges to be valid and asked the U.S. government to take appropriate measures.
Baraka said she hoped that Obama would take "immediate and significant steps" to repair "this damage to improve the domestic human rights landscape." But in order to do so, he must also join the international efforts to root out institutionalized forms of racism.
"[He] should commit the U.S. to an active role in the Durban review process," she said. "Now it appears the primary obstacles to participation have been cleared. We can ask for no more."
The Obama administration has left open the possibility of taking part in the Geneva conference, but only if it found the outcome document being desirable.
"We will observe developments in Geneva and in capitals to see if such an outcome emerges," said Wood. "We would be prepared to reengage if a document [is delivered] that meets [our] criteria."
The draft outcome document for the Durban Review Conference contains several references objectionable not only to the United States and Israel, but also the European Union and Canada.
One of the major objections to the text surrounds the wording on the Israeli occupation of Palestine. The draft expresses deep concern at the plight of refugees and other inhabitants of the Arab occupied territories as well as displaced persons who were forced to leave their homes because of war and "racial policies" of Israel, the occupying power
In preparing for the April conference, the majority of countries from Latin America, Asia, and Africa had no disagreements with the text.
"Refusing to come to the table will be seen as an arrogant assault on the process of diplomacy," said Clark, who thinks such a response is likely to be viewed by the world community as "an act of obstruction to the global struggle against racism."
Rights activists in Canada hold similar views on their government's refusal to participate in the conference.
"The racism in Canadian society is rather subtle, but from time to time open outbursts, yet it remains very symbolic in a sense that it remains with events tied with particular communities," Khaleda Manzoor, who teaches economics at Ryerson University in Toronto, told IPS. In her view, as a liberal democracy that champions the cause of human rights protection, Canada is failing to create cross-cultural communication and dialogue.
"Do the immigrants feel that they have economically, socially, culturally, and politically become the citizens of Canada and belong here? These questions need profound analysis and investigation," she said in support of Canadian participation in the conference.
REAL LIFE. REAL NEWS. REAL VOICES.
Help us tell more of the stories that matter from voices that too often remain unheard.