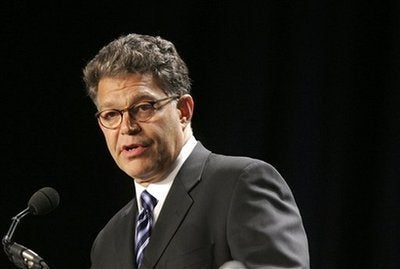 Fallout from the surreal political scandal in Illinois has now wafted into Minnesota.
Senate Majority Leader Harry Reid is refusing to seat Roland Burris, appointed by disgraced Ill. Gov. Rod Blagojevich, for lack of state certification. That's a problem for Al Franken, who also lacks final state certification despite the fact that the state canvassing board declared him the winner Monday.
Will Senate Democrats seat Franken without official certification? "I don't think so," said Senate Majority Whip Richard Durbin, a Democrat from Illinois.
"Republicans will object to trying to seat him," said Reid spokesman Jim Manley. Later in the day, Manley said that Democratic leadership would not seat Franken when the new class of Senators was sworn in on Tuesday. "Now that the bipartisan state canvassing board has certified Al Franken as the winner, we hope Senator Coleman respects its decision and does not drag this out for months with litigation... However, there will not be an effort to seat Mr. Franken tomorrow."
The remarks from Senate's top two Democrats cast a shadow on what was an otherwise bright day for Franken's political objectives. The comedian-turned-Senate aspirant claimed victory on Monday after the Minnesota canvassing board's final tallies showed him with a 1,212,431 to 1,212,206 vote victory.
"After 62 days, after the careful and painstaking hand inspection of nearly three million ballots, after hours and hours of hard work by elections officials and volunteers across the state, I am proud and humbled to stand before you as the next Senator from Minnesota," Franken declared before a crowd of reporters.
But even in victory, the Democratic challenger foreshadowed potential obstacles ahead. "There may still be additional legal proceedings related to our recount," he said.
Indeed, in private, some Democrats are conceding that they simply don't have the votes, at this juncture, to seat Franken without certification, though that won't stop them from at least trying to do just that. Moreover, legal challenges to Franken's declared victory seem all but certain to come from Sen. Norm Coleman within the next week.
"The actions today by the Canvassing Board are but the first step in what, unfortunately, will now have to be a longer process," said the Senator's counsel, Tony Trimble. "This process isn't at the end; it is now just at the beginning. We will contest the results of the Canvassing Board -- otherwise, literally millions of Minnesotans will be disenfranchised."
The tone of defiance was echoed in the nation's capital as well. Senate Minority Leader Mitch McConnell (R-Ky.) declared to reporters, "The race in Minnesota is not over." Claiming that Minnesota law doesn't allow certification of a senator while litigation is ongoing, he added, "It's my understanding that litigation is commencing."
And so, an election that went weeks beyond its supposed end-date seems likely to drag on a bit further. Aides to Franken told the Huffington Post that, in the end, they don't see the final tallies changing. But that won't stop Coleman from appealing the results to state and even federal court, where he will argue that some Minnesotans were denied equal protection through the methods of the state's recount process.
In the interim, procedural steps are being undertaken to accommodate a possible transition of power, not just for Franken but for other incoming Senators as well.
Durbin, addressing the even more contentious Senate replacement process in Illinois, said that Burris was welcome to come "to Washington and welcome to have an office, but I can't see him taking any official action." At this point, he added, the potential Barack Obama replacement had been unable to "produce the documentation necessary" to certify himself as a senator.
Coleman, too, had office-related issues pop up on Monday. His staff arrived at the Senate apparently unable to enter their workplaces. The Senate Rules and Administration Committee had followed its own guidelines, which stipulate that the Senator's term expires on January 3rd and therefore their offices should be closed. Coleman had been notified. But aides showed up regardless.
"I think there was a misunderstanding about what they needed to do," said Howard Gantman, staff director for the Senate Rules and Administration Committee. "They corrected it."
Popular in the Community