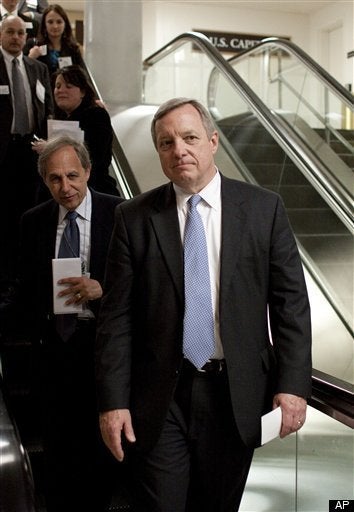 Dick Durbin (D-Ill.), the Senate's number two Democrat, took to the floor Tuesday to back an amendment to Wall Street reform that would break up big banks so that they are no longer too big to fail.
"I want to thank my colleagues for raising this important issue," Durbin said after a floor exchange between Sens. Sherrod Brown (D-Ohio) and Ted Kaufman (D-Del.). "I would say that [of] all the many amendments which will be offered, this is clearly a game changer."
"I am supportive of this amendment, even though I know that some of my friends in the banking -- some of my friends in the banking industry won't be happy with that. What they're talking about is dealing with the concentration of wealth and the concentration of economic power to a level which can literally bring the economy down. That's what we went through leading into this recession. That's what led to the massive taxpayer bailout. And that's what the Brown-Kaufman amendment addresses foursquare," Durbin said.
There has been no commitment, however, from Democratic leadership in general to give Brown-Kaufman a vote. HuffPost asked Durbin if he thought it would get a vote. "They're going to offer it. I hope it does," he said.
"I absolutely expect a vote," said Brown, though even if it does get voted on, no decision has yet been made as to whether the threshold will be 50 or 60 votes.
Sen. Saxby Chambliss (R-Ga.) said that the parties were negotiating a solution and suggested that some amendments may be given a 50-vote threshold and others 60.

Popular in the Community