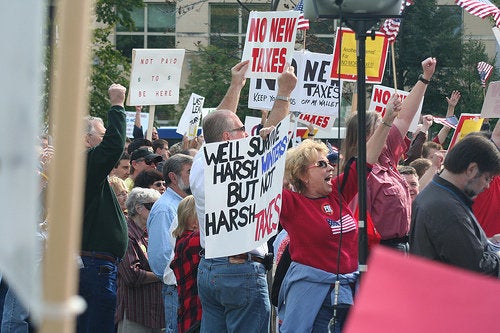 The angry-mob style protesters who have infiltrated town halls around the country are the non-organic product of "tea-baggers," "birthers," and the conservative fringe, two Senate Democratic leaders said Tuesday.
Speaking outside the White House after meeting with President Obama, Sen. Dick Durbin of Illinois and Chuck Schumer of New York both dismissed the significance of boisterous protesters who have been interrupting Democratic lawmakers' events.
"It is a small fringe group," Schumer told the Huffington Post, "and if we let a small group of people who want to monopolize the conversation and not listen to the facts win, you may as well hang it up."
"These town hall meetings have been orchestrated by the tea baggers and the birthers to just be a free-for-alls, make a lot of noise, go on YouTube and show discord," said Durbin. "I mean that is what they are determined to do. But that is not going to accomplish what we need to accomplish: real health care reform."
The most recent example: A news conference held by House Majority Leader Steny Hoyer (D-Md.)'s at Utica, New York's Union Station was interrupted on Tuesday.
"You're lying to me," said Don Jeror as he loudly interrupted Hoyer. "Just because I don't have sophisticated language, I can recognize a liar when I see one." [...]

After yelling from the same group of people about corporate taxes being too high, Hoyer said those numbers were just as high during the Bush administration. [...]

Finally, after about five minutes of interruptions, Hoyer finished his address.
Durbin was asked if he was worried that the protests would have the desired effect, namely persuading vulnerable lawmakers to buck the president's health care agenda. He projected calm. "Most of them are grown-ups in politics, and they know that when they look at a crowd and say: 'these folks aren't even from here' ... A handful of folks are determined to disrupt these meetings," Durbin said. "That shouldn't stop us from what most Americans want to see us doing."
The remarks made by the two Senate Democrats reflect the overall message coming from the White House and Democratic Party. Asked during the press briefing on Tuesday whether he thought the town hall protests were fabricated chaos from the insurance and private health care industry, Press Secretary Robert Gibbs responded: "Some of it is, yes."
"In fact I think you have had groups today, Conservatives for Patients Rights, that have bragged about organizing and manufacturing that anger," Gibbs said.
Popular in the Community