Sen. Dick Durbin (D-Ill.) said Friday that he heard President Donald Trump make "hate-filled, vile and racist" comments to lawmakers that the president is now denying.
Durbin, who was at the White House meeting on Thursday to discuss immigration, is the first to go on the record confirming reports that Trump referred to African nations as "shithole countries," and that the U.S. should "take ... out" Haitians currently living in the U.S. Trump reportedly also commented that the U.S. should accept more immigrants from Norway.
Trump on Friday claimed on Twitter that he didn't use the language attributed to him about Haitians, but neither he nor the White House has directly denied his comments on African countries.
Durbin, speaking to reporters on Friday, contradicted Trump's claim.
"I cannot believe that in the history of the White House, in that Oval Office, any president has ever spoken the words that I personally heard our president speak yesterday," Durbin said. "You've seen the comments in the press. I've not read one of them that's inaccurate."
Durbin added: "He said these hate-filled things and he said them repeatedly."
Trump made the comments during an immigration meeting with Durbin and six Republican lawmakers: Sens. Lindsey Graham (R-S.C.), David Perdue (R-Ga.), Tom Cotton (R-Ark.); House Majority Whip Kevin McCarthy (R-Calif.), and Reps. Bob Goodlatte, (R-Va.) and Mario Diaz-Balart (R-Fla.), according to MSNBC.
Durbin and Graham pitched Trump on the outlines of a deal they and others in a six-senator bipartisan group made to resolve the legal status of Dreamers, the young undocumented immigrants who came to the U.S. as children.
Nearly 700,000 Dreamers are at risk of losing deportation relief and work permits ― or already have ― because Trump ended the Deferred Action for Childhood Arrivals program, or DACA.
Democrats want protections for Dreamers included in a measure on government spending, which must pass by a Jan. 19 deadline to avoid a government shutdown.
Trump has said he wants to help Dreamers, but only if he gets something in return: his border wall and other security measures, an end to the diversity visa lottery, and limits on family-based visas, which the president derisively refers to as "chain migration."
Trump has falsely claimed that other countries use the diversity visa lottery to send their "worst people" to the U.S. A large proportion of diversity visa lottery recipients come from African nations.
Durbin, Graham and their allies drafted a plan that would eliminate the diversity visa lottery as Trump demanded, but would allow some immigrants currently in the U.S. under temporary protected status, which lets people stay in the country after natural disasters or other crises in their home nations. The Trump administration is ending those protections for people from Haiti, El Salvador and Nicaragua, and suggested it will do the same for Hondurans.
Durbin said that's when he told Trump about the numbers of people who hold temporary protected status from various countries, including Haiti.
"He said, 'Haitians, do we need more Haitians?'" Durbin said.
Trump then made "vile and vulgar comments" about African nations, Durbin said, calling them "shitholes."
The slur was "the exact word used by the president ― not just once, but repeatedly," said Durbin.
Graham spoke up, confronting Trump's harsh language, which Durbin said "took extraordinary political courage."
Graham, in a statement Friday afternoon, didn't specifically confirm Trump's words, but said he appreciated what Durbin said about him.
"Following comments by the President, I said my piece directly to him yesterday," Graham said in the statement. "The President and all those attending the meeting know what I said and how I feel. I've always believed that America is an idea, not defined by its people but by its ideals."
Durbin also recounted a "heartbreaking moment" when Trump and others "scoffed" at his comments about the importance of family-based immigration. The president and his allies have said the U.S. should move to a "merit-based" system rather than admitting people based on family ties, referring to anyone but spouses and minor children as "extended family."
"Chain migration" as a term is offensive, Durbin said he told the president.
"I said to the president, do you realize how painful that term is to so many people? African-Americans believe that they migrated to America in chains, and when you speak about 'chain migration,' it hurts them personally," Durbin said. "He said, 'Oh, that's a good line.'"
In a statement after Trump's comments were first reported, the White House did not deny them.
But Trump on Friday insisted the reports were inaccurate.
"The language used by me at the DACA meeting was tough, but this was not the language used," he tweeted. "What was really tough was the outlandish proposal made - a big setback for DACA!"
Trump addressed Haiti, but said nothing about his reported comments on Africa.
"Never said anything derogatory about Haitians other than Haiti is, obviously, a very poor and troubled country," Trump tweeted. "Never said 'take them out.' Made up by Dems. I have a wonderful relationship with Haitians. Probably should record future meetings - unfortunately, no trust!"
Sen. Jeff Flake (R-Ariz.) was not among the lawmakers in the White House meeting, but tweeted Friday that he heard about Trump's comments "directly following the meeting by those in attendance."
The remarks "were not 'tough,' they were abhorrent and repulsive," Flake tweeted.
This article has been updated to add Graham's comment.
Before You Go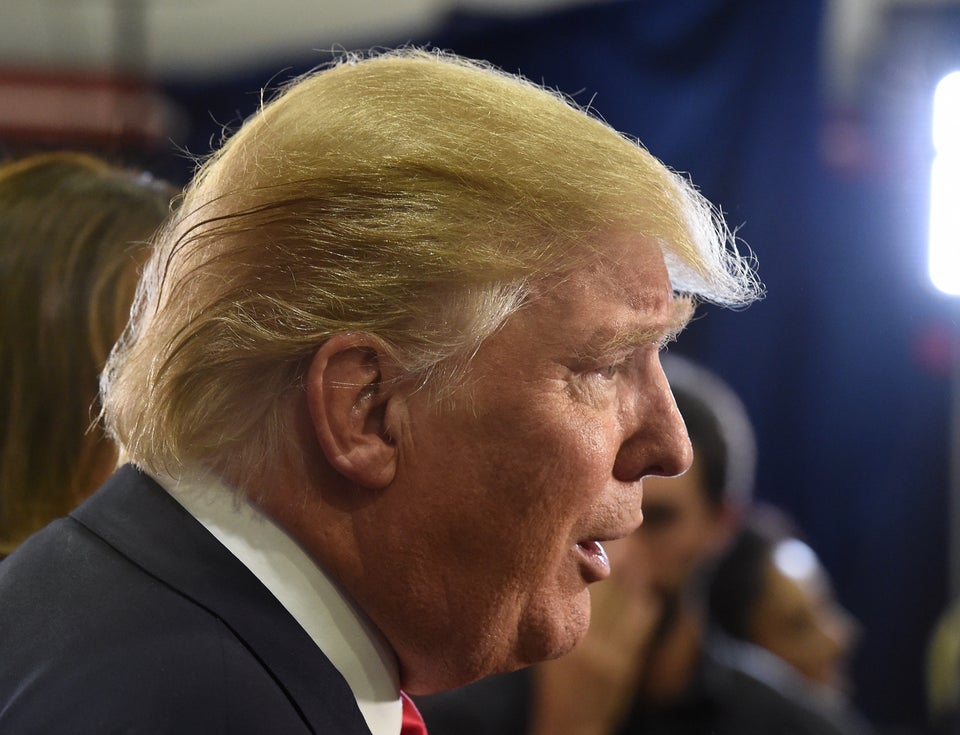 How Donald Trump Talks About Undocumented Immigrants
Popular in the Community