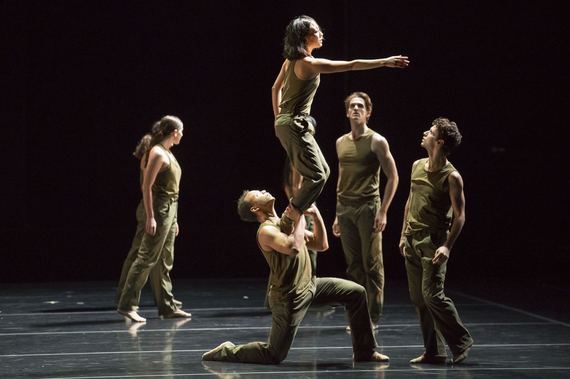 Fiorenza and company in Thousand Yard Stare. Photo credit: Todd Rosenberg.
Julie Fiorenza stands stationary -- completely frozen, stuck in an eternity of (dis)quiet. In the silence of her body lies a secret tension, a brooding psychology paradoxical to the simplicity of her one-legged stance, and her stillness begs for movement. An escape from tortured reflection, from the places her mind goes when her limbs don't budge. Carefully, thoughtfully, she lurches forward, and backward, as if comfort lies in the patterned familiarity of motion. She follows her marching orders, pushes on, but timidly, unsure of each step until Beethoven's String Quartet No. 15, Opus 132 fades in.
Many choreographers have used that score as a foundation for their work. Few have done so as poignantly as Jessica Lang, whose Thousand Yard Stare explores the implications of trauma, specifically among soldiers. The piece made its New York debut at the Joyce Theater last week via Jessica Lang Dance, and the "vacant or unfocused gaze into the distance" that gave it its title screamed louder than Beethoven's shrieking violins as the nine-person cast stomped and stared, and crumbled as their corpses almost seemed to cry, collapsed. Costumes designed by Bradon McDonald added to the effectiveness; the fronts were a camouflage-green, stark and ordinary, but the backs were covered in colors because of transposed images drawn by veterans with PTSD. As the music shifted from hopeful to defeated, and back again, Lang's choreography evoked the desperation for fellow humanity and loss and longing that seem to define life, whether in a war zone or not.
The program also featured two other New York premieres, Solo Bach (a short piece devised in 2008) and Sweet Silent Thought. Company newbie Patrick Coker took on the solo, a difficult doozy meant to look like airy nothingness. At times, he made the steps seem too belabored, stumbling between passages to keep up with the music. But altogether, the kid has a lot of heart -- it's rare to see a dancer and know instinctually and immediately they're special, and that's the impression Coker gives. He stretches his lines to their fullest within the melody and imbues his work with personality, and while Solo Bach grew a little repetitive and tired, he made it seem lively for a while.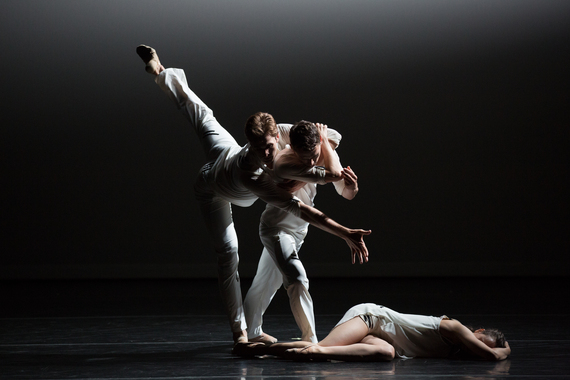 Jessica Lang Dance performing Sweet Silent Thought. Dancers: Milan Misko, John Harnage and Laura Mead. Photo credit: Rosalie O'Connor.
Sweet Silent Thought, on the other hand, could have lasted much longer without complaint. It is nearly impossible to do justice to Shakespeare, primarily because he's such an enigma. His words are gorgeous; from verse to prose, they leave this ambrosial taste on your tongue. But the wisdom of his writing varies in context. For the 400th anniversary of Shakespeare's death, Lang decided to take on his sonnets, many of which play with our species' most extreme emotions, and arguably our most superficial ones. So much of what hides in their loveliness is sexed-up angst and meditation on mortality. Sweet Silent Thought perfectly physicalized the sensations inspired by Shakespeare's sonnets, transforming dance into poetry as spoken words over speakers directed the four dancers' mimes. The ballet was overtly sensual, and didn't try for depth (the night had already had its dose of significance, thanks to Thousand Yard Stare). It was more just beauty for beauty's sake, blind to any larger implications. Milan Misko was particularly noteworthy in his performance, his generous port de bras embracing each syllable recited on the recording, bringing it to life.
Indeed, most of the company looked invigorated and mature, more seasoned than their last stint at the Joyce. Fiorenza especially stood out in terms of growth; she has truly come into her own and is ready to take on a larger role in the repertoire.
Meanwhile, as a successful female choreographer with a focused and careful vision, Lang continues to push boundaries in dance, crafting subtle art that occasionally verges on "masterpiece."
Popular in the Community