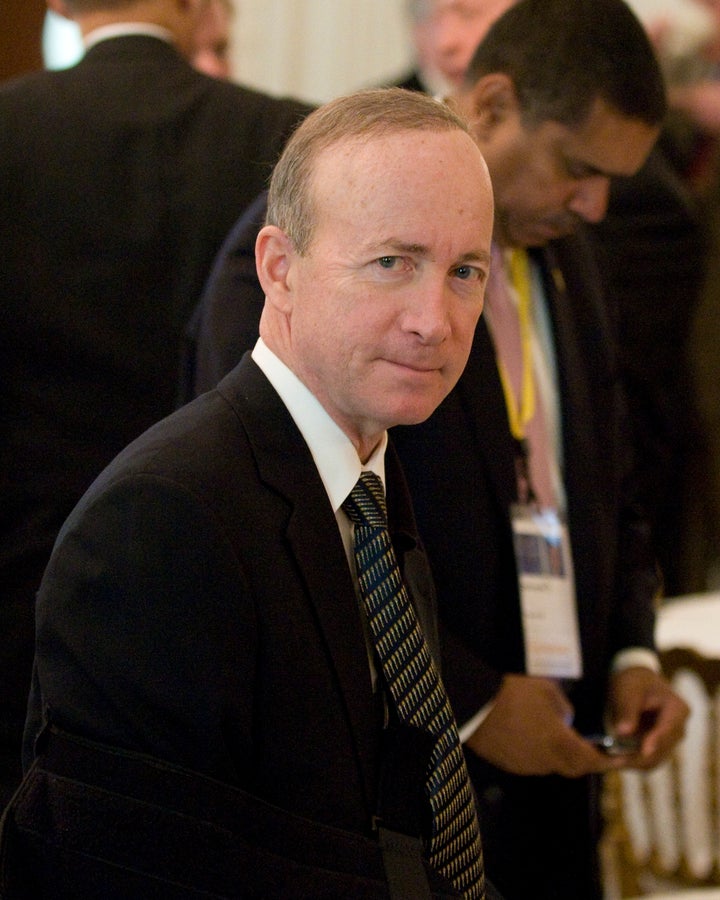 By Joanne Kenen and Rochelle Sharpe
Indiana Gov. Mitch Daniels, a potential Republican presidential candidate respected for his fiscal prudence, credits his success in government to the business skills he learned as a pharmaceutical executive.
But when Daniels worked as a top executive at Eli Lilly & Co., one of the world's largest drug firms, the pharmaceutical giant's reputation was tarred by some of the nation's ugliest drug scandals.
In the decade that Daniels climbed the corporate ladder at Eli Lilly, the company was illegally marketing its leading osteoporosis drug, Evista, as well as its blockbuster antipsychotic, Zyprexa, putting tens of thousands of patients in harm's way. Lilly pleaded guilty to two criminal misdemeanors, paid more than $2.7 billion in fines and damages, settled more than 32,000 personal injury claims -- and copped to one of the largest state consumer protection cases involving a drug company in U.S. history, a review by iWatch News shows.
The company also became embroiled in a high-profile legal brawl over its patent for the antidepressant Prozac.
Daniels became increasingly influential as he rose through the company's ranks in positions that involved polishing the drugmaker's image and then shaping its policies. He was vice president of corporate affairs, president of Lilly's North American pharmaceutical operations, and finally in 1997, became senior vice president of corporate strategy and policy.
Decisions at pharmaceutical companies, whether scientific or commercial, aren't made by any one executive, so Daniels' precise role in decision-making about the controversial drugs is unclear. "These things transcend individuals -- it's more difficult to say this is the work of person A, B, or C," said Dr. Sidney Wolfe, director of the Health Research Group at Public Citizen. "It's industry-wide corporate culture."
Daniels' press secretary, Jane Jankowski, said, "He had zero to do with marketing plans that were created for Zyprexa and Evista." On Prozac, she said, "The company was the object of a multimillion-dollar smear campaign by a self-interested organization that was trying to drive vulnerable patients away from medical treatment for depression."
In a statement, Eli Lilly said the agreements to settle the Evista and Zyprexa criminal allegations did not happen under Daniels' watch as president of North American operations.
But given his senior management position in the company, "I would have hoped that he would have known about some of these issues, and if he didn't, why didn't he? That needs to be evaluated" said Stephen Sheller, a Philadelphia class action attorney instrumental in the Zyprexa settlement.
"Bill Clinton had the bimbo factor. Mitch Daniels is going to need a strategy to counteract the assumption that will be made that he was somehow complicit in the misdeeds of Eli Lilly," said Ira Loss, senior health care analyst at Washington Analysis, an investment research firm.
"It's possible that he wouldn't have known a thing," Loss said, but added, "Mitch Daniels can't walk into the presidential race and not expect questions about this issue."
Lilly wasn't the only drug company embroiled in multimillion-dollar drug scandals, although Zyprexa stands as one of the biggest cases of its kind on record. Critics say the big brand drug companies simply see fines and penalties as the cost of doing business. Indeed, in its recent annual SEC filing, Lilly itself, after a lengthy review of all the litigation, probes and investigations pending, noted, "We are also a defendant in other litigation and investigations, including product liability, patent, employment, and premises liability litigation, of a character we regard as normal to our business."
Daniels boasts of his business background on his official website. "Governor Daniels came from a successful career in business and government, holding numerous top management positions in both the private and public sectors," it says. "His work as CEO of the Hudson Institute and president of Eli Lilly and Company's North American Pharmaceutical Operations taught him the business skills he brought to state government."
As governor, Daniels persuaded several senior Lilly staffers to join his administration, said Donald Woodley, financial analyst at Woodley Farra Manion Portfolio Management in Indianapolis.
"He was an idea man, a thinker, and that's why he ended up as head of corporate strategy and policy," said Woodley, who describes himself as both an acquaintance and an admirer of Daniels.
Lilly's fortunes soared in the 1990s. Corporate assets rose from $5.8 billion to $12.8 billion, revenues doubled from $5 billion to $10 billion and income expanded from $1.1 billion to $2.6 billion, Woodley said.
Calling all HuffPost superfans!
Sign up for membership to become a founding member and help shape HuffPost's next chapter