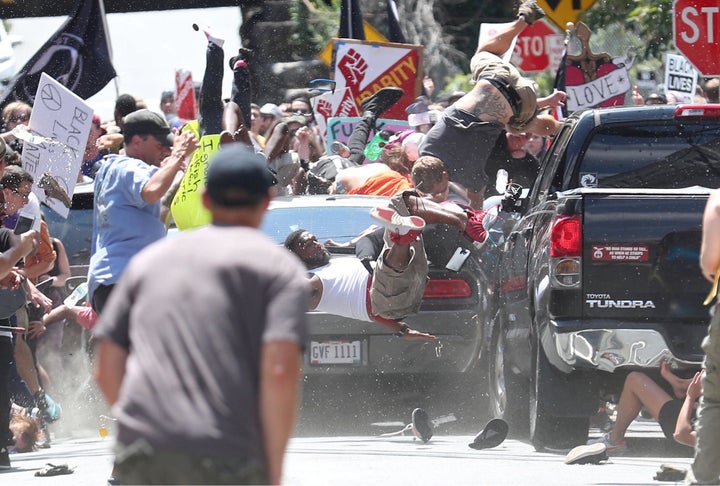 Anti-racist protesters shared a "beautiful" moment Saturday before terror struck when a car plowed into a massive crowd of people demonstrating against a white supremacist rally in Charlottesville, Virginia. One person died and 19 others were injured in the incident.
By Saturday evening, multiple publications were reporting that suspect James Fields, 20, of Maumee, Ohio, had been arrested in connection with the tragedy.
"James Alex Fields Jr.... is charged with one count of 2nd degree murder, 3 counts of malicious wounding and one count of failing to stop at an accident resulting in a death," Col. Martin Kumer, the superintendent of Albemarle-Charlottesville Regional Jail, told HuffPost in an email.
Kumer provided a mug shot of Fields.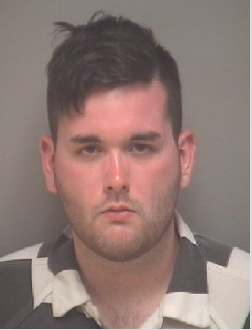 Charlottesville Mayor Mike Signer announced the death on Twitter, hours after the governor declared a state of emergency. Hospital officials confirmed to The Associated Press the number of casualties. Fifteen other injuries related to the rally were reported, the City of Charlottesville said.
The victim who died was a 32-year-old woman, Chief Al Thomas of the Charlottesville Police Department said at a news conference.
Following a morning of clashes, the white supremacists at the rally and counter-protesters began to clear out Saturday afternoon after police threatened arrests. Hundreds of counter-protesters had met together to oppose the white supremacist gathering, marching in solidarity with marginalized groups and chanting "Black Lives Matter!" among other slogans.
"It was an incredible scene," 23-year-old Thomas Pilnik, who captured the anti-racist counter-demonstration on video, told HuffPost. "It was the most beautiful counter-rally."
Moments later, a car plowed into the crowd, and bodies went flying.
"It was just terrifying," said Pilnik, who has lived in Charlottesville for five years and works as an administrator for the University of Virginia's school of engineering. "I remember people flying into me, telling me to run and get out of the way and watching people fly like they were just bowling pins."
Pilnik added that it was a "beautiful moment ripped away from us."
Pilnik believes the driver's action was deliberate.
"There is nothing in my mind that would ever tell me that this wasn't an intentional act," he said. "The way he plowed into the crowd and then reversed at full speed was nothing short of intentional. If he had been scared and made a mistake and rammed the people and hit the back of a car, there's no way he would have shifted into reverse and slammed on the accelerator to run them over again."
Video shows the vehicle reverse back at a high rate of speed, running over people who'd just been struck, Pilnik said.
Pilnik said white supremacy is all too real. And it's time to take it seriously.
"It's taken me a long time to process, but I think it's the fact that these [white supremacists] aren't laughable," he said. "They aren't trolls, we actually have domestic terrorism going on and we've spent months, if not years, laughing them off. And that just can't happen, it can't continue to happen, it shouldn't have happened in the first place, but what I've seen today just proves to me that it's not a joke. These terrorists aren't trolls ― they're terrorists ― they're bad people."
Fields' mother, Samantha Bloom, told the Toledo Blade on Saturday that her son had told her he was going to Virginia for an "alt-right" rally but didn't describe it to her in detail. Bloom said she'd warned her son to be careful and to protest "peacefully," according to the newspaper.
Bloom told The Associated Press that she wasn't aware that the event was a white supremacist rally. "I thought it had to do with Trump," she said. "Trump's not a white supremacist."
When informed of the death and violence at the rally, Bloom "became visibly upset," according to the AP.
After the rally late Saturday night, the FBI and the U.S. Attorney's Office for the Western District of Virginia announced a civil rights investigation into the circumstances surrounding the deadly car crash. Attorney Jeff Sessions also announced a federal investigation into the violence at the rally.
This story has been updated with information about the suspect, comments from his mother and the announcement of the federal investigations.
Carla Herreria contributed to this report.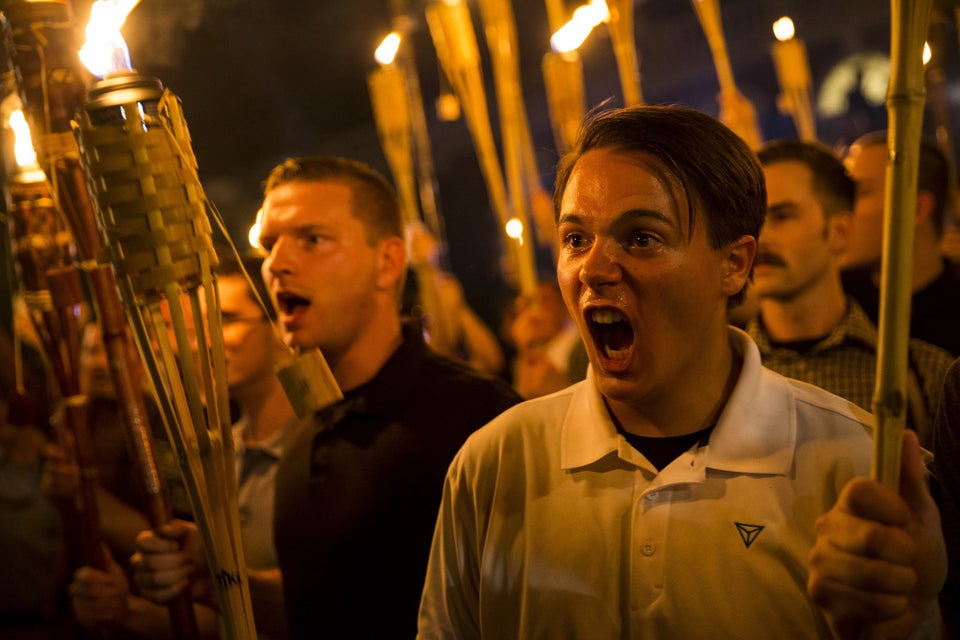 Clashes In Charlottesville
Support HuffPost
The Stakes Have Never Been Higher
Related
Popular in the Community