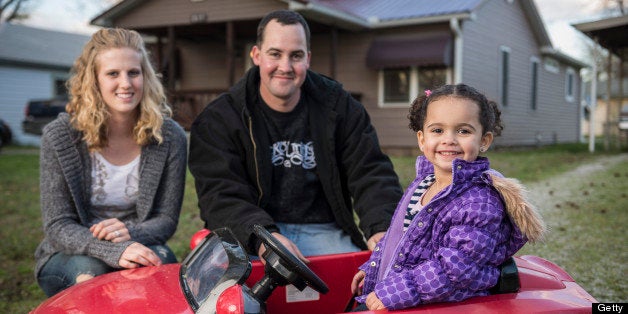 CHARLESTON, S.C., Aug 1 (Reuters) - The birth father of a girl of Cherokee heritage whose adoption has been finalized by South Carolina courts asked the adoptive parents to reconsider taking the child on Thursday, citing her emotional well-being.
"Please, for Veronica's sake, just stop. Stop, and ask yourself if you really believe this is best for her," Dusten Brown said in a statement.
A family court in Charleston, in a closed hearing on Wednesday, ordered the prompt return of Veronica from Brown to adoptive parents Matt and Melanie Capobianco, who raised her for about two years, said James Fletcher Thompson, the couple's lawyer.
Veronica, 3, has lived with Brown in Oklahoma for more than a year since the South Carolina Supreme Court ordered the couple to turn her over to the biological father because he was an American Indian.
The U.S. high court threw that decision out in June ruling that Brown, who was not married to the birth mother and had provided no support, had no parental claim under the Indian Child Welfare Act.
The South Carolina high court earlier this month awarded custody to the Capobiancos and ordered the adoption to be finalized immediately.
In his statement issued by Cherokee Nation, Brown said a court-approved plan to transfer Veronica out of his custody could leave her feeling "fearful, scared, anxious and confused."
The child "may cry herself to sleep," Brown added.
"I will not voluntarily let my child go through that, no parent would," he said.
Brown and Cherokee Nation asked the U.S. Supreme Court last week to consider halting Veronica's adoption and "competing petitions for adoption" that Brown's family members have filed in Oklahoma.
The adoptive parents, who live in Charleston, accused Brown of obstructing South Carolina's high court order.
In court documents, they said that Brown has filed "a series of frivolous and vexatious motions in the Charleston family court. Worse still, (his) attorneys have publicly called upon Oklahoma courts to defy the orders of the South Carolina Supreme Court."
The Capobiancos also said that South Carolina has jurisdiction over the adoption that they sought since Veronica's birth and that Veronica's birth mother would not consent to adoption by anyone other than them.
(Reporting by Harriet McLeod; Editing by Bernard Orr)

Popular in the Community