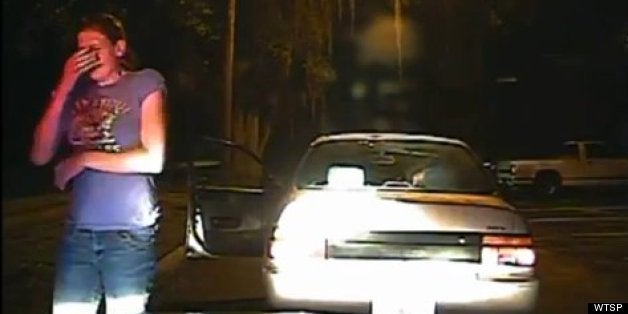 The Lakeland, Fla., police officer who ordered a woman to shake out her bra during a traffic stop in May has received a one-day suspension following the incident, but was not found to have violated her rights.
Police Chief Lisa Womack also ordered officer Dustin Fetz to "complete re-training in arrest, search and seizure laws/procedures and an in depth research project," the Tampa Bay Tribune reported Wednesday.
On May 21, Fetz stopped Zoe Brugger and her boyfriend, Larry Fields, because the car they were driving had only one functioning headlight. While searching her during the stop, Fetz ordered Brugger to lift her shirt up, then pull her bra away from her body and shake it out so he could see if she was hiding any drugs.
A Lakeland Police Department review of the incident determined that Fetz's request that Brugger shake her bra to see if anything was hidden "did not violate police search policy or the law," according to the Ledger. Lakeland Police documents obtained by the newspaper describe the incident as a "consensual search."
The officer's suspension was related to his misuse of recording equipment. He had his audio recording equipment turned off during the stop, the newspaper reported.
DASH-CAM FOOTAGE (Story Continues Below):
Although no drugs were found in the search, dashcam footage of it sparked outrage following the incident. An investigative report filed by the State Attorney's Office called Fetz's actions "egregious" and "demeaning."
"[Fetz] made me go through the whole humiliating ordeal with shaking my bra out right there in the middle of this parking lot," Brugger said at the time, according to WFLA. "He told me that he was taking me to Bartow Jail for driving on a suspended license and that they had an x-ray machine there and they were definitely going to find what I had hidden inside me there."
Sue Eberle, a civilian crime analyst employed by the Lakeland Police Department, told investigators that she had sex with about a dozen police officers over the course of several months.
Eberle claimed that the officers "sometimes pressured her for sex" and also sent her pictures of their genitalia. She was fired Sept. 11 following an investigation.
Calling all HuffPost superfans!
Sign up for membership to become a founding member and help shape HuffPost's next chapter
BEFORE YOU GO
PHOTO GALLERY
Police Brutality Incidents