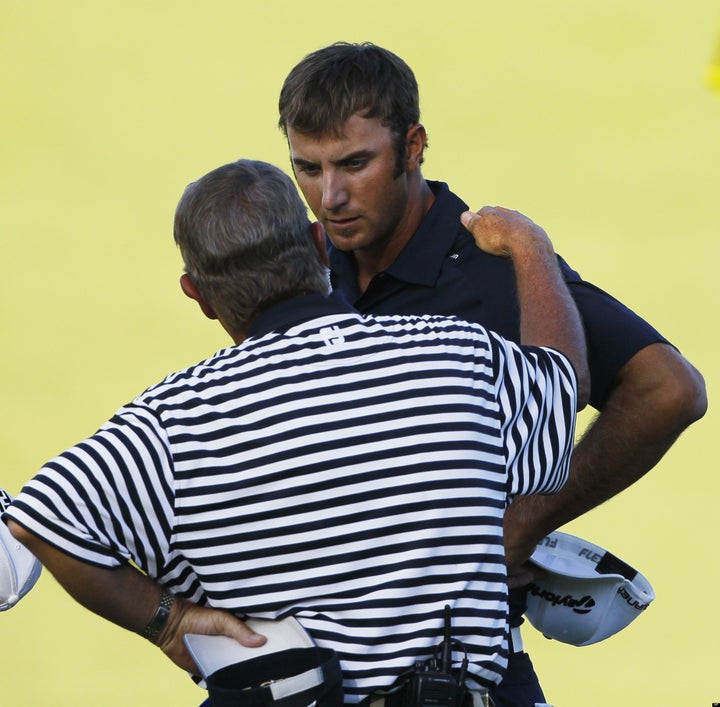 He's been described as approachable; a humble man with a calm demeanor. Lost chances don't eat at his core like they do most of us.
Forget his $7.5 million career earnings and counting, an uncanny ability to hit his 8-iron over 220 yards, and the fact he spent the Monday following the most notorious grounding of a 4-iron in golf history drinking on his 24-foot boat; Dustin Johnson is the world's most endearing golfer, and quite possibly, the most commiserated American athlete alive.
Sympathy is a rare emotion lent towards professional athletes. They're in the highest tax brackets, are able to take lavish vacations away from lives most would consider natural time off, receive free meals despite having the means to buy the restaurant, and have irrevocable lifetime passes to pick and choose the women of their choice like you or I might pick a deli number.
They're placed on a pedestal -- much like movie stars -- deeming them to a most enviable status in society. With envy comes resentment and bitterness, and we aren't even talking about the professional athletes who consistently succeed.
But the rare professional athlete who, apart from his favorable wealth, is relatable to the common man, is more admired than begrudged. It's why the poorer Dale Earnhardt Jr. performs, the higher his approval rating soars. It's why Brett Favre -- as undeserving of likeability as he is -- continues to lead Sportscenter telecasts no matter his on field performance.
It's that everyman, relatable quality they possess; an attractive trait that makes the viewer think, "Hey, that guy isn't so bad. Kinda think of it, he's just like me!"
While he still takes a backseat to the universally known Tiger Woods, Johnson is rapidly becoming the face of golf. He has talent, charisma, and mental toughness the sport hasn't seen since Woods' explosion in the late 90s.
Ranked an unjustifiable 24th in the world, today Johnson stands as one of the game's 10 best players. He's now crumbled on two of the game's four largest stages, and yet he keeps coming back for more. Just two weeks after the PGA Championship, Johnson found himself once again in contention at the Barclays, where he ultimately finished tied four shots off the leader.
If majors are a Fortune 500 Company, Johnson is a 26-year-old man off the street trying to wedge himself inside for an interview. So far -- and in front of millions -- he's twice been turned away in the most embarrassing fashion imaginable. But he'll get right back on the elevator in a week or two, his short memory erasing all doubt, soul patch leading the way.

Out of 19 events he's entered in 2010, the Coastal Carolina University graduate has finished in the top 25 nine times, the top 10 five times, and won once. At 307 yards a whack, he's longer than all but two players on tour (Johnson leads the tour on holes per eagle, a seemingly meaningless stat almost entirely attributable to his ridiculous distance), but, as most of the longer players are, can improve on accuracy (168th on tour).
As of today, he stands 11th in both FedEx Cup points and money earnings. He's the first player since Woods to go straight from college and win in each of his first three years on tour and is one of two Americans in their 20s with at least three tour victories.
What makes Johnson so entertaining isn't the jaw-dropping awe his driver creates, or his indifference to pressure.
It's the attempt at answering the following question: How is it possible, after collapsing on the grandest of stages, is Dustin Johnson continuously praised and handpicked to be golf's next transcendental superstar? When, not if, he breaks through to win a major, will he still be likable? Will his personality and conduct change?
Did Johnson choke at Pebble Beach? Definitely. Was his mistake at Whistling Straits boneheaded? Possibly. But to get back on the horse less than a month later and find himself in contention is remarkable. It's commendable. It's downright envious.
Calling all HuffPost superfans!
Sign up for membership to become a founding member and help shape HuffPost's next chapter