 Accused rapist Dustin McCombs took to Facebook to try to convince police that he wasn't guilty.
A warrant was put out for McCombs' arrest on January 5. He apparently had several other misdemeanor warrants as well. What the sheriff's department were likely hoping for was to get some leads as to the fugitive's whereabouts — but instead they made direct contact.
"And good thing I moved out of state," read McCombs' first Facebook comment under the photo police shared with his "Wanted" description.
McCombs's response ignited a two-hour comment war between McCombs, Facebook users, and the Jefferson County Sheriff's Office Facebook administrator.

"Doesn't matter where you moved the warrant calls for nationwide extradition. You will be brought back to Alabama to stand trial. Please turn yourself in and spare yourself all that trouble. It will be easier on you and your family," wrote the administrator.
"You guys can just hold your horses," McCombs replied.
The administrator offered to take the conversation off of Facebook, but McCombs declined. "[O]n here is just fine," read his response. However, his tone eventually shifted from defiance to concession.
"Can I turn myself in to St. Clair County since thats where the warrant is, I hear it's nicer over there," asked McCombs in another Facebook comment. He then persisted with questions, including the specifics of misdemeanor warrants and whether he could retain a court date without surrendering. He even expressed worry that his character had been "defamed" by the "Creep of the Week" association.
Other users also engaged with McCombs.
"You know they are going to knock on your brother's door, your parents', etc., until they find you," warned one commenter, to whom McCombs wrote, "Funny part about them knocking on all of their doors is none of them know where I am. And yes I'm going to turn myself in, when I'm ready, are you going to post my 60K bond?"
The Sheriff's department quickly chimed in, "Dustin, be quiet. Do not talk about the case here."
McCombs naive use of Facebook eventually led to his arrest.
"The person featured in the Creep of the Week album this week, Dustin McCombs, was captured in Ohio today by the U. S. Marshals Fugitive Task Force. He will be returned to Alabama to face the charges against him. He remains innocent until proven guilty in a court of law," Jefferson County Sheriff's department posted on its Facebook page Friday, February 3.
"Thanks for having this page JCSO - wish the Birmingham PD would update their FB pages and keep us as informed as you do," posted one commenter.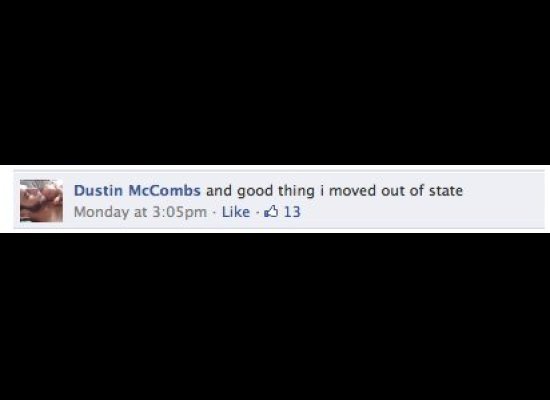 Support HuffPost
The Stakes Have Never Been Higher
Related
Popular in the Community