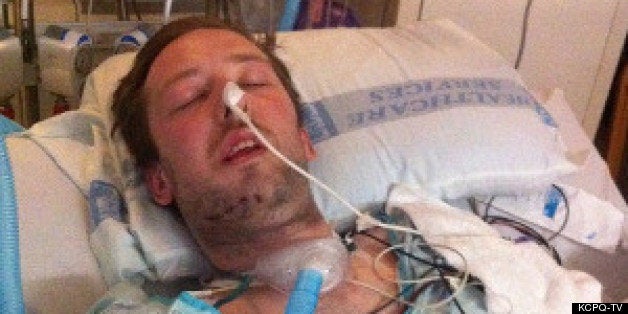 Dustin Theoharis woke up from a nap on Feb. 11, 2012, and two officers pumped his body full of 16 rounds.
The shooting was a mistake. The cops -- who were serving a warrant on someone else -- thought Theoharis was reaching for a gun, but he was going for his wallet. Years later, even after settling the second of two lawsuits totaling $5.5 million against Washington state and King County, he still suffers. He lost his job, has a hard time socializing due to post-traumatic stress, and can barely move his left arm and hand.
Yet Theoharis is pretty cool about the whole thing.
"It's a tough job they have to do," he told the Seattle Times in his first sit-down interview since his second lawsuit settled in February. "Sometimes they make mistakes."
The mistakes were gargantuan. That fateful day, Theoharis was taking a nap at an apartment he was renting at his buddy Cole Harrison's home in Auburn, Washington. Police were looking for Harrison's son, a convicted felon who had failed to check in with his state Department of Corrections officer as required by law. But King County sheriff's deputy Aaron Thompson and corrections officer Kristopher Rongen found Theoharis.
"I woke up and there were two guys standing at the door," Theoharis told the Times. "They asked me for ID and I went to grab for it and that's when I was shot."
The officers opened fire, hitting Theoharis in the jaw, both upper and lower arms, his wrist, hand shoulder and abdomen, and both legs. He never got out of bed.
The sum might seem like a lot, but Theoharis says he can't afford to "throw money around." In fact, he has more surgeries in his future, and already had to pay a third of his settlements to attorneys on top of his medical bills.
His life may never be the same. But he's trying to see the bright side of his predicament.
"I know I was lucky, but this isn't something I'm proud of and it's not something I enjoyed going through," he told the Times.
REAL LIFE. REAL NEWS. REAL VOICES.
Help us tell more of the stories that matter from voices that too often remain unheard.