Springtime brings two blossom-filled celebrations of Dutch flower painting. In The Hague, the Mauritshuis is displaying its €6.5 million March acquisition: Roelant Savery's Vase of Flowers in a Stone Niche, one of a handful of the artist's surviving flower pieces. "Dutch Flowers" at London's National Gallery explores the genre from its start in the early 17th century to its peak two centuries later (April 6-August 29).
Announced at TEFAF in Maastricht, the Mauritshuis acquisition completes the museum's trio of the pioneers of Dutch floral still-life painting. In a special ensemble, Savery's painting hangs against a bright blue wall covering alongside Ambrosius Bosschaert's strikingly similar Vase of Flowers in a Window and Jacob de Gheyn's Flowers in a Glass Flask.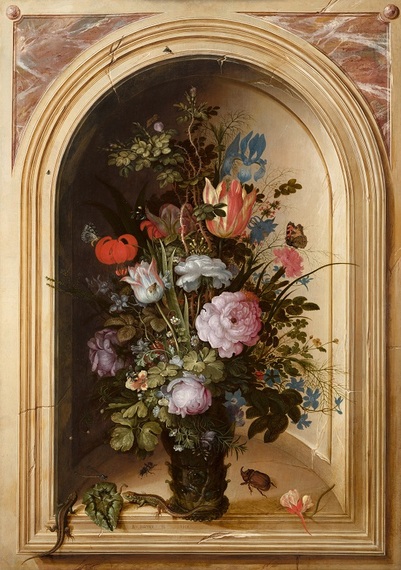 Roelant Savery, Vase of Flowers in a Stone Niche, 1615, Mauritshuis, The Hague. Acquired with the support of the BankGiro Lottery, the Rembrandt Association and a private individual, 2016
Savery placed his exquisite bouquet in a stone niche, adding small cracks to heighten the trompe-l'oeil effect. Menacing thorn brushes mix with the roses, tulips and delphinium, attesting to Savery's interest in untamed nature. In the lower left, by a pair of lizards, Savery chiseled his signature and the year 1615.
According to Quentin Buvelot, chief curator at the Mauritshuis, Savery probably produced the painting shortly after returning home from Prague, where he worked for a decade at the court of Habsburg emperor and art collector Rudolf II. Rudolf's gardens and menageries gave Savery a first-hand look at plants and rare animals like the dodo, found in many of his works. Savery's other patrons include England's Charles I, the Prince of Liechtenstein, and Stadtholder Frederik Hendrik and his wife Amalia van Solms.
Concurrently, "Dutch Flowers" at the National Gallery traces the genre's development over two centuries and contrasts the styles and techniques of its leading practitioners. Organized chronologically in one gallery by Betsy Wieseman, curator of Dutch and Flemish paintings, the exhibition features 22 works from the museum's holdings and private collections.
Artists like Savery, Bosschaert and Jan Brueghel the Elder started painting bouquets of flowers at the turn of the 17th century in response to new scientific interest in botany and horticulture. The genre continued to blossom in the 1630s as Holland was seized by "tulip mania." During the course of the 17th century, bouquets in the talented hands of Jan Davidsz. de Heem and later Rachel Ruysch become more natural and asymmetric. By the end of the 18th century, still-lifes by Jan van Huysum and others take a dramatic turn -- growing bigger, brighter and more decorative.
Tulips, introduced to the Netherlands from Turkey, were a highly coveted, luxury item. Ambrosius Bosschaert the Elder featured two of the most costly varieties in his Flowers in a Glass Vase -- Semper Augustus, red with white striations; and Viceroy, red with yellow.
By the early 18th century, fragrant hyacinths replaced tulips in popularity. Madame de Pompadour, Louis XV's trendsetting mistress, had hundreds of Dutch hyacinths planted at Versailles. By the end of the century, the Netherlands was cultivating 2,000 plus hyacinth varieties. European royals along with a new crop of wealthy merchants couldn't get enough of the highly refined botanical pictures, often painted on copper or wood panel supports.
Floral painting was considered an acceptable genre for women artists. Among the most successful was Rachel Ruysch, who had a talent for rendering textures and the illusion of three dimension. As a young girl, Ruysch moved from The Hague to Amsterdam where her scientist father was head of the city's botanical garden. At 15, Ruysch apprenticed with Delft flower specialist Willem van Aelst, who had also taught Maria van Oosterwyck.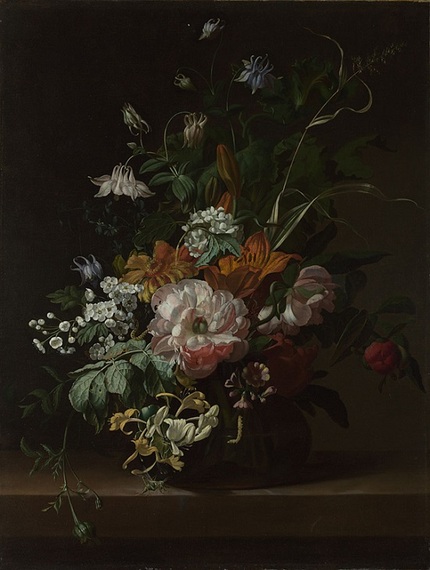 Rachel Ruysch, Flowers in a Vase, c. 1685, oil on canvas, The National Gallery

Several years after being inducted into the painters' guild in The Hague, Ruysch became a court painter to Johann Wilhelm, Elector Palatine, sending her luminous flower paintings to Düsseldorf. Ruysch managed all this while raising ten children with her artist husband. When Ruysch died at age 85, Dutch poets honored her with a book of verse.

For more information, visit http://www.mauritshuis.nl/en/discover/news-archive/2016/aanwinst-savery/ and https://www.nationalgallery.org.uk/whats-on/exhibitions/dutch-flowers-6-april-2016-1000
Susan Jaques' new biography, The Empress of Art: Catherine the Great and the Transformation of Russia is now available from Pegasus Books. http://www.susanjaques.com
Calling all HuffPost superfans!
Sign up for membership to become a founding member and help shape HuffPost's next chapter