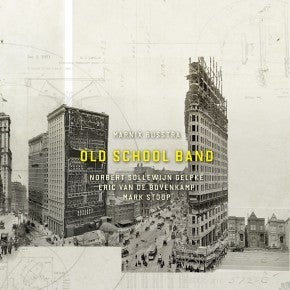 For those who love a good old school band; a tight no-nonsense grooving ensemble with funk-driven bass and drums, a wizard on keyboards and an extraordinarily tasteful guitarist with his own signature sound, then go no further than Dutch guitarist Marnix Busstra's latest Old School Band. While the music is derivative the guitarist has managed to bring his own European flavor to this genre.
Busstra is an accomplished musician who plays acoustic and electric guitar, Irish bouzouki and electric sitar. He leads several bands including the heralded Mike Maineri/Busstra Marnix quartet, a collaboration with the Steps Ahead vibraphonist that goes back to 2003.
His Old School Band includes longtime collaborator, bassist Norbert Sollewijn Gelpke, the organist Eric Van De Bovenkamp and the drummer Mark Stoop. The album features nine of Busstra's compositions that are thoroughly entertaining. The band plays with a deeply intuitive sense of unity. Busstra is the lead voice on a majority of the album and his floating, viscous style weaves into the group voice without ever overpowering it. His guitar playing somehow manages to walk a line between syncopation and flow, without ever sacrificing either one.
On this album, Busstra gives a nod to his early influences and gone back to the basics, the reliable, often funky, jazz guitar/organ/bass/drums format. The group follows in the footsteps of guitarist John Scofield's outings with avant-jazz-funk, jam band Medeski, Martin & Wood, popularized by their album from 1998 A Go Go.
The likeness is more homage than imitation with Busstra's guitar sounding like an amalgam of Scofield, Metheny and Dire Straights' guitarist Mark Knopfler to my ears. His music has an infectious lilt to it that you can be swept up in. Take a listen to funky drum intro on the opener "Medium Rare" and the bouncy melody that Busstra plucks out of his electric guitar. Pure fun.
Or get down with the swelling organ chops of Bovenkamp and the booming bottom of Gelpke's bass on the funky "Ten Euro Skunk," one of my favorites, and you'll get the idea. These guys are having fun while digging a deep groove, and their precision is marvelous. If you don't find yourself following the beat with some part of your body than check your pulse.
On "No Solution," a softly swaying shuffle that is right in Busstra's wheelhouse, we find the guitarist at his most lyrical. His note choices are fluid and soulful. When he solos each note almost bleeds into the following notes as if part of a rushing current. Gelpke's tasty bass solo is a welcome addition and Bovenkamp proves he is an accomplished accompanist as he spins some magical sounds on his keyboard at the fading coda.
"Out of the In Crowd" is the composition where Busstra's guitar and band comes closest to the Scofield funk sound. Gelpke's funky bass lines bringing it down home as Bovenkamp delights with some of his most inspired gritty keyboard work on the album. Drummer Stoop's snare-heavy beat sprinkled with some creative fills carries this rhythm with an assured panache.
The whole album is just plain fun and If you're like me, you be inspired to tap your feet and bop your head. "Little White Lie," features some adventurous serpentine guitar lines by Busstra with the band roiling behind him. "Too Hot Tub" is a slow, exaggerated walking blues that allows Bovenkamp to use some of his arsenal of sounds to great effect. Stoop's is given an extended drum solo that is just a wellspring of percussive creativity without ever being unnecessarily bombastic.
"A Good Day" is another one of those songs that gets stuck in your head. Stoop demonstrates he is up on some of the most modern drum styles, varying his technique as the music demands. Busstra features his rhythm section, particularly Bovenkamp, for a majority of this song preferring to allow the music to establish and hold onto a groove. His solo about two thirds through is sparse and tasteful.
The set ends with "New Canal of the Emperors" an evocative composition that reminds me a bit of some of the music of Dixie Dreggs' keyboard player T. Lavitz and the jagged "F**king Speedbumps" a raucous ride that funks you up and then leaves you hanging in mid-air when the band shuts it down like turning off a light switch. Grab some Dutch funk for yourself.
Related
Popular in the Community