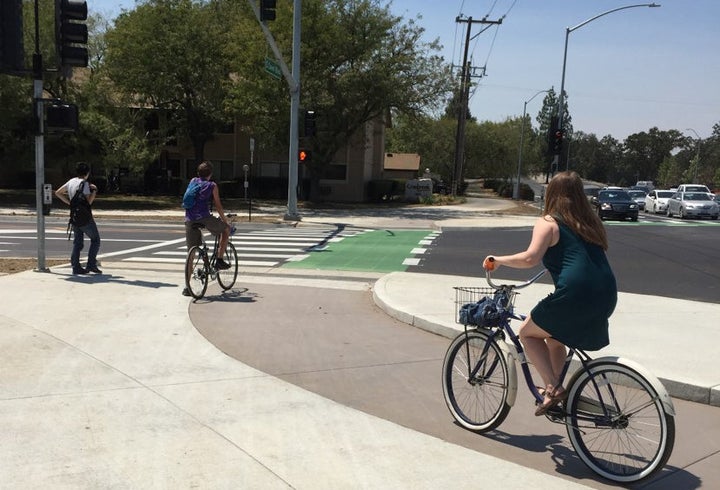 It's a struggle that's longed plagued street designers: how do you make an intersection safe for cyclists?
Cities have increasingly used protected bike lanes to give cyclists security when they travel alongside automobile traffic. But at intersections, things become more tricky. In order to allow for turns, the protection ends.
That's a big problem. After all, it's only the most dedicated cyclists who will take to the road without protection. To get the masses to cycle on a regular basis, it's critical to ensure riders feel safe.
A new type of intersection — or, at least one that's new to the U.S. — may be able to fix that problem.
The so-called Dutch junction offers protection to cyclists at intersections, regardless of whether they're turning left, turning right, or continuing straight. The key to its design are the four islands near each corner of the intersection. They prevent cars from entering the pathway of cyclists turning right. Meanwhile, they force cyclists traveling straight to move into the view of automobiles and out of their blind spots.
The intersection isn't really new. It's a standard in The Netherlands, as it's name suggests.
Last year, Davis, California introduced the first operating Dutch junction in the U.S. It couldn't have happened in a more appropriate place. Fifty years ago, the city debuted the country's first bike lane. Today, Davis is striving to achieve 30 percent bicycle ridership by 2020.
The diagram below shows it work (click here for a video explanation). Television station KCRA also offers a good video tour of what the intersection looks like in Davis.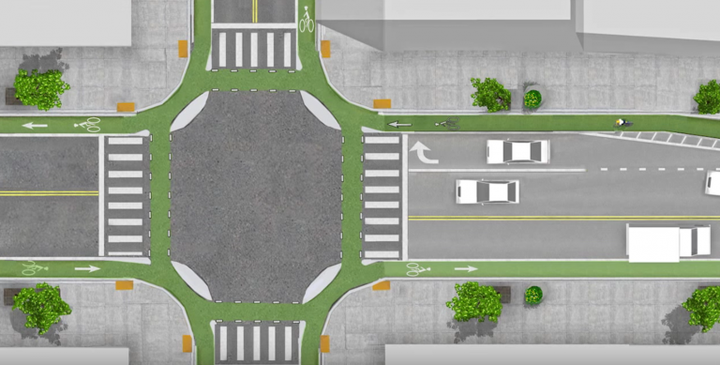 The Dutch junction is a clever — albeit surprisingly simple — solution to a conflict that's plagued communities for years. It's especially effective, since it specifically addresses the place where bicycles and cars are most likely to collide — intersections.
"A network is only as good as its weakest link," Davis's consultants, Dutch firm Mobycon, wrote in a report for a city advocating for the method. "In the street network, intersections are the most troublesome places." In other words, if the city wants to boost cycling, it will only succeed if the average residents — not the most passionate cyclists — feel safe doing so. It's a category of bicycle rider known as "interested but concerned," and many planners and advocates believe that catering to them is the best way to make bicycle commuting more mainstream.
The protected intersection is located near Cannery Project, a 100-acre mixed-use project under development along a major east-west arterial. It cost $1 million to build.
Though some might have feared debuting a new type of intersection might cause challenges, or require explanations to residents, that wasn't the case when it debuted last year. And soon, Dutch junctions in the U.S. won't be limited to California. Already, Austin, Boston, and Salt Lake City reportedly have versions of Dutch junctions in the works.
Initially, both the developer behind the Cannery Project and the advocacy group Davis Bicycles opposed plans for the Dutch intersection, according to the Davis Enterprise, instead favoring an bicycle underpass, the city's original plan. But in the end, they lost out in part due to the suggestions of the consultants who helped to plan the crossing.
"No one died. No near misses. Nothing even close," the Davis Enterprise reported of the Dutch junction's first day in use. "Just history in the making no one seemed to notice."
PHOTO GALLERY
Architect Draws Sustainable Underwater Cities
Calling all HuffPost superfans!
Sign up for membership to become a founding member and help shape HuffPost's next chapter