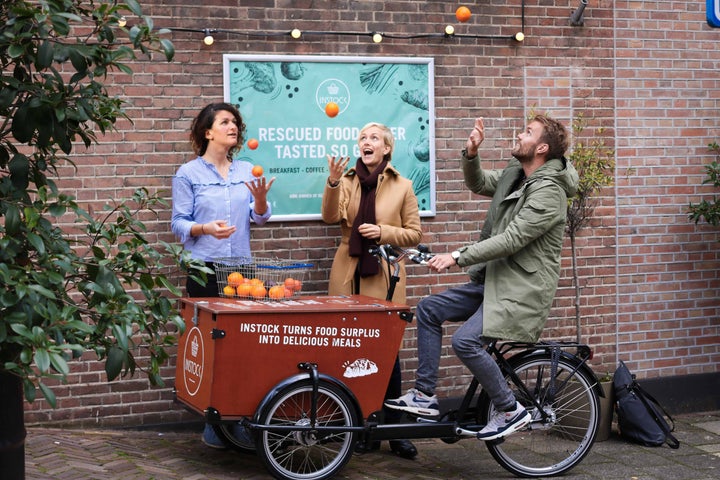 Bart Roetert felt a familiar sense of frustration as he walked past the leftover food piling up at the end of his grocery store shift ― overripe mangoes, day-old bread and one blemished tomato on a vine of five other perfectly good ones.
It was a cold November afternoon in 2013, and Roetert was working as a store manager for Albert Heijn, one of the Netherlands' largest grocery chains. Just that day, he'd been talking to his colleagues Freke van Nimwegen and Selma Seddik about a business competition their company was running to find innovative ideas. All three wanted to see less edible food ending up in the garbage, and Roetert realized they could use the competition to achieve just that.
The trio pitched Instock, a pop-up restaurant in central Amsterdam that would serve meals made entirely out of surplus food from the supermarket chain they worked for. And they won.
Before long, with some financial assistance from Albert Heijn to get started, the team members were taking turns driving around the city three days a week in an electric car to collect unsold food from a handful of stores.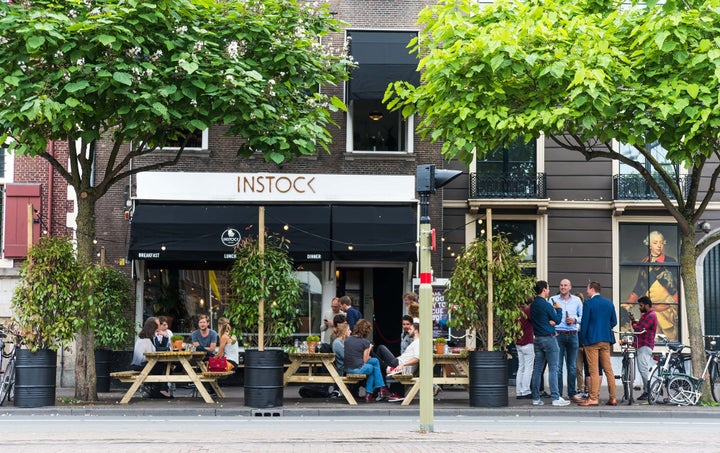 Fast forward four and a half years, and Roetert, van Nimwegen and Seddik run Instock full time. The social enterprise collects surplus food from 160 Albert Heijn stores across the Netherlands, has three of its own successful, permanent restaurants in Amsterdam, the Hague and Utrecht, and an online shop that sells surplus food to other catering companies and chefs. It also runs a school food waste program that offers resources and lesson plans to help teach children where food comes from, why food waste is bad and how it can be prevented.
"At the time we founded Instock, there was lots of talk about this issue, but we actually wanted to do something about it," Roetert explained.
Instock is tapping into a growing global concern over food waste. One-third of all food produced for human consumption is lost or wasted.
But there's no point having an environmental conscience if people don't visit your restaurant. From the start, the important thing for Instock was creating somewhere people would want to eat, Roetert said. Its three restaurants are centrally located and have arty interiors where even the lampshades are recycled. Sitting down to lunch, you might be served a fluffy vegetable frittata alongside creamy tomato gazpacho and French toast made from past-their-prime croissants.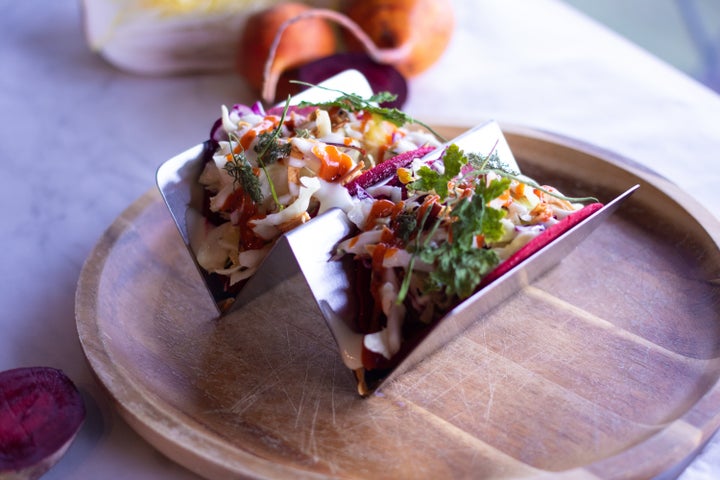 A four-course dinner at Instock costs 29 euros ($34) and uses traditional methods and fusion flavors to transform leftovers ― think salmon tartare with an Asian twist, or a Caribbean patty filled with fermented vegetables and smoked cheese. Perhaps unsurprisingly, the place attracts a diverse crowd: "We get both the foodies and the eco-minded people," Roetert said.
Instock runs a free collection service to "rescue" leftover fruit, veggies, bread and dried food from Albert Heijn, but surplus fresh fish and meat come directly from suppliers. This helps to find a home for fish that doesn't meet other restaurants' sizing requirements or excess meat from a supermarket order.
"It's a bit more chaotic, not knowing what you're going to get," said Instock's head chef Lucas Jeffries. "That makes it a bit scary some days, because most cooks love structure and predictability. But we do get to be creative on a daily basis."
External chefs have mixed feelings about using food waste, Jeffries said, explaining that some of his peers prefer to use only the highest-quality ingredients. "But some products are better when they're more ripe, and in some cases Instock is offering extremely low prices, which offers a lot of opportunities. I think it's a start, and it creates awareness," he added.
"Most cooks love structure and predictability. But we do get to be creative on a daily basis.""
Toine Timmermans, program manager of sustainable food chains at Wageningen University and Research in the Netherlands, leads a team assisting 25 projects across the country that are turning surplus food into products like beer and ketchup. Instock has one major advantage, Timmermans said.
"What Instock did was start from the inside out. Working for [Albert Heijn] gave them the opportunity to pitch an idea internally. In that sense, it was a way to teach Albert Heijn about its own food waste. They realized they had more food waste in their operations than they thought."
Food waste efforts in the Netherlands are now focusing on scaling up, said Timmermans ― something Instock is doing through its online shop with the aim of "rescuing" 110 million pounds of food by 2030 (the current total is around 880,000 pounds).
"One restaurant, one person doing something to tackle the problem, that's great. But it's largely irrelevant unless we deal with food waste on a systemic and structural level," Tim Lang, professor of food policy at City University in London, told HuffPost.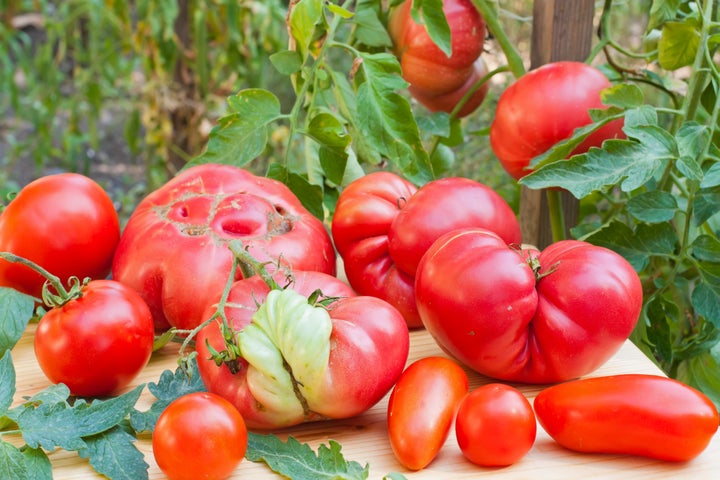 In the U.S., just 4 in 10 of the largest grocery chains have specific food waste reduction commitments, according to a report by the Center for Biological Diversity, which also found that 9 in 10 of those chains fail to publicly report their total volume of food waste.
While there's a long way to go, companies are starting to take action on a larger scale. Pressure has been building on European grocery chains to accept broader specifications for fresh produce. In France, for example, Intermarché supermarket launched a successful campaign to promote "inglorious fruits and vegetables," allowing it to buy misshapen produce from producers that would usually be thrown away. The U.K. supermarket Tesco has made much of its Perfectly Imperfect range of fruit and veggies, which it expands when necessary to deal with crop gluts.
The Netherlands appears to be taking the issue seriously, launching a national program in March to cut its food waste in half. For Roetert, part of the solution lies in challenging people's ideas about what is considered waste: "[Eating surplus food] is a new way of thinking ... we have changed perceptions, and that's something I get a lot of satisfaction from."
For more content and to be part of the "This New World" community, follow our Facebook page.

HuffPost's "This New World" series is funded by Partners for a New Economy and the Kendeda Fund. All content is editorially independent, with no influence or input from the foundations. If you have an idea or tip for the editorial series, send an email to thisnewworld@huffpost.com.
Popular in the Community