One of the breakout stars in the twenty-first century art world is back today with a new exhibition, The Collapse of Cohesion, at the Galerie Ron Mandos in Amsterdam.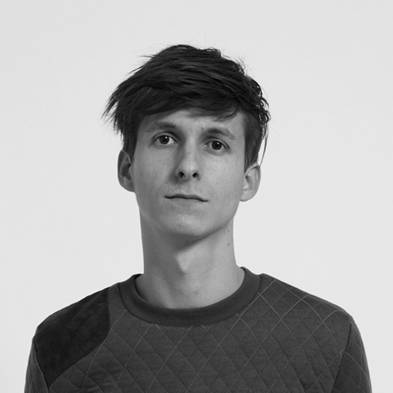 Levi van Veluw
Dutch artist Levi van Veluw, an award-winning, multidisciplinary artist who lives and works in the Netherlands, burst onto the scene in 2006 at the ripe old age of 21. Although fresh out of school, it didn't take long for Van Veluw's portrait series to gain international attention, nabbing him several awards and featured spots in some of the world's leading galleries and museums. Seven years later, he's put down the camera and returned with a new set of drawings in the exhibition, which opened today and runs through October 5th.
The drawings feature the destruction of Van Veluw's childhood belongings -- his old desk, drawers, etc. -- by natural elements. Despite the chaos, any physicist would be pleased with the artist's renderings -- Van Veluw made sure to follow nature's own laws to form a kind of hidden order underneath the destruction, the same order so prominent in the rest of his oeuvre.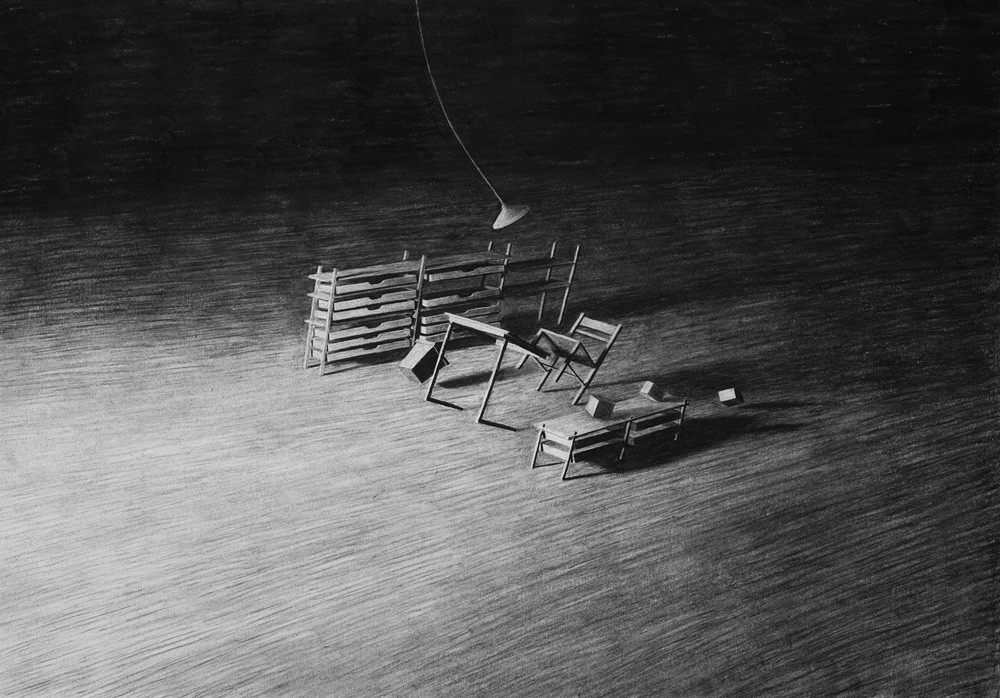 Alongside today's opening, Van Veluw will be releasing his first book, Origin of the Beginning, which is a work of art in itself, as you will learn below.
We caught up with the artist earlier this week:
Q: Where are you and what are you doing right now?
A: At this moment I'm preparing the solo show The Collapse of Cohesion at Galerie Ron Mandos in Amsterdam. It's a 300m2 space in the centre of Amsterdam. Together with assistants we are building up 2 large-scale installations inspired by some of my previous drawings. Besides the 2 installations, the exhibition contains 7 large-scale charcoal drawings of 205 x 120cm and 14 small drawings of 73 x 51cm.
During this exhibition I will also release my first official book. The publication contains a special handmade wooden block, which has been placed inside a cutout square hole that perforates the book. It's visible from the front cover through the whole publication. Tomorrow I will glue the first 300 from 1000 wooden blocks inside the book. There will also be a special edition in which a metal shaft is placed inside the cover of this book. When this book has been placed inside a wooden holder, the shaft will be connected with a small magnet to a wind-up mechanism. The wooden block will start slowly rotating.
Q: You've enjoyed great success in a brief period of time, with exhibitions in many different locations across Europe and the United States. How do you look at the fact that the international acclaim of your work came about so quickly?
A: Of course it's great, because you get lots of possibilities to create new work and show it internationally. But 7 years ago I was really young and just graduated. My oeuvre was quite small and with all the attention it was hard to follow my own path without getting influenced. And because you've only made a few works, all quite similar, the question was how to escape that pattern. During that period people try to put a label on your work, but I already knew that I wanted to work with different disciplines and not making portraits all my life. So the big challenge was to create totally different work, without knowing if anyone likes it.
This new exhibition doesn't contain any portrait, no photography, only drawings and installations. For me that's the greatest challenge as an artist, forgetting the success of previous work, and developing new ideas.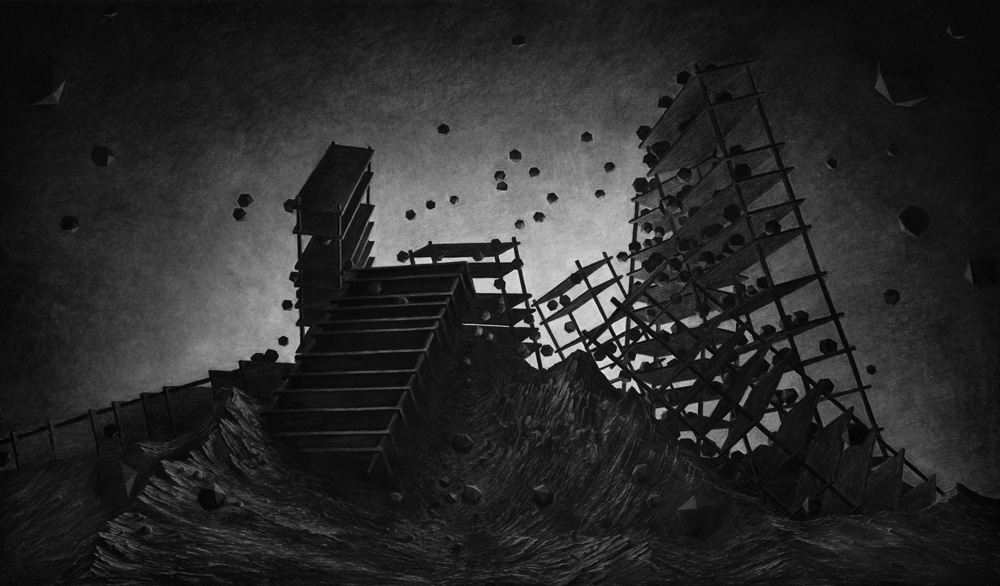 Q: Has success changed you?
A: Not so much, but it forced me to work more professionally. I work in a more disciplined way, something that is required when you get lots of responsibility.
Q: You've earned a number of prestigious awards, including the Photographer of the Year Award by the International Photo Awards, USA. Can you tell a little bit more about it and what this prestigious title brought you?
A: I received these awards at the beginning of my career. Not the most common time, but probably the best, as it gave many galleries, museums, collectors etc. the confidence to show my work.
Q: Who are your influences?
A: That can be anybody or anything. I get influenced by artists in a more practical way, for example a few years ago, I was making photographs, but after seeing great installations on Art Basel or at museums, I got motivated to make an installation myself. And I always liked film, and when I wrote the concept for Family I got the idea to make a performance film without sound.
It's sometimes hard to analyze where an idea came from. It's never that straightforward. Thoughts, experiences, visuals come in everyday, and inside your head things get blended. But an older series Origin of the Beginning is about finding out where certain fascinations and ideas came from.
Q: Talk about The Collapse of Cohesion and how it connects to your previous work?
A: Whereas the previous series incorporated themes of control, order and structure, in The Collapse of Cohesion you witness the disintegration of these elements. Order turns into chaos. Visions of collapsing desks, falling cupboards and exploding cabinets mark the moment of disruption. Human structures are affected by forces of nature such as gravity, water and wind and in this way realigned into a new, natural order of things.
Although these works play on our fascination for destruction and need for disorder, they do possess an inherent compositional equilibrium. The physics of falling objects has a logic that is bound by rules. Each image I have carefully composed in preliminary drawing studies. The placement of each element was not left to coincidence but was my preconceived choice.
I graduated with photographic portraits of a sort, but I never consciously set out to work with photography. It was just the most effective medium to document something. Later on, I started creating objects and installations and would sometimes photograph them afterwards. But there just is something very fundamental about drawing. I used to do it a lot when I was younger. Back then, drawing was the easiest thing to do, but when I went to art school in Arnhem it became the hardest thing. All you have is a pencil and a blank piece of paper. There's no subject there, waiting to be depicted; you have to create something from scratch.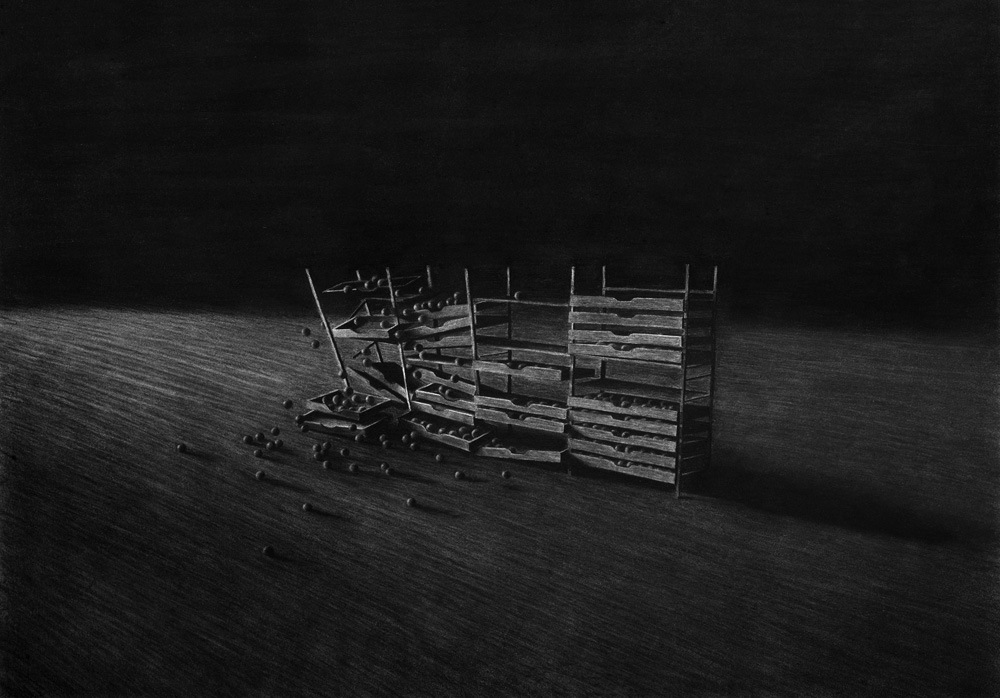 Q: Origin of the Beginning is your first official publication. What does this Darwinian title refer to and what is it all about?
A: The title is from a previous series that I made 2 years ago. This series is about the reason why I make work in a certain way. It tries to explain my obsessions for control, structure, patterns. Where does it come from? What is the Origin of my personality, the Origin of the Beginning? In a kind of way my oeuvre and artistry are also an evolution in itself. That's why I chose this title.
Q: As you mentioned earlier, a special feature of the publication will be a cutout square hole with a wooden cube that will perforate the whole book. Why?
A: The publication contains a special handmade wooden cube, which has been placed inside a cutout square hole that perforates the book. It's visible from the front cover through the whole publication.
This cube is a fundamental shape in my work. It's a symbol of perfection, or of the strive for it. In a computer model, a mathematical shape like that is perfect. But in reality, if you create the cube yourself, it's never quite right. I think a sphere is a beautiful mathematical shape as well, because it's hard to control. In reality, a sphere can roll in any direction, causing an uncontrollable chaos. I incorporated that sense of chaos in a work about a recurring nightmare I had as a child. A dream about rolling balls I had to try to keep together. A cube, however, is perfectly still. To me it's the most calming, symmetrical object there is. A small cube is entirely comprehensible. The book can be seen as a stack, with the oldest work at the bottom, which is the farthest away from us just as it is the farthest away from you in time and right in the middle of that stack, is the most calming object you can imagine.
In the special edition that's limited to 35, the cube will start rotating when it's placed inside a wooden holder.
Q: Where can we get a copy and where can readers learn more about you and your work?
A: The book will be finished within a few days. Like I said, at this moment I'm gluing 1,000 wooden blocks inside them. It will be distributed worldwide in bookstores, but it can also be ordered here.
For the special edition you can contact Galerie Ron Mandos. Saturday September 7 is the opening and the exhibition will run until October 5, 2013.
You can find more information here, here, or here.
Photos courtesy Levi van Veluw
Related
Popular in the Community