Italian explorer Giovanni da Verrazzano stumbled onto what was to become the Hudson River in 1524 while circumnavigating a remarkable island owned at the time by the Manhattoes, the Native American tribe for which the city is named. Completely surrounded by passable waterways, the flat landmass posed a perfect opportunity for a port, and the Dutch began to settle there in 1609. Snippets of this early influential history still can be seen along the waterfront in lower New York, including the cobblestoned Gansevoort Street, the new address of the Whitney Museum of American Art that just opened this month, as well as the tulips on Park Avenue, which are scheduled to bloom at any minute.
It didn't take long for New Amsterdam to attract ships to its coastline, which necessitated the building of structures erected on posts that extended from the shore like outstretched fingers over the water as an ideal landing place for ships. These huge platforms would secure, protect and provide access to commercial vessels for hundreds of years. Now the mighty piers, many long since abandoned, have been adaptively refitted and refurbished to accommodate impressive, secure indoor spaces that host prestigious events like the upcoming Art Miami New York fair.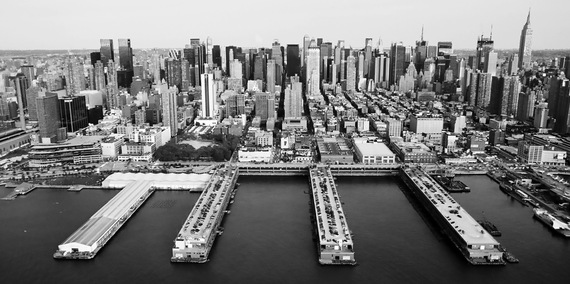 Present day New York skyline with Hudson River piers in foreground (Pier 94 on far left; 55th Street and West Side Highway).
From the original modest community imported from Holland of about 6,000 industrious residents, one of the world's greatest metropolises would continue to grow, and by 1835 New York had surpassed Philadelphia as the largest city in the United States. While public-minded members of the old merchant aristocracy announced a design competition in 1857 for a central green, which became the first landscaped park in an American city, at the same time the seemingly perpetual heart of the art world, Paris and Berlin, reluctantly handed over that distinguished recognition to New York, with the advent of modern and contemporary art shifting to downtown. Two of this country's most uniquely American cultural inventions, jazz and Abstract Expressionism, the art movement led by the former young stowaway from Holland, Willem de Kooning, helped cement Manhattan as the world's modern art capital.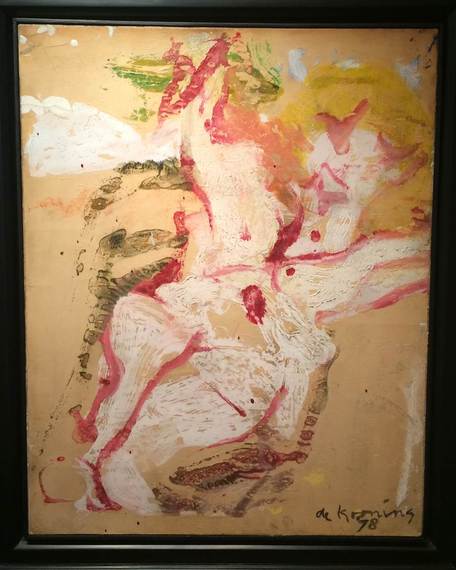 Willem de Kooning, Untitled, 1978, Oils on paper laid on canvas, 23.5 x 18.5 in. Courtesy of Arcature Fine Art (Palm Beach, FL).
In 1930, there were only a handful of galleries uptown, but these numbers quickly grew in all directions, making the city a magnet for ambitious artists and dealers. This rich tradition continues today, with more galleries here by far than any urban area on earth. With the inaugural edition of Art Miami New York, visitors indeed will experience a world tour of creative energy produced by works from artists originating in over fifty countries, all presented under one roof.
Art Miami, the longest running continuous art fair in America is docking on the expansive Pier 94 with a VIP opening May 14, and will host more than 100 leading international galleries showcasing works by nearly 1,200 artists. The fair debuts during Frieze Week, one of the busiest and most exciting events of the Big Apple's 2015 art and cultural season, and alongside the highly anticipated Post-War and Contemporary art sales at the major auction houses, which are located not far from the fair.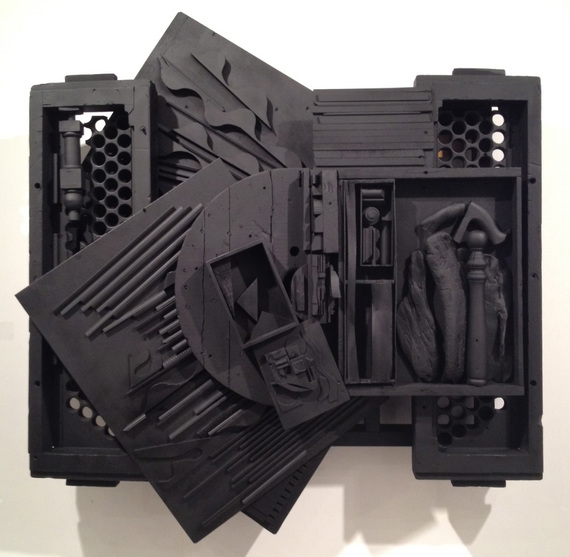 Louise Nevelson, Mirror Shadow XXXIX, 1987, Wood sculpture painted black, 56 x 52 x 15 in. Courtesy of Scott White Contemporary Art (San Diego, CA).
I spoke with Nicholas Korniloff, the Director and Executive Vice President of Art Miami LLC, where I learned about a rather impressive line-up of some of the most important Post-War and Contemporary artists to be exhibited at the fair, including Jean-Michel Basquiat, Alexander Calder, John Chamberlain, Robert Rauschenberg, de Kooning, Yayoi Kusama, Sol LeWitt, Nam June Paik, Claes Oldenburg, Andy Warhol and Frank Stella (who is the subject of the Whitney's first solo show downtown in October 2015), many of whom began their careers not far from Pier 94 in the cast iron loft districts and Chelsea neighborhood. The same expected principles of excellence have been applied to Art Miami New York, with its strong mix of fresh secondary market works, some by artists who also are currently on display at the neighboring Whitney Museum, as well as an impressive array of cutting-edge mid-career artists, which for me always offers a stimulating revelation to compare in perceived reputation, overall quality and market values. During the fair, I will be moderating a symposium with other recognized professionals sponsored by One Art Nation, where we will discuss existing and future trends in the art market, as well as long term investing in contemporary art.

Mel Bochner, Ha Ha, 2014, Monoprint with collage, engraving and embossment on hand-dyed Twinrocker handmade paper, 93 x 77 ½ in. Courtesy of William Shearburn Gallery (St. Louis, MO).
There are a number of reasons that people attend art fairs besides the opportunity to sharpen one's eye, and to gain investment guidance and education. For many, it's the chance to see a fascinating collection of works both famous and emerging with one stop. But as anyone will tell you, it's also a great people-watching event, as art collectors and artists, dealers, and the art world in general, seem to have a fashionable, inventive spirit that en masse takes on a casual but sophisticated sartorial extravaganza of colorful, well-dressed visitors that you likely will not find anywhere else, unless you were lucky enough to attend The Met's annual Costume Institute Gala, or found a front row seat along the runway for a Betsey Johnson fashion show. Nevertheless, an art fair is most importantly about the art being shown, and the following is a small sampling of what to expect.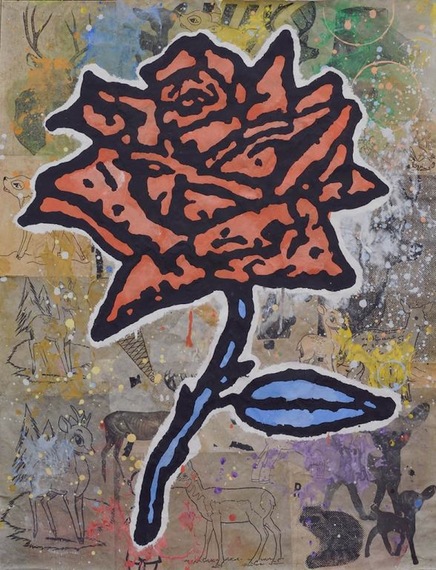 Donald Baechler, River of Bridges (Red & Blue), 2014, Gesso, Flashe and paper collage on paper, 132.1 x 101.6 cm (52.01 x 40 in.). Courtesy of Galerie Forsblom (Helsinki, Finland).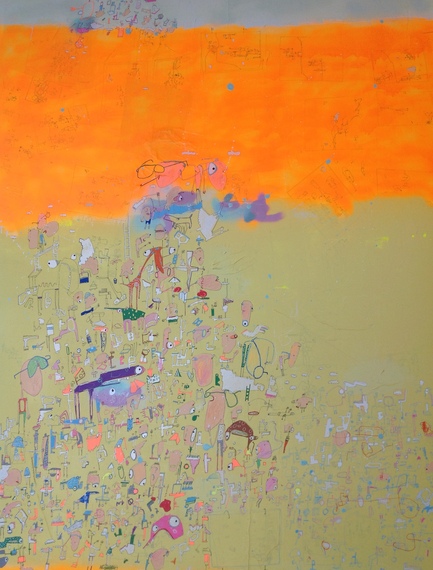 Rafa Macarron, Génesis, 2014, mixta sobre lienzo, 162 x 130 cm. Courtesy of Galeria Casa Cuadrada (Bogota, Colombia).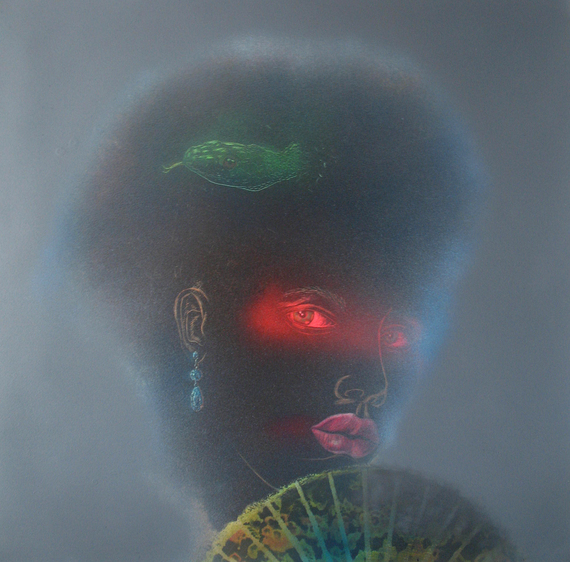 Renee Stout, Spirit of Marie Laveau, 2009-2015, Colored pencil, varnish and spray paint on Lithograph, 21 x 21 in. Courtesy of Accola Griefen (New York, NY).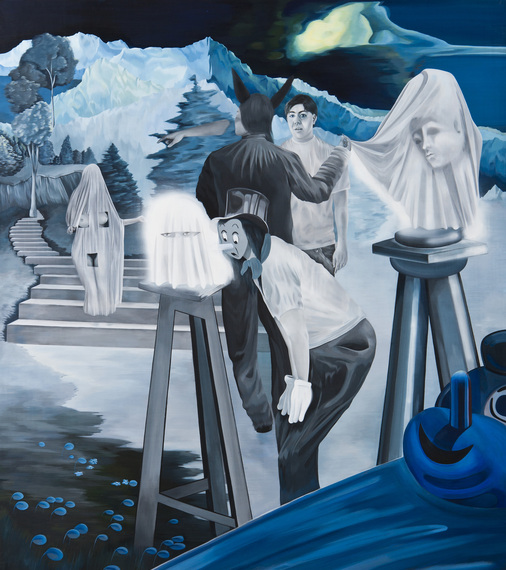 Taravat Talepasand, Reprise de Justice (Presumption of Justice), 2011, Egg tempera on linen, 35 x 31 in. Image courtesy of the artist and Beta Pictoris Gallery (Birmingham, AL).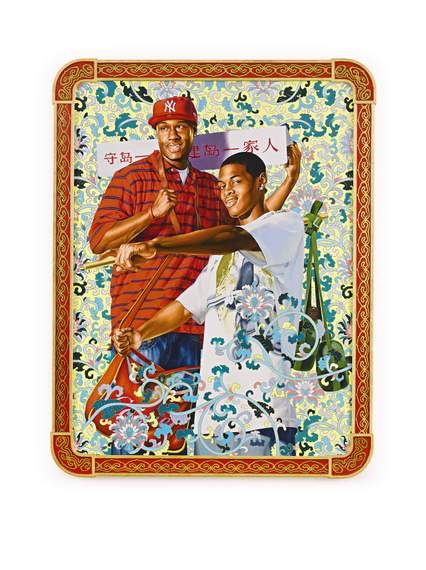 Kehinde Wiley, Defend and develop the island together, 2006, Oil on canvas in artist's chosen frame, 271 x 209.6 cm (106 3/4 x 82 ½ in.). Courtesy of Jerome Zodo Contemporary (Milano, Italy).
Calling all HuffPost superfans!
Sign up for membership to become a founding member and help shape HuffPost's next chapter