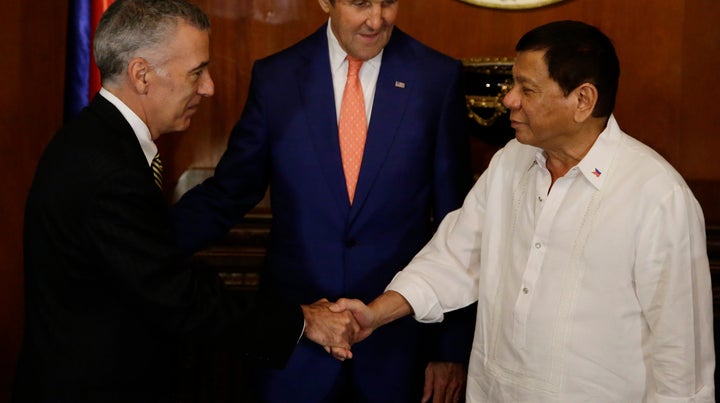 In a shocking but hardly uncharacteristic spat of insults, Filipino President Rodrigo Duterte called U.S. ambassador to the Philippines Philip Goldberg a gay "son of a whore." While the blow has fueled transnational ire, it is not without precedent.
"As you know, I'm fighting with [U.S. Secretary of State John Kerry's] ambassador," the new leader explained in televised remarks on Friday. "His gay ambassador, the son of a whore. He pissed me off."
Duterte claimed that the outgoing American envoy "meddled" in the Philippines' recent elections by "giving statements here and there," thus earning him the title of a prostitute's homosexual son ― a description similar to one Duterte already extended to Pope Francis last year.
While announcing his presidential run, Duterte chastised the Pope for causing traffic jams in Manila during his visit to the city.
"It took us five hours to get from the hotel to the airport. I asked who was coming. They said it was the Pope. I wanted to call him: 'Pope, son of a whore, go home. Don't visit anymore'," he said in 2015, marking just one of his many internationally condemned controversies.
To his credit, Duterte did promise to travel to the Vatican to personally apologize to the Pontiff for his comments, but later canceled those plans. When confronted by senior members of the Catholic Church, his response was short but not sweet: "Don't fuck with me."
Duterte shared that same sentiment with members of the press in June, adding: "You idiots do not threaten me." Days earlier, he warned reporters they are not excused from execution as a form of punishment for corrupt news coverage.
"Just because you're a journalist, you are not exempted from assassination if you are a son of a bitch," he said at a press conference, where he also came under fire for catcalling a female reporter.
Although Duterte's profanities have repeatedly filled headlines, they pale in comparison to horrific comments he made about an Australian missionary who was gang-raped and murdered during a prison riot in Davao City, while he served as mayor.
"I saw her face and I thought, 'Son of a bitch. What a pity ... they raped her, they all lined up. I was mad she was raped but she was so beautiful. I thought, the mayor should have been first," Duterte said, later telling critics that his words were not meant as a joke and refusing to apologize.
The 71-year-old has also admitted his connection to the Davao death squad, confessed to killing multiple people himself, vowed to "dump [criminals'] bodies" in Manila Bay to "fatten the fish," and repeatedly promised to bring suspected drug dealers to justice by having them slaughtered in the streets.
Since taking office in late June, Duterte has held true to that promise by enticing vigilante killers with financial incentives. Hundreds of deaths have already been reported.
His row with Goldberg is reminiscent of an angry battle of words between U.S. ambassador to Israel Daniel Shapiro and former Netanyahu aide Aviv Bushinsky, who used a Hebrew slur to call the American diplomat a "little Jew boy" back in January.
But Duterte's unfolding drama with Goldberg may not be so easily forgotten. After Philippine foreign affairs spokesman Charles Jose assured the AFP on Friday that relations between the two nations "remain strong," Washington reportedly deployed Filipino charge d'affaires, Patrick Chuasoto, to further investigate the matter.
Popular in the Community