The Philippine island of Mindanao, home to over 20 million people, has been under martial law this week after Islamist militants attacked the island's city of Marawi. On Thursday, Philippine army helicopters and special forces were deployed to restore order as fighting forced civilians to flee the city. 
Amid the conflict, Philippine President Rodrigo Duterte on Wednesday said he is considering expanding martial law "throughout the country" to combat the threat of extremism.
"I will not hesitate to do anything and everything to protect and preserve the Filipino nation," Duterte said.
Rights groups are extremely concerned about Duterte's mention of nationwide martial law, warning that an expansion of police and military powers could further deteriorate human rights in the country. Duterte has been carrying out a brutal "drug war" since taking office that has left around 9,000 people dead, as emboldened police and vigilante groups commit extrajudicial killings of alleged drug dealers and users with impunity. 
"Martial law must not be an excuse nor an opportunity to limit or ignore human rights," Rachel Chhoa-Howard, a researcher for Amnesty International, told HuffPost.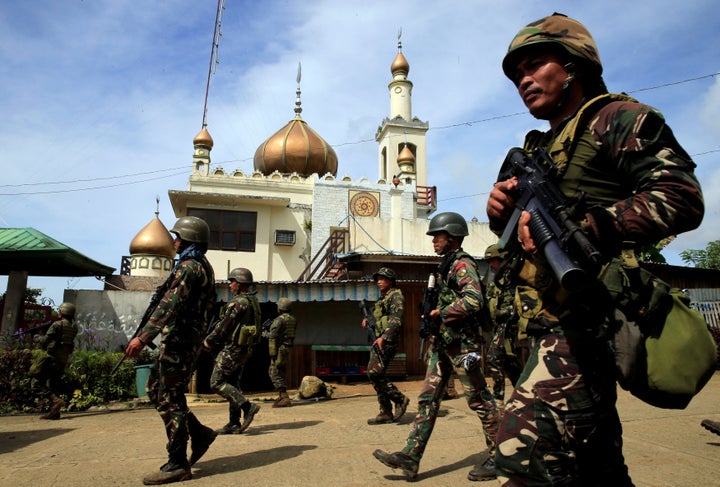 Duterte said last year that he was "tempted" to aid his violent crackdown on drugs by declaring martial law ― a measure that would allow military intervention into domestic affairs and the detention of citizens without charge. This is only the second time that martial law has been invoked in the Philippines.
The current state of martial law is intended to last 60 days, the maximum allowed by the constitution, and only applies to the island of Mindanao. But in a video released Wednesday, Duterte suggested it could be extended longer. The president claimed that he would be "harsh," and that his use of martial law would not differ from that of former dictator Ferdinand Marcos.
"This is deeply disturbing, given that Amnesty International documented tens of thousands of victims of human rights violations including extrajudicial killings, arbitrary detention, torture and enforced disappearances over the period of the Marcos regime," Chhoa-Howard said. Marcos kept the Philippines under martial law for 14 years, until he was ousted from power in 1986.
Duterte's comments on martial law came on the same day that The Intercept published a leaked transcript of an April phone call between the leader and U.S. President Donald Trump. In the call, Trump effusively praised Duterte for doing an "unbelievable job on the drug problem."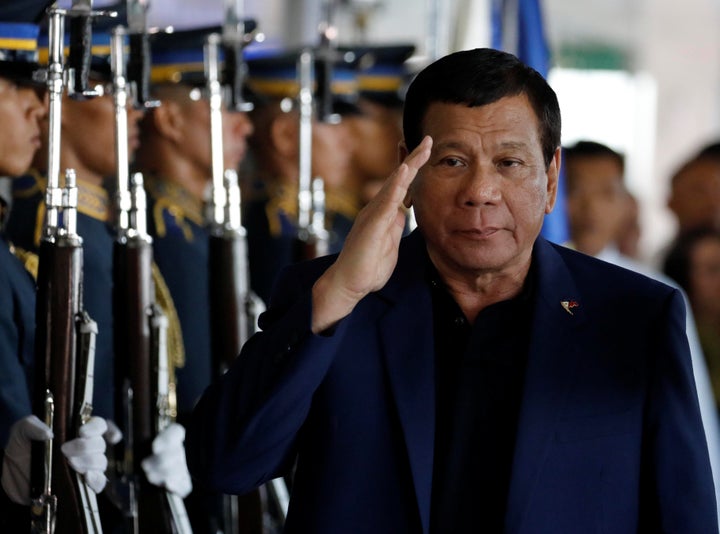 The Philippines has long been fighting an Islamist militant insurgency in the country's south, and in the last year the Abu Sayyaf militant group has drawn increased attention as it carried out high-profile kidnappings of foreign nationals. The extremist group beheaded a German hostage in February, as well as two Canadians in 2016.
The attack on Marawi this week is believed to be an Abu Sayyaf operation in coordination with the ISIS-inspired Maute terror group.
Abu Sayyaf is loosely linked with ISIS, and pledged allegiance to the group last year. Along with the Moro Islamic Liberation Front and splinter group the Moro National Liberation Front, Abu Sayyaf is one of the groups that make up a wider insurgent movement that affects southern Philippine politics. 
Duterte was formerly the mayor of Mindanao's largest city, Davao, and one of his presidential campaign promises was to end the Islamist insurgency on the island. A month after his election, he vowed to bring peace to Mindanao by the end of his term.
Although Duterte has previously said he is open to negotiations with some of the Islamist insurgent groups, such as the Moro Islamic Liberation Front, he has taken a harder line on Abu Sayyaf. After a bombing in Davao killed 14 people last October, Duterte told a crowd of supporters that he would make the militant group pay for its actions.
"Time will come when I will eat you in front of the people. I will devour you and if I have to, erase you," Duterte said.
Calling all HuffPost superfans!
Sign up for membership to become a founding member and help shape HuffPost's next chapter