President Rodrigo Duterte marked the one-year anniversary of his inauguration on Friday, a milestone in the continued deterioration of human rights in the Philippines. 
Packed prisons are overflowing, a rising extremist insurgency has triggered martial law in part of the country, and extrajudicial killings have left at least 7,000 people dead in a brutal "drug war."  
"President Rodrigo Dutere's first year in office has created a human rights calamity," Phelim Kine, deputy Asia director for Human Rights Watch, told HuffPost.
The level of widespread abuses in the Philippines and the impunity afforded to their perpetrators has spurred calls for a United Nations-led international investigation. But despite harsh condemnations from rights groups, activists and what's left of the country's political opposition, the situation continues. 
"There are still bodies that end up on street corners every night, no matter what," Kine said, "and there continues to be zero accountability for these killings."
Warning: This article contains graphic images from the Philippines' "drug war."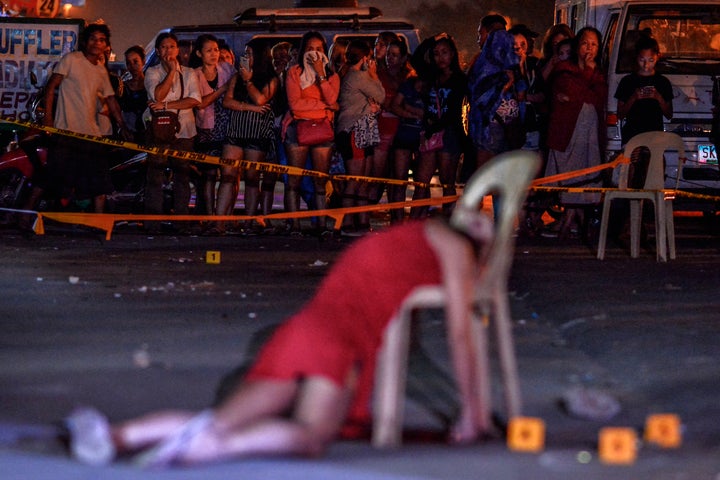 Thousands of extrajudicial killings
Duterte came to office on a radical law-and-order platform that vowed to eradicate the country's methamphetamine problem through violent means. It was an extension of policies he enacted as mayor of Davao City since 1988, where he built a name for himself through encouraging extrajudicial killings and instituting a zero-tolerance policy on drugs.
Duterte spreading his methods nationwide has led to the deaths of thousands of the Philippines' most marginalized citizens. In low-income neighborhoods of Manila and other cities across the country, each night brings more killings from the country's police force and emboldened vigilante groups. Children as young as 4 have been killed by stray bullets in the violence.
Philippine photojournalists have captured a continuous stream of horrific images showing trussed-up bodies in gutters, sometimes with a cardboard sign accusing the deceased of being a drug dealer or user. 
The extrajudicial killings slowed in pace in February after Philippine police kidnapped and murdered a South Korean businessman, prompting Duterte to attempt to rein in the death toll. But killings continue, and rights groups say that as long as offenders go unpunished there is little reason they will stop. 
Duterte also still maintains a high approval rating in the Philippines, with a June 30 survey showing 78 percent of the country backing his presidency.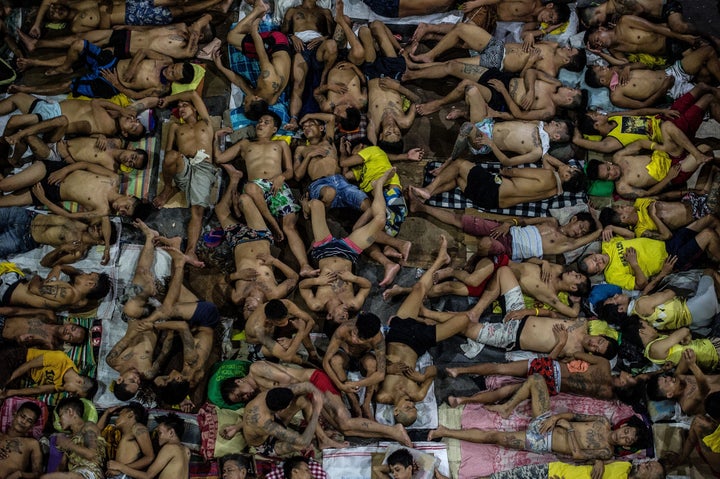 Prisons overflowing
Fearing extrajudicial killings and vigilante groups, the Philippines claims, over a million people have surrendered themselves to local authorities. Although that number is difficult to verify, the effect of increased detentions on the Philippines' already overcrowded jails in the last year has become obvious.
The situation has gotten so bad that reports have emerged of prisoners in some jails taking turns standing up to accommodate others sleeping, and images show inmates huddled in stair cases and open areas for lack of space.
An assessment released in January by the Philippine government shows that there are around 132,000 inmates in jails where the combined maximum occupancy is about 20,000. Monitors say the result is a lack of sanitation and health services, as well as the formation of gangs for security.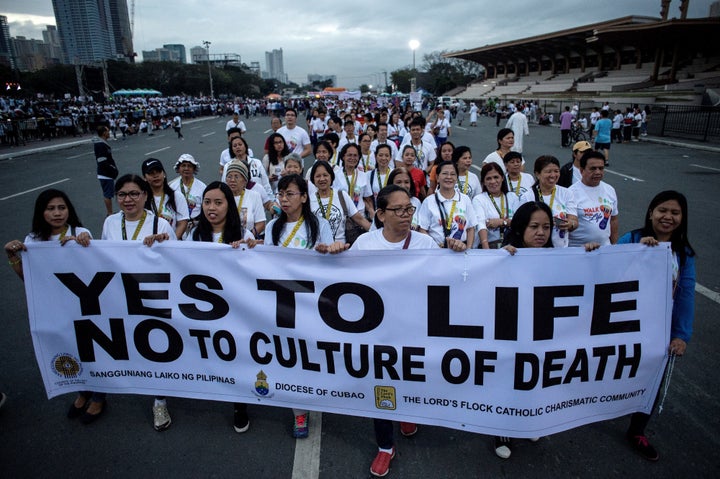 Silencing opposition
As Duterte has concentrated power and pursued his policies, he has also targeted critics and members of the opposition. He has repeatedly accused his longtime rival, Senator Leila De Lima, of having connections to the drug trade and had her arrested. 
De Lima has fervently denied the charges, and the European Union parliament in March called for her release, but the Department of Justice issued a new arrest warrant for her last week. 
The government's legal pursuit of De Lima has had a chilling effect on the country's political opposition. Although there remains criticism from a few prominent members of the Philippine government, rights groups say that has been undercut by a lack of pressure from Washington to uphold human rights.
In an April phone call, Trump praised Duterte's "drug war" in what the White House described as a "very friendly conversation." The United States is the Philippines' most powerful ally, and although Washington has kept in place former President Barack Obama's halt on the sale of assault rifles to the country's police, Trump has supported Duterte's methods. 
"The public messaging from Trump specifically has been scandalously damaging to efforts within the Philippines to mobilize effective political and public opposition to Duterte and his killing campaign," Kine said.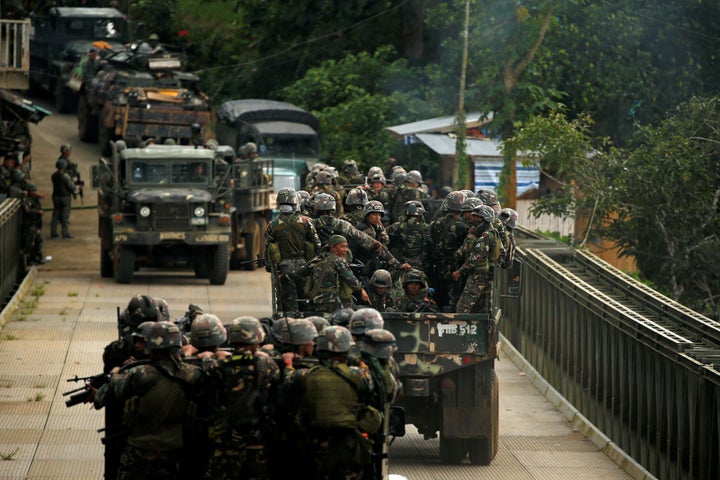 An Islamist extremist insurgency and martial law
A longstanding Islamist insurgency in the southern Philippines escalated in late May when an Islamic State-linked extremist organization called the Maute Group overran the city of Marawi on the island of Mindanao. Duterte has sent in the army and declared martial law on Mindanao in response.
Amid the fighting to retake Marawi, Duterte has encouraged troops to engage even if there are civilians present and joked that soldiers could even commit rape under martial law if they desired. Hundreds have been killed in the ongoing fighting.
Duterte has mulled expanding martial law to cover the entire nation as a result of the situation in Marawi, which has made rights groups fear what could happen if the president and armed forces were able to act with even greater impunity.
"To have martial law conditions imposed nationwide creates conditions for untold numbers of abuses by armed forces of the Philippines if they're given a green light," Kine said.
Calling all HuffPost superfans!
Sign up for membership to become a founding member and help shape HuffPost's next chapter