A president nicknamed "the Punisher" who is responsible for a brutal "war on drugs" that so far has killed over 7,000 people has been cordially invited to the White House.
President Donald Trump on Saturday told Philippine leader Rodrigo Duterte to visit Washington, during a call that the White House described as "a very friendly conversation."
The invitation further signals Trump's willingness to praise and publicly associate with illiberal world leaders. Along with Egypt's President Abdel-Fattah el-Sissi and Turkish President Recep Tayyip Erdogan, Duterte is the latest leader accused of widespread human rights abuses and authoritarian tendencies who Trump has embraced in recent weeks.
Duterte drew worldwide attention during last year's Philippine election for his vows to violently crack down on crime and repeated inflammatory remarks, which included saying he wanted to participate in a gang rape and calling Pope Francis a "son of a whore."
Western media often referred to Duterte as the Donald Trump of the Philippines because of his populist rhetoric and outsider persona. Duterte last year dismissed the comparison, saying that Trump is a bigot while he is not. Although Duterte's rise is unique and different from Trump's in numerous ways, both did come to power in 2016 appealing to voters who were opposed to establishment politics.
But while Trump's administration has struggled to implement the major policy changes he vowed as a candidate, Duterte has fulfilled many of the grim promises of his campaign. In less that a year, at least 7,000 people have died in Duterte's "drug war." Many of the killings are carried out extrajudicially by vigilantes who Duterte has encouraged to kill drug dealers and users.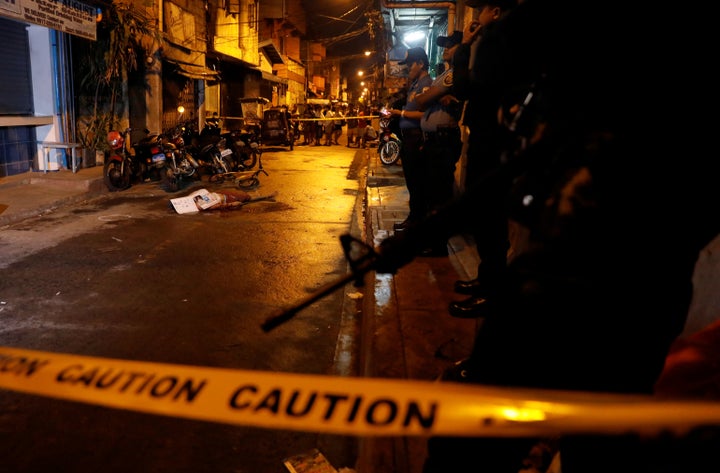 Human rights groups have released a string of damning reports documenting the violence and accusing Philippine police of carrying out extrajudicial killings with impunity ― often falsely claiming self defense or planting evidence. Philippine press photographers have spent long nights covering the killings, showing bodies strewn across the streets of Manila as distraught relatives mourn the dead. Stray bullets have killed children as young as four-years-old.
Duterte has viciously defended his "drug war" as a success, and accused the most prominent opponent of the killings ― Philippine Senator Leila de Lima ― of being involved in the drug trade herself. Duterte has also taken aim at rights groups, and vowed to continue his bloody anti-drug campaign until 2022.
"My order is shoot to kill you. I don't care about human rights, you better believe me," Duterte said last August.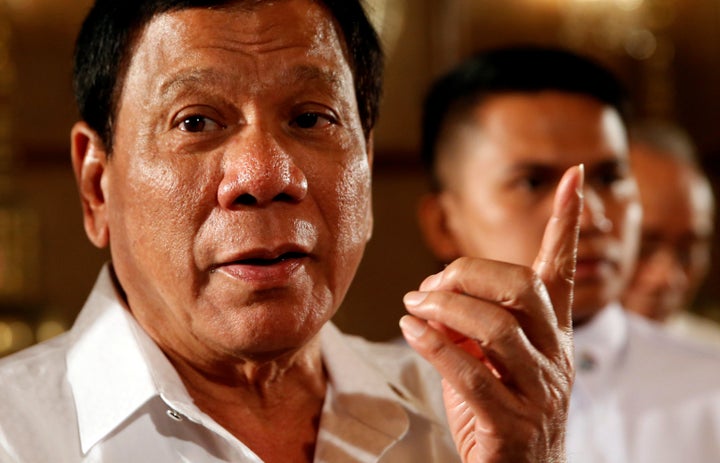 The United States is a key political and military ally for the Philippines, but that allegiance has been fraught since Duterte's election. He has made overtures toward increasing ties with Russia and China, vowed to kick out American military stationed in the Philippines and holds a longstanding personal grudge against the United States.
The White House canceled a meeting between former President Barack Obama and Duterte last fall, after the Philippine leader called Obama a "son of a whore" and told the U.S. president to go to hell. In October, he said on a visit to Beijing "I announce my separation from the United States."
Despite Duterte's anti-U.S. statements, analysts say most of his tangible policy changes geared towards Washington have been minor. Since Duterte's election, officials in U.S. and the Philippines have continued to speak of the important relationship the two countries possess. The two share concern over the South China Sea dispute and North Korea's growing nuclear program, the latter of which was discussed in Saturday's phone call between Trump and Duterte.
The White House press release covering the call stated that the two leaders "discussed the fact that the Philippine government is fighting very hard to rid its country of drugs, a scourge that affects many countries throughout the world." The statement noted that Trump "enjoyed the conversation," which included talk of regional security and Trump's upcoming visit to the Philippines in November.
Duterte's visit to the White House may result in friendlier ties between the Philippine leader and Washington, especially if Trump is willing to ignore the thousands of dead.
Before You Go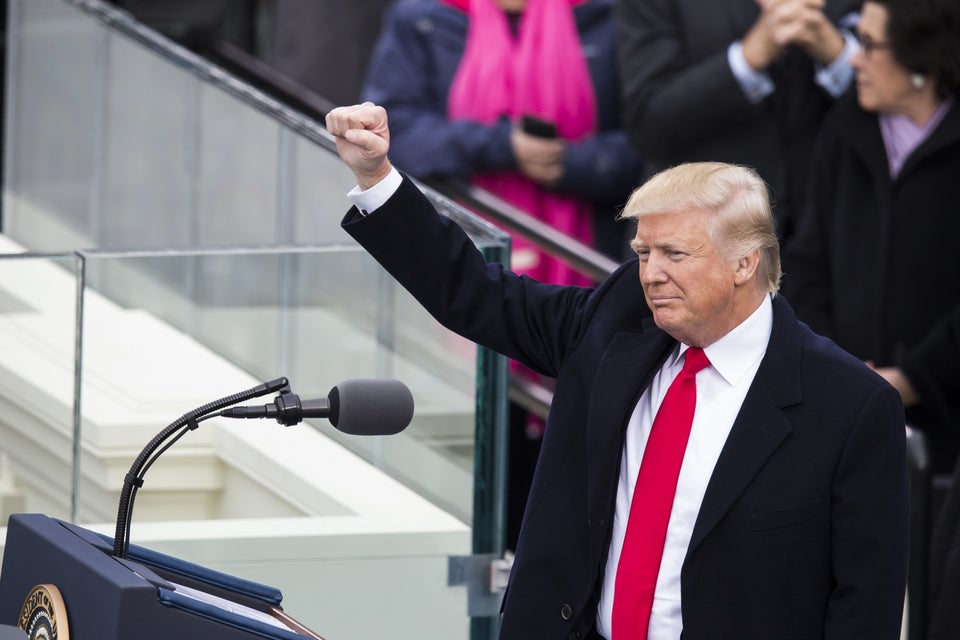 Best Photos From Trump's First 100 Days
Popular in the Community