As BluRay establishes itself in the market more and more, it gives studios the chance to re-release all their movies in a new format, gives fans a "chance" to buy them again and gives me a chance to offer reappraisals and thoughts on movies that have gone up and down in favor over the years. Not all these re-releases are BluRay only, but they're all movies that some of you love. Me? Not always.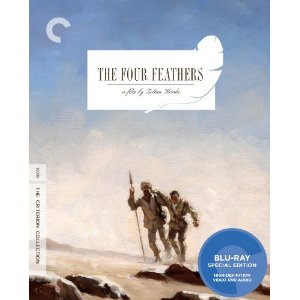 THE FOUR FEATHERS ($39.95 BluRay or $29.95 DVD; Criterion) -- Let's start with a classic, the rousing adventure tale of a young man wrongly accused of cowardice who heads off to parts unknown to prove his bravery to his closest friends and the woman he loves. This film by Zoltan Korda was released in 1939, widely considered a high water mark for the studio system. (Check out my ratings for all the movies from 1939 right here.) Perhaps only in a year filled with movies like Mr. Smith Goes To Washington, Stagecoach, Hitchcock's The Lady Vanishes, the larkier but somewhat similar Gunga Dun, Ninotchka, of course Gone With The Wind and so many others could The Four Feathers be relatively overshadowed. It received only one Oscar nomination (for its spectacular color cinematography -- losing naturally to GWTW). And while cineastes consider it a classic, it's slipped from view. Personally, I find the film rather stiff. (And the recent remake did its reputation no good -- though my friend Pete insists the 3+ hour cut he saw at a screening of that 2002 film was terrific.) But if anyone can save its fading rep it's Criterion. This BluRay has a gorgeous transfer and has some solid extras, most notably a brief making-of filmed on location and a new interview with Korda's son.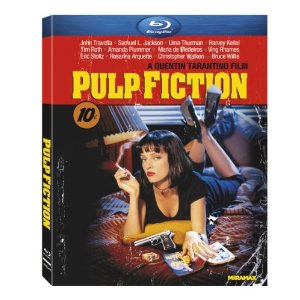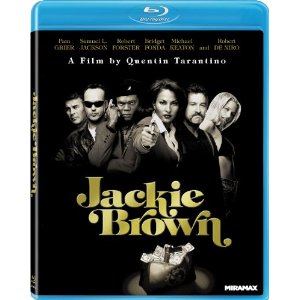 PULP FICTION BLURAY ($19.99; Lionsgate/Miramax)
JACKIE BROWN BLURAY ($19.99; Lionsgate/Miramax) -- I know Pulp Fiction is a wildly influential, landmark film that took independent cinema into blockbuster territory with its $100 million gross and ecstatic reviews. But I've always been suspicious of this uneven film and as the years pass, the stitching holding it together unravels more and more. But it's stylish and witty and clever and the good scenes are tremendously good. Director Quentin Tarantino took care to present it right and the extras are copious. But Jackie Brown feels more like a complete film to me and improves on repeated viewing, whereas with Pulp I'm always tempted to skip to the best parts. If nothing else, Pam Grier and Robert Forster are having the time of their lives.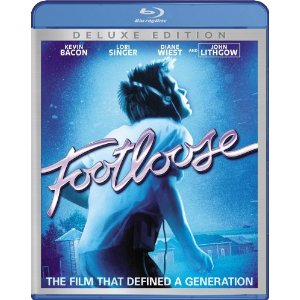 FOOTLOOSE BLURAY ($24.99; Paramount) -- For some, remaking Footloose is heresy. Seriously. But even then this appealingly hokey movie was both better and worse than it seemed. On the better side was the breakout performance of Kevin Bacon, who held this foolishness together like a young Elvis in one those awful vehicles he starred in. You would literally start laughing if Bacon didn't hold your attention. Plus, it had the substantial supporting turns of John Lithgow and Dianne Weist that gave the movie an emotional core. But mostly there were goofy songs, jumpily edited dance sequences and the least scary game of chicken (involving two super-slow tractors) in the history of cinema. I'd almost forgotten Sarah Jessica Parker was on hand as "Rusty" (now that's a stretch). But the modest new extras include interviews with them, his screen test and more, which doesn't quite justify the relatively high cost for this catalog title.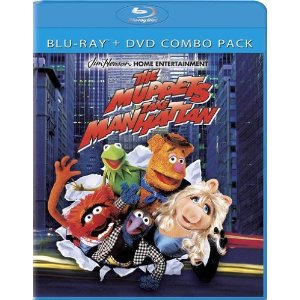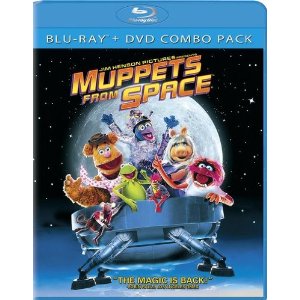 THE MUPPETS TAKE MANHATTAN BLURAY ($19.99; Sony)
MUPPETS FROM SPACE BLURAY ($19.99; Sony) -- If you're eagerly anticipating the return of the Muppets to the big screen (good luck, Jason Segal!), what better way then to revisit these previous entries? The Muppets Take Manhattan has a slight edge because it was directed by Frank Oz. Neither film is as good as the original Muppet Movie and while they're never quite as great as I hope, they're consistently silly fun. Combine Manhattan's story with the first film's journey and you've got yourself a two act Broadway musical. Just saying.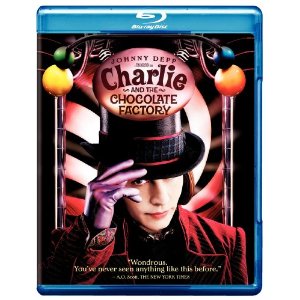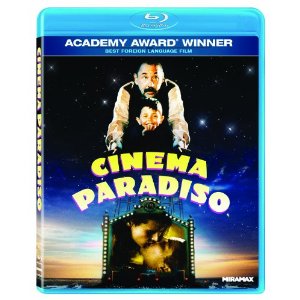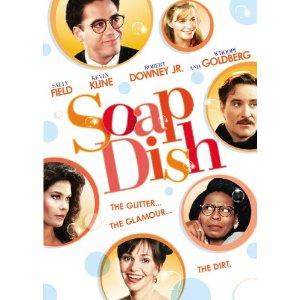 SCROOGE BLURAY ($24.99; Paramount)
CHARLIE AND THE CHOCOLATE FACTORY BLURAY ($19.98; Warner Bros.)
CINEMA PARADISO BLURAY ($14.99; Lionsgate/Miramax)
SOAP DISH BLURAY (; Paramount) -- Every movie ever made is fated to become a Broadway musical (and yes, I include Schindler's List, though God willing at least that might be an opera). Charles Dickens' A Christmas Carol has been musicalized endlessly, though the most enduring is probably Scrooge with Albert Finney. It won't keep me away from the Alastair Sim drama from 1951 that is the gold standard, but it's a nice change of pace. The Willy Wonka story has been musicalized numerous times but has never made it to Broadway...yet. it was scheduled for London this holiday but the show's creative team was sidetracked by their unappreciated gem Catch Me If You Can, which closed on Broadway too soon. But it's coming and can't possibly be worse than Tim Burton's train wreck, with Johnny Depp's most mannered performance to date the one oddball saving grace. Cinema Paradiso seems an even more unlikely source for a musical. It stars an elderly man and a little boy and the climax involves old movie footage. But it's one of the many Miramax films they're eying to exploit in the theater. i've always found the movie sentimental in the extreme, but audiences do love it. Finally, there's Soap Dish, the silly comedy about backstapping on a soap opera with a very game cast that includes Sally Field, Kevin Kline, Robert Downey Jr. and Whoopi Goldberg -- you know what, they could all repeat their roles onstage! If I were gonna make a musical comedy set in the world of soap operas, I'd make Tootsie. You won't be surprised to hear...they're working on that one, too.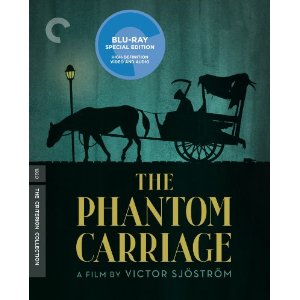 THE PHANTOM CARRIAGE ($39.95 BluRay or $29.95 DVD; Criterion) -- Speaking of A Christmas Carol, this Swedish silent classic has a similar plot -- in it, a nasty drunk (played by the director of the film, Victor Sjostrom) is given a chance to see the error of his ways. Legend has it that the last person to die on New Year's Eve must take the reins of Death's vehicle and collect souls for a year, a good chance to reassess how you've lived your life. It's a lot more work than one night of frights before Christmas but just as effective. The film was a major influence on Ingmar Bergman, who is featured in the extras, along with two scores (one traditional, one modern) and much more.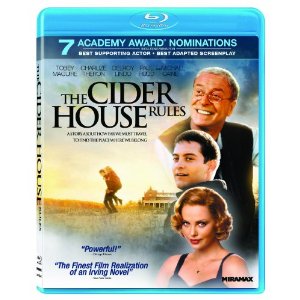 THE CIDER HOUSE RULES BLURAY ($14.99; Lionsgate/Miramax) -- This Lasse Hallstrom film is based on John Irving's best novel. it contains one of Tobey Maguire's best performances and won Michael Caine the Best Supporting Actor Oscar. That's a lot of "bests" for a movie that received seven Academy Award nominations (and two wins) and yet seems to have fallen off the radar. Perhaps it's because the movie deals with abortion and a woman's right to choose? Still, it deserves to be remembered more fondly.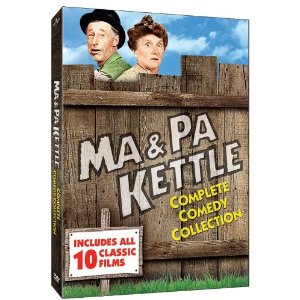 THE MA & PA KETTLE COMPLETE COMEDY COLLECTION ($19.98; Universal) -- This set contains all ten films featuring Ma & Pa Kettle, who were the breakout supporting characters on the mild comedy The Egg And I (the first film in this set). Whoever said, "Give those two their own movie!" struck gold as the cornpone couple appeared in low-budget hit after hit, thanks in no small part to Marjorie Main's excellent skill on even this tired material. Ten films is about seven or eight too much, but when the entire set costs just $20, who's complaining?
NOTE: Michael Giltz is provided with free copies of DVDs to consider for review. He typically does not guarantee coverage and invariably receives far more screeners and DVDs than he can cover each week.
Calling all HuffPost superfans!
Sign up for membership to become a founding member and help shape HuffPost's next chapter