It's been more than a year since I first saw A Prophet ($38.96 BluRay or $27.96 regular DVD; Sony Pictures Classics) at the Cannes Film Festival. Repeated viewings over a long period of time have only reinforced my first impression: This film is a masterpiece. Obviously, it won't have the same cultural impact as Francis Ford Coppola's The Godfather. But it deserves the comparison. Both launched a very talented director (Jacques Audiard) into the stratosphere. Both featured star-making performances (Tahar Rahim). And both are nuanced, emotionally gripping, and above all, wildly entertaining.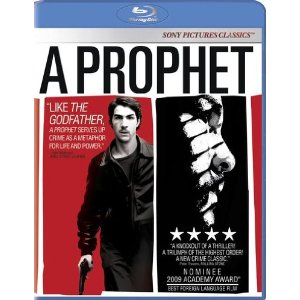 It's the story of a seemingly harmless young man sent to prison for some unknown crime. Within minutes, it seems, he's entered a horror zone where men attack and beat him with impunity. Soon, one of the strong men of the prison -- the Corsican leader Cesar (Niels Arestrup) -- is demanding our hero Malik (Rahim) kill another prisoner slated to testify in court. Malik is a mutt, of sorts, and can pass between many groups but is despised by all. The Muslims see him as Corsican, the Corsicans see him as a dirty Arab, the gypsies see him as weak, the guards don't see him at all and when he's beaten there is no one to help. Will Malik commit the murder? Will he become hardened and cruel or get eaten alive or somehow survive but maintain his humanity? That's the question that drives this engrossing and terrific film.
We know Malik is smart. He takes advantage of the prison school and learns how to read and write; he picks up Corsican just by listening to the men talk. And when he peeks into the Muslim prayer service, we wonder: Is Malik being drawn to faith or just trying to make inroads on another group that might be able to protect him? Co-writer and director Jacques Audiard has made some very good films this decade. Read My Lips was a fun thriller about a deaf woman partnering with her lover to pull off a crime. The Beat That My Heart Skipped was an unlikely remake of the cult film Fingers by James Toback that surpassed the original. But this film is a major leap forward. It's visually gripping, with shadowy passages interspersed throughout the film where all we see is a fuzzy glimpse of what is happening or might be happening soon. (Don't forget the title of the film is A Prophet.) And the score is sparely used and very effective: At key moments, the theme overwhelms the action and transports Malik from a man going about his furtive business to a person taking charge of his destiny. You don't want to miss it.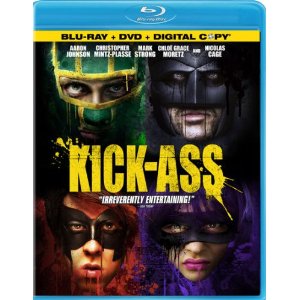 KICK-ASS ($39.99 BluRay; $29.95 regular DVD; Lionsgate) -- What a loopy pleasure, highlighted by the unexpected casting of Brit Aaron Johnson as a nerdy would-be superhero and genuine discovery Chloe Grace Moretz who does indeed kick ass as the real deal. As the R rating makes clear, this is not for kiddies because the violence is real and shocking, a point driven home by having much of it instigated by a foul-mouthed little girl. Based on a comic book I haven't read, it features Johnson as a kid who wonders why no one has ever tried to be a caped crusader. His one venture becomes a YouTube sensation, which quickly makes him a target for real bad guys. Moretz is the daughter of Nicolas Cage (doing a wicked send-up of Adam West), a man obsessed with vengeance who has trained her to become a killing machine. It all has far more emotional heft than the costumes and goofy masks might indicate, though it's never so serious that the inherent nuttiness gets overshadowed. An oddball treat.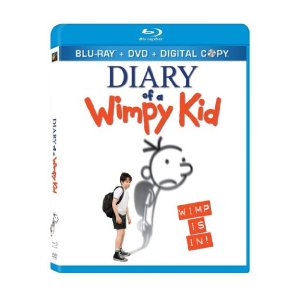 DIARY OF A WIMPY KID ($39.99 BluRay or $29.98 regular DVD; FOX) -- Unlike Kick-Ass, this is definitely fare for the kiddies... and no one else. Spun off from the graphic novels and quite faithful as our hero, Greg suffers through his taunting older brother (an amusing Devon Bostick from TV's DeGrassi: The Next Generation), a dorky best friend he abandons and then learns to value as one would expect and that dreaded piece of stinky cheese that lurks in the playground. Director Thor Freudenthal (what a name!) modestly hints at the movie's origins with a few brief scenes begun in an artificial background drawn in the style of Jeff Kinney's books). It's a shame he didn't push that even further since it's the only distinctive element in the movie. Otherwise, Zachary Gordon is fine as Greg, but the travails of a middle school kid follow such a familiar pattern it's hard to get caught up in them unless you're actually in middle school.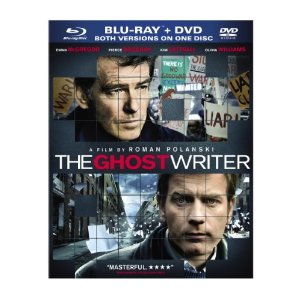 THE GHOST WRITER ($40.99 BluRay and $26.99 regular DVD; Summit) -- Ewan McGregor plays a ghostwriter who is hired to pen the memoirs of a Tony Blair-like former PM ( Pierce Brosnan). Entering the hermetic world of this former world leader is a little like being placed under glass: McGregor soon runs out of oxygen and so can't think clearly as the PM's wife begins to flirt and details of an apparent suicide by an aide point more and more towards murder. McGregor is disillusioned! Shadowy forces are at work! If that sounds trite and dull, I've done my work. Roman Polanski's direction is competent but nothing more.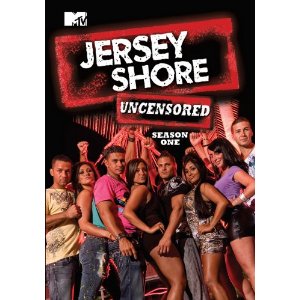 JERSEY SHORE UNCENSORED: SEASON ONE ($19.99; Paramount) -- When President Barack Obama was on The View, he said he was aware that Lindsay Lohan had gone to jail but sheepishly admitted he had no clue who Snooki was. Hopefully someone on his staff has informed the President that Lohan is now out of jail and into rehab and then they placed this DVD set into his hands. The price is right but this sort of reality TV is utterly disposable: It's only worth discussing an hour or two after the show has aired. (And season two is proving just as popular as season one.) So the only reason for the DVD set is the extras: Here you get dating advice from The Situation along with other tips from Snooki, deleted scenes, some modest "uncensored" inclusions of curse words and derogatory gay terms and cast commentary, which amounts to witless stating of the obvious about their earlier witless actions. Not a fan, can you tell? But well-stocked with extras for those who care.
NOTE: Michael Giltz is provided with free copies of DVDs to consider for review. He typically does not guarantee coverage and invariably receives far more screeners and DVDs than he can cover each week.
Popular in the Community