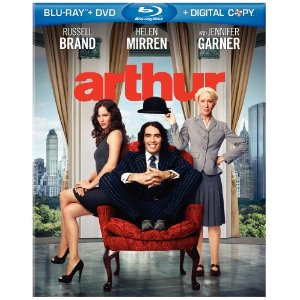 ARTHUR (2011) -- ($35.99 BluRay or $28.99 regular DVD; Warner Bros.) -- I'll never watch this remake of Arthur starring Russell Brand. Heck, I'll never even watch Arthur 2: Arthur On The Rocks, the reportedly lame sequel made after the original film's writer-director died. Why spoil the memory of a movie that should never have been remade in the first place? I'll happily watch a new take on Spiderman and Sherlock Holmes and Tarzan and all sorts of iconic characters. But some movies just shouldn't be touched -- not because they're so fragile or precious but because it makes no sense. Remake Casablanca? Remake Citizen Kane? Remake Animal House or Ghostbusters? No thanks. Here's my toast to the original film. If this remake had received sparking reviews, I might have been in a terrible fix. But since it got mixed to poor reviews, I can heave a sigh of relief. It has modest extras and a great cast and I look forward to seeing Helen Mirren and Jennifer Garner and Greta Gerwig and Luis Guzman in other movies right away.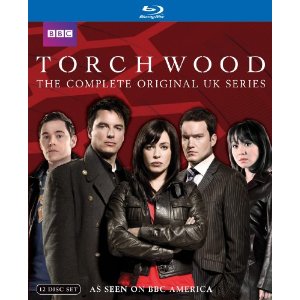 TORCHWOOD COMPLETE ORIGINAL UK SERIES ($129.98 BluRay or $119.98 regular DVD; BBC/2entertain) -- This spin-off from Doctor Who is more adult, more dangerous and sexier, thanks to a fine cast led by the terrific John Barrowman as the bisexual, alien-fighting Captain Jack Harkness, leader of a team of secretive operatives who protect earth from interstellar baddies, all from their home base in Cardiff. It's just launched in the US as a rather larkier, jazzed up series on the Starz channel. This boxed set contains all 31 episodes from the original run. It's exciting to see the show get better and better until the final 5 episode miniseries "Children Of Earth," a grim, marvelous peak that may very well be the best run of episodes in Torchwood OR Doctor Who.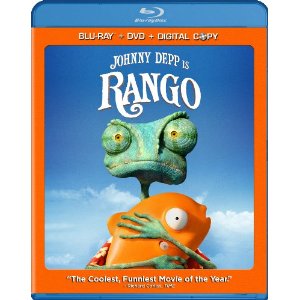 RANGO ($44.99 combo BluRay pack or $29.99 regular DVD; Paramount) -- Johnny Depp is nothing if not eccentric and this animated Western reflects his sensibility nicely. It was a modest hit worldwide by the standards of expensive animated films (just about $250 million worldwide) but ask around and you'll find an avid core of movie lovers who think this tale of a chameleon taming a town is a keeper. That should be enough for you to put it in your Netflix wish list or pick up a DVD and make sure you give it a whirl.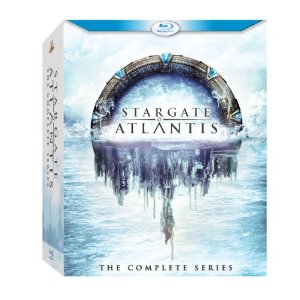 STARGATE ATLANTIS COMPLETE SERIES ON BLURAY ($199.99; MGM) -- The Stargate franchise is certainly the equal of Star Trek or Doctor Who when it comes to TV sci-fi properties. This boxed set of the spinoff Atlantis has a lot going for it. It's the same price as the regular DVD set (though on sale you still pay a premium for BluRay) and the DVDs are housed compactly and neatly in slim cases rather than the horrible packaging of the regular DVD set that fans bemoaned. Loads of extras make this exactly what I look for in TV boxed sets -- easy to shelve alongside my other DVDs, all the episodes easily accessible and excellent picture and sound quality.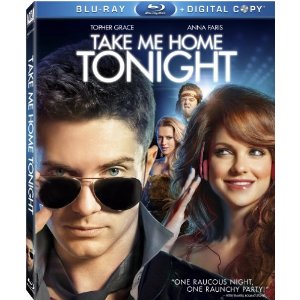 TAKE ME HOME TONIGHT ($39.99 BluRay or $29.99 regular DVD; FOX) -- I keep waiting for Topher Grace to have the career breakthrough he deserves. Grace has yet to match the early peak of In Good Company, a smart and adult comedic drama in which he showed the chops of a young Jack Lemmon. But neither has Grace disappeared. He was Venom in the third and least of the Tobey Maguire Spiderman movies. He was fine in the anonymous but successful rom-com Valentine's Day and here he's trying to make things happen by co-writing the story and executive producing this nostalgia drenched look back at 1988 and one wild night when friends from high school reunite four years after graduation and pent-up desire and rage is unleashed, alongside all sorts of 80s pop classics. (Kudos for getting producer Trevor Horn to do the score.) It came and went at the box office but Topher Grace will surely step up to grade A material at some point. Maybe he needs a stint on Dexter or some other TV series to open people's eyes to his dramatic range?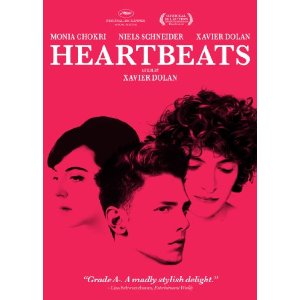 HEARTBEATS ($24.98; Sundance Selects) -- A bisexual Jules & Jim with a dash of Wong Kar Wai thrown in for good measure. The movie is interspersed with people talking about their doomed romances in faux documentary style, with an Almodovar-esque beauty (one actress has a wonderfully angular face) especially memorable. Then we meet best friends Francis (Dolan) and Marie (Monia Chokri). He's gay and makes little slashes on his bathroom wall every time a guy turns him down for a relationship (really? 40+ guys wouldn't want him?) and she wears vintage clothing and hangs out with him while they run down everyone in sight. Like a dappled deer, in wanders Nicolas (Niels Schneider), a tall curly-haired Adonis who loves ingenuously flirting with both of them. The film is a tug of war between the two, with Nicolas either bemused or unaware of their desire. Mostly it's an excuse for Dolan to develop his skills as a filmmaker.This is a huge leap forward stylistically with Dolan telling much of the story through visuals. Dolan and Chokri are inherently appealing but the audience should be given more reason to care for them; they're so busy being sour and dissing each other that we don't get to warm up to them like we should. He also finds the perfect ending -- a nice visual moment -- only to tack on a coda that is thoroughly unnecessary. The movie looks great but seems to have been made on a dime, if that makes any sense, which is another good sign. Hopefully Dolan -- who is also acting in other films -- will continue making movies at a furious pace and keep pushing himself to grow artistically. He's got a great film in him and perhaps a great career as well.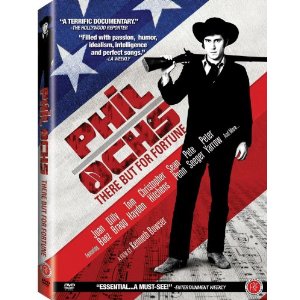 PHIL OCHS: THERE BUT FOR FORTUNE ($27.95; First Run)
PETER, PAUL AND MARY: 25TH ANNIVERSARY CONCERT ($16.98; Shout)
JOHNNY WINTER: LIVE AT ROCKPALAST ($19.96; MVD)
BB KING LIVE ($17.97; Image)
DIZZY GILLESPIE IN REDONDO ($14.96; MVD)
YO GABBA GABBA! PARTY IN A BOX! ($24.99; Paramount)
DVD remains a godsend to music lovers. Whether it's a concert film, a documentary or a TV show with great musical moments, DVD lets you enjoy the entire event and then rewatch the musical highlights with ease. The Phil Ochs documentary is a critically acclaimed look at the folk artist who has been so thoroughly eclipsed by Dylan (like so many others) that his accomplishments and importance will seem a revelation to people today. What Kenneth Bowser's film focuses on so well is how Ochs's desire for social justice both typified his era and perhaps limited him musically and commercially (a mistake Dylan never came close to making -- the music always came first with him). Peter, Paul and Mary's 1986 PBS concert special is such a staple of pledge drives it seems embedded in the memory. It captures the prefab folkies at a graceful moment when they were old enough to appreciate their success and relatively young enough to still capture vocally what made them special. Johnny Winter in 1979 needed to prove the blues still mattered to him after years of being lured by rock stardom; hence his focus on this German TV concert. BB King never had that problem -- he's always been steeped in the blues. In 2006 he was in grand old man mode and had nothing to prove; but that stinging guitar still shines brightly even as he trots through his familiar numbers. Back in 1986, Gillespie had a rare chance to capture his sound on film; it's also not one for the ages but fans will enjoy the chance to see him on film anyway. And parents who love good music should enjoy watching Yo Gabba Gabba with their kids. This 3 DVD set contains 12 episodes, each of them with some very cool songs and great musical guests.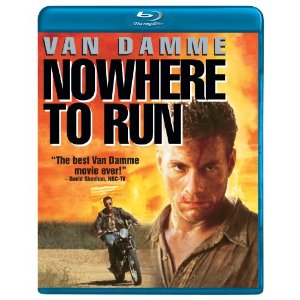 NOWHERE TO RUN ($17.97 BluRay; Image/Columbia)
THE CUTTING EDGE ($16.99 BluRay; MGM)
THE BLUES BROTHERS ($26.98 BluRay; Universal)
AMELIE ($19.99 BluRay; Lionsgate/Miramax)
BOYZ N THE HOOD ($19.95 BluRay; Columbia)
ANIMAL HOUSE ($26.98 BluRay; Universal)
FOUR WEDDINGS AND A FUNERAL ($16.99 BluRay; MGM) -- A bunch of BluRays, most of them happily priced below $20, as is right for catalog titles like this. If you're only going to see one Jean-Claude Van Damme movie, this tale of an escaped prisoner who can't stop helping others a la The Fugitive is the one. The Cutting Edge remains the perfect chick flick when the chick wants to cajole her guy to watch as well, thanks to D.B. Sweeney as a hockey player turned coach. Better this than Dirty Dancing, guys. The Blues Brothers has never done it for me, though I do enjoy jumping forward to watch legends like Aretha Franklin in their cameos. Universal has this 31 year old film overpriced at $27. Amelie remains a quirky charmer and its visual and aural flair is highlighted better than ever on BluRay. Boyz N The Hood feels a little TV movie-ish by this time (to be honest, it did even then), but it's a landmark film and launched Ice Cube as an actor. Animal House is 34 years old and also overpriced at $27 but remains sturdily funny anyway. Finally, Four Weddings and a Funeral is one of those happy accidents where everything clicked -- the right script, the right cast, the right star (Hugh Grant in full bumbling charmer mode) and the result was the best work almost everyone involved would ever do.
NOTE: Michael Giltz is provided with free copies of DVDs to consider for review. He typically does not guarantee coverage and invariably receives far more screeners and DVDs than he can cover each week.
REAL LIFE. REAL NEWS. REAL VOICES.
Help us tell more of the stories that matter from voices that too often remain unheard.