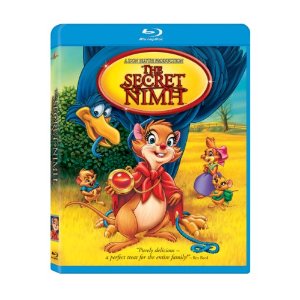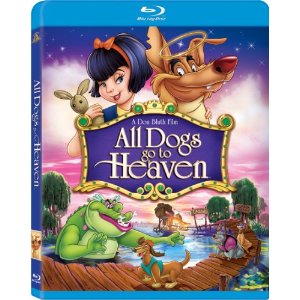 THE SECRET OF N.I.M.H.
ALL DOGS GO TO HEAVENN ($19.99 each on BluRay; MGM) -- If you love Pixar, tip your hat to Don Bluth. He -- along with Ralph Bakshi and other rebels -- saw the sad, slow decline of Disney in the 1960s and 1970s and finally had enough. Bluth broke away and began creating new movies that honored the legacy of Disney by being bold and adventurous instead of sticking to a safe, bland formula. His movies also include The Land Before Time and his best work An American Tail. They tackled unusual topics and despite the difficulties of building an animation studio from the ground up, Bluth was so successful that it lit a fire under Disney that led to their renaissance. Both N.I.M.H. and Dogs led to sequels and spin-offs, as did almost all his films; that's how hungry people were for family fare made with passion. Ultimately, Bluth also blazed a trail for Pixar which has now brought it all full circle by taking over Disney's animation department. A happy ending and that would please Walt.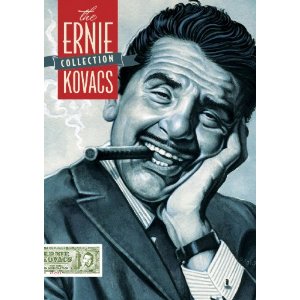 THE ERNIE KOVACS COLLECTION ($69.97; Shout) -- This has been a long time coming. Kovacs was an early TV pioneer, fiddling with the medium even before most people had the slightest idea what to do with it. His work is revered by insiders, but little seen. Now, finally, Shout presents a 6 DVD set with everything you could hope for: his morning shows, his late night shows, his primetime specials, commercials, shorts, even a greatest hits DVD. It doesn't have the immediate classic punch of the work on Your Show Of Shows, I must admit. But you can actually see Kovacs figuring this stuff out, playing with the camera, toying with the expectations of the audience and practically inventing a form of ironic commentary on TV itself that feeds right into current humor found all over the dial. (There's a quaint word: "dial.") If you want to know where The Daily Show came from, start right here.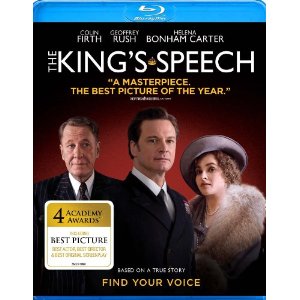 THE KING'S SPEECH ($39.99 BluRay or $29.98 regular DVD; Anchor Bay) -- This deserved Oscar winner tells the story of George VI, a reluctant king who was always in the shadow of his glamorous brother and beloved if tradition-bound father. George (Bertie to his family) also suffers from a terrible stutter, which makes it painful to fulfill his obligations as a member of the Royal Family in the 30s. Thanks to his wife (a spot-on Helena Bonham Cater), Bertie finally finds a speech therapist who can help him: the eccentric Aussie Lionel (Rush). In Lionel's home, under terms of equality and respect, Bertie slowly and with difficulty starts to master his stutter. This is pure Masterpiece Theater, with both actors relishing the many comic moments in the script (cursing helps one avoid the stutter, it should be said) and the drama in Bertie's situation. When his brother abdicates for the woman he loves, Bertie is thrust onto the throne just as England needs a king to rally around for World War II. Tom Hooper's film is a broadly appealing, very funny and quite moving.
RABBIT HOLEE ($29.95; Lionsgate) -- I missed the Broadway run of the acclaimed play Rabbit Hole, which is a shame. It's always a shame to miss theater but I would also love to compare Nicole Kidman in the feature film with Cynthia Nixon in the play. Both played grieving mothers mourning the accidental death of their four-year-old son. Kidman is married to Aaron Eckhart, who for a change gets to play a decent guy and does it quite convincingly. The dominating mood is awkwardness. Kidman feels awkward at group therapy, feels awkward around her mother (played by Dianne Wiest, who keeps comparing the death of her son -- a 30-year-old heroin addict that ODed -- to Kidman's little boy running into traffic), feels awkward in the grocery store, around friends, and even in her own home. The heart of the film is Kidman's tentative approach to the high school boy that drove the car that killed her son, a boy who clearly wasn't speeding or drunk -- the child just jumped out into the road and that was it. Miles Teller (the teen) and Kidman are good in their scenes. But surely the whole film and especially those moments should feel wrenching and dangerous and sad, with an almost unbearable tension. The movie is directed nicely by John Cameron Mitchell and the performances are solid. But for some reason, it doesn't have that frightening edge to it, where you feel the pain at every moment. I don't quite know why that is, but there you are.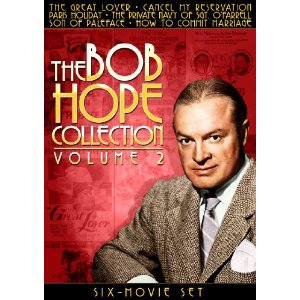 THE BOB HOPE COLLECTION VOLUME TWO ($34.93; Shout) -- It's not that strange to make a career out of playing a loser or a drunk or a hobo. (I know an actor who keeps getting work playing homeless people in movies and TV and short films; I've never seen him indoors.) So Bob Hope playing a coward and a weasel is not surprising. But as a leading man? But his appeal is easy to spot even in these minor flicks. Once you get beyond the Road movies with Bing Crosby and the flicks in Volume One, the pickings are slim indeed. But for hardcore fans, this is gives you a chance to watch movies that don't even get screened on late night TV anymore.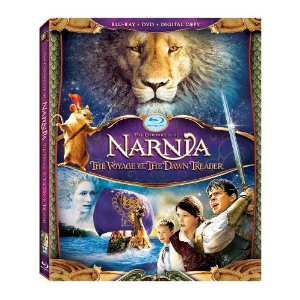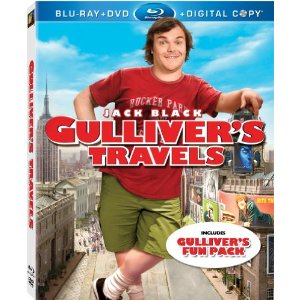 GULLIVER'S TRAVELS ($39.99 BluRay or $29.98 regular DVD; FOX)
THE CHRONICLES OF NARNIA: THE VOYAGE OF THE DAWN TREADER ($39.98 BluRay or $29.98 regular DVD; FOX) -- Two almost-franchises probably end here. The Narnia series started off with a bang commercially but audiences soon ray away. The fatal mistake was in believing that C.S. Lewis had penned an action adventure franchise when nothing could be further from the truth. Every attempt to pump up the excitement -- a problem magnified on this film by tackling the book they felt offered the most chances for this -- simply pulled the movies away from the gentle, Christian parable at the heart of the story. On Gulliver, it seems like they had the somewhat amusing idea of casting Jack Black as Gulliver... and then thought their work was done.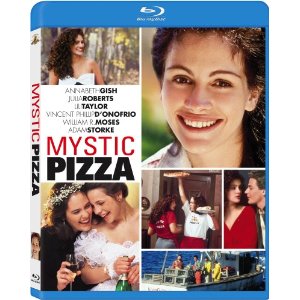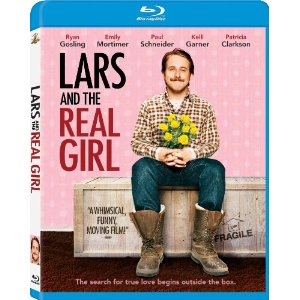 MYSTIC PIZZA
LARS AND THE REAL GIRL ($19.99 each on BluRay; MGM) -- Let's end with some good news: two winners. Mystic Pizza is best remembered of course for turning Julia Roberts into a star. She lights up the screen so easily it's no wonder everyone knew Roberts was destined for big things. But the movie is a charmer in its own right, with Lili Taylor and Vincent Phillip D'Onofrio as stand outs in a fine cast telling the romantic but realistic story of three young women just out of high school and enjoying their last summer of freedom before college or life takes over. Lars and the Real Girl is a real gem. It's premise is so outrageous -- a lonely guy (Ryan Gosling) suddenly starts "dating" a blow-up doll he got in the mail and treats like a real person -- that you just assume it's raunchy and edgy and envelope-pushing. Far from it. This movie feels like a Frank Capra fable where a town comes together to support this sad sack any way they can. Think of it as the modern equivalent of Harvey, the movie where a drunken Jimmy Stewart insisted his best friend was a giant, invisible rabbit. Maybe in some alternate universe Harvey and that doll (named Bianca) are a couple.
NOTE: Michael Giltz is provided with free copies of DVDs to consider for review. He typically does not guarantee coverage and invariably receives far more screeners and DVDs than he can cover each week. Also, Michael Giltz freelances as a writer of DVD copy (the text that appears on the back of DVDs) for some titles released by IFC and other subsidiaries of MPI. It helps pay the rent, but does not obligate him in any way to speak positively or negatively of their titles.
Calling all HuffPost superfans!
Sign up for membership to become a founding member and help shape HuffPost's next chapter