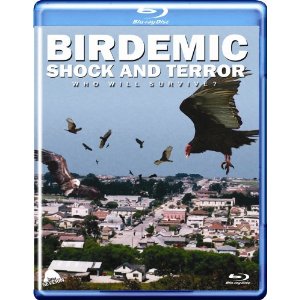 BIRDEMIC: SHOCK AND TERROR ($29.98 BluRay and $24.98 regular DVD; Severin) -- Okay, enough blather about the best movies of the year. Let's talk about the worst movie of the year, a film that some have bandied about as the worst of all time. Plan 9 From Outer Space used to be the Citizen Kane of bad movies. No one really questioned its preeminence. But today there's an almost unseemly rush for movies to be dubbed the worst of all time. Trolls 2 even has a documentary about how awful it is. Me, I'm not a big fan of sitting through bad movies. I have to do that enough without having to actually seek them out. But on a plane flight I sat next to a guy who found out what I did and asked if I'd heard of Birdemic. It was, he assured me, the worst movie of all time and the director (and writer and cinematographer and producer and executive producer James Nguyen had no idea. The guy's brother was associated with the film and I had to check it out. I politely said sure, with no real desire to do so. Even if it was awfully bad, that didn't really interest me. I'm not into camp, though I laugh along with Showgirls as much as the next guy. But then I saw Birdemic was playing at IFC at a late night screening and a friend was willing to go and what the heck.
I'm not really laughing at any of the people involved. Laurence Olivier would look bad in this movie. I'm not even laughing at Nguyen, really. They just made the best darn movie they could at the time. And it's hilariously bad precisely because they did their best. A movie that just tries to be dumb is no fun. It only works if you can feel their desire. Birdemic is about 45 minutes of extremely slow, poorly acted exposition which has a weird fascination all its own. And the whole experience is worth it for the abrupt cut from idyllic smalltown life to the sudden frenzied attack of the birds, attacks which are depicted with such low-budget cheapness and unexplained suddenness that I was convulsed with laughter. Seriously, a scene of absolutely no danger to dive-bombing mutant birds -- it's head-spinning in its abruptness. The actors are good sports in their commentary while Nguyen keeps comparing his movie to Alfred Hitchcock's The Birds. Even a second viewing had me laughing more than I expected. If bad movies are your thing, this is a keeper, loaded with some fine, self-deluding extras. God bless 'em for doing their best. That's the only reason it's any fun at all.
UNSTOPPABLE ($39.99 BluRay or $29.98 regular DVD; FOX) -- This is a nice trim B movie (with an A-list cast and budget, of course) about a runaway train. You get everything you want: a trim 98 minute running time, just enough background to make the characters interesting (Denzel Washington is a widowed dad, Chris Pine is on the outs with his wife, Rosario Dawson is good at her job), and a runaway train that could level a small city thanks to its explosive cargo. Director Tony Scott delivers the goods with economy and precision and certainly knows how to jazz up the excitement. Happily, they don't go over the top on the stunts. It all feels pretty realistic, with a little stretching because hey, it's a movie. Really, if you've seen it once, there's no need to see it again. But if more Hollywood films exhibited this much restraint and focus, going to the theater would be a lot more fun more often.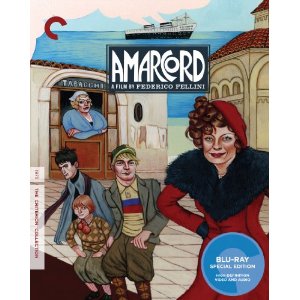 AMARCORD ($39.95 BluRay; Criterion) -- I've always had reservations about Federico Fellini. Maybe because his movies are so distinctively Fellini-esque; maybe because my first exposure was to his weaker later work? In any case, I have to admit that the number of Fellini movies I love continues to grow and Amarcord is right up there with his best. It's a warm, loving look at life in the small town where he grew up. Yes, it's carnival-esque and boisterous and sexy and all the other cliches you associate with Fellini. But it's also good. This might be the best introduction to his talents, since 8 1/2 and La Dolce Vita are in many ways such a distilled glimpse into his worldview that they're more of an acquired taste. The print is lovely and the film contains the many thoughtful, illuminating extras you expect from Criterion.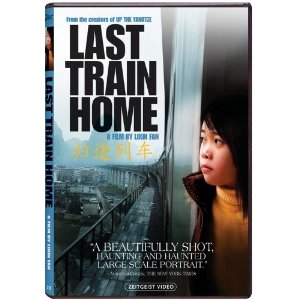 LAST TRAIN HOME ($29.99; Zeitgeist) -- One of the most revealing looks at life in contemporary China, Last Train Home takes its cue from the annual celebration of Chinese New Year. It's the one holiday where everyone wants to return to their hometown and sparks a massive exodus from the major cities back to the heartland. Truly, the movement of literally 130 million migrant workers from one part of the country to another is an overwhelming image and the scenes of people crowded and crushed for days trying to get onto a train are fascinating. But the film is really about the wrenching changes that urbanization and the spread of factory work have on families everywhere. You see parents who sacrifice everything by leaving their children behind to work in factories and then children who resent those parents -- those strangers, really -- who are never around. To its credit, the movie isn't pro- or anti- anything, just observing what is happening and the human price that is being paid.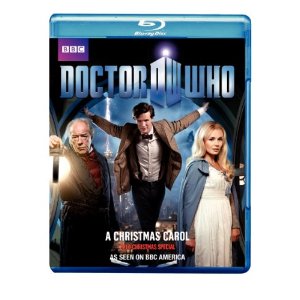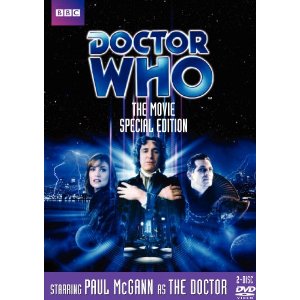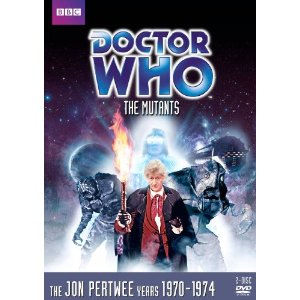 DOCTOR WHO: A CHRISTMAS CAROL ($19.98 BluRay and $14.98 regular DVD; BBC)
DOCTOR WHO: THE MOVIE ($34.98; BBC)
DOCTOR WHO: THE MUTANTS ($34.98; BBC) -- If you're a fan of Craig Ferguson and want to send him a treat, this is where to start. But act fast: he'll probably be snapping these up right away. The most recent Doctor Who Christmas special is almost indecently fun. It should have seemed like cheating to do a spin on A Christmas Carol but it works and Matt Smith is settling in nicely, isn't he? Doctor Who: The Movie was a 1995 TV movie that was meant as a backdoor pilot for relaunching the show (in America, so I guess we should really have called it a launching) but no one's heart was really in it. $35 for a TV movie, however lavish and wonderful the copious extras may be is just too much. Finally there's Mutants, a six part story arc from 1972 starring Jon Pertwee as the good Doctor. I'm a broken record on this, but I wish they'd release complete boxed sets for each Doctor and be done with it. And $35 for six episodes ($6 an episode for a 30 year old series) is too pricey. They do present them well, though, I must say.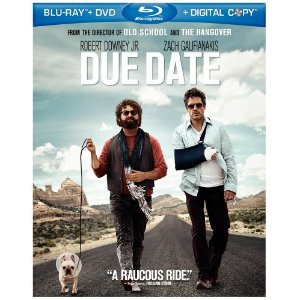 DUE DATE ($35.99 BluRay combo or $28.98 regular; Warner Bros.) -- Hey, it made $100 million in the US (and the same overseas) so you must have liked it, right? I find Zach Galifianakis asked to do the same shtick over and over while the film itself is an inferior retread of Planes, Trains & Automobiles, which isn't exactly a comic masterpiece either, just genial. (Now I've ticked off two groups of fans.) Galfinakis is the motor-mouth and Robert Downey Jr. the uptight guy and they're thrown together on a cross-town journey. Lessons will be learned, whether you like it or not.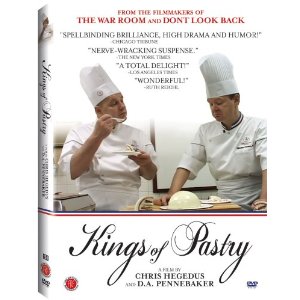 KINGS OF PASTRY ($27.95; First Run Features) -- Despite being made by Chris Hegedus and D.A. Pennebaker (legends behind everything from Dylan's Don't Look Back to The War Room), there's nothing special as a film about this documentary. But the subject that they've found -- sixteen chefs vying for the honor of France's top pastry award -- is so compelling it's worth watching for foodies and lovers of good story alike. Actually, "vying" isn't quite the right word. People spend years and years trying to prepare and succeed at the Meilleurs Ouvriers de France event. It only takes place every four years (like the Olympics) but there is no single top prize. Anyone who hurdles all the barriers can achieve the high honor. This means a refreshing lack of competition, with pastry chefs and even judges all urging each other on to their best.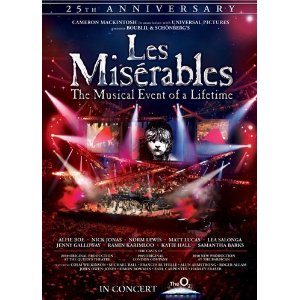 LES MISERABLES 25TH ANNIVERSARY IN CONCERT ($39.98 BluRay or $29.98 regular DVD; Universal) -- Director Tom Hooper just won the Oscar for Best Director of The King's Speech and one of the projects he's reportedly circling is the long-overdue film version of the musical Les Miserables. He might as well start here by watching this concert film and reminding himself of the great score it contains and the talent involved with the show over the years, from Colm Wilkinson (bizarrely given quite low billing on the cover) to Nick Jonas. Did someone just imagine Lea Michelle singing "On My Own." Oh yes, it could happen. Here's hoping they avoid stun casting. If the film is three+ hours and has an intermission, we'll know they're trying to do it right.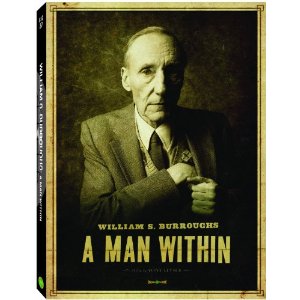 WILLIAM S. BURROUGHS: A MAN WITHIN ($39.99; Oscilloscope) -- Burroughs is such a perverse figure that he's hard to look at objectively and soberly. This documentary hopes to do so by focusing on the emotional life of the man, though talking heads like Patti Smith and John Waters are not the best way to dig deep into his private life. As with all of Oscilloscope's films, the packaging is lovely and the extras solid. Looking forward to checking it out, even though Burroughs never interested me much as a writer.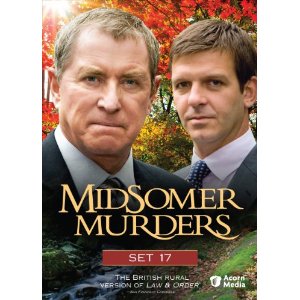 MIDSOMER MURDERS SET 17 ($49.99; Acorn) -- The long-running British crime series in which a small village -- Midsomer -- is jam-packed with murder and evil to a rather shocking degree. Long-running lead John Nettles has just packed it in, so these are some of the final episodes he stars in. The show, of course, will go on. And on. Four TV movie length episodes with murder on the links, an art auction house, the meadows and more.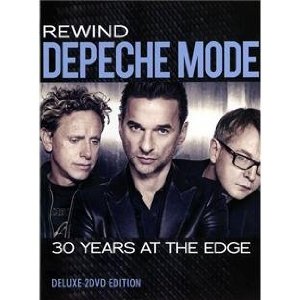 REWIND: DEPECHE MODE -- 30 YEARS AT THE EDGE ($26.95; Pride) -- This is strictly for hardcore fans of Depeche Mode who want to own every scrap of info on the band. On the other hand, this unauthorized surface look at the band has very little to offer actual fans already familiar with the group. It's mostly a string of talking heads commenting on the band and of course none of the actual members of Depeche Mode sat down for an interview. It's 2 hours and 37 minutes long, which is a lot of padding for a set with no videos and only scraps of footage here and there they could lay their hands on.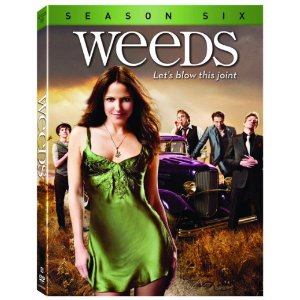 WEEDS SEASON SIX ($39.98; Lionsgate)
NURSE JACKIE SEASON TWO ($39.98; Lionsgate) -- After hitting a rut, Weeds just tossed aside everything and hit the road. Forced to go on the lam to avoid the Mexican mafia, the newly dubbed "Newman" family ends up working in a hotel and of course offering pot to the customers checking in who want to check out for a while. Not wholly successful but a necessary shake-up for a show that had backed itself into a corner and/or run out of things to say. Nurse Jackie, on the other hand, still hasn't quite figured out what it wants to be, though Edie Falco holds it together simply by acting her ass off, even when it's not quite clear what her motivation is or where the show is headed.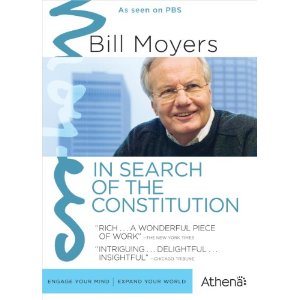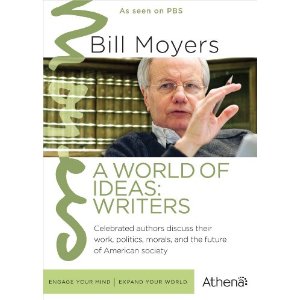 BILL MOYERS: IN SEARCH OF THE CONSTITUTION
BILL MOYERS: A WORLD OF IDEAS -- WRITERS ($79.99 each; Athena) -- Who else but Bill Moyers could engineer such thoughtful, straightforward, intelligent fare? Constitution is a 10 and a half hour look at one of our founding documents. Moyer is often lambasted on the right but anyone can find fascinating, lucid information here as Moyers probes the Constitution with the help of four Supreme Court justices, professors, legal scholars, and even Robert Bork. The Writers series is about 7 hours long and savors conversations with authors like Tom Wolfe, Isaac Asimov, Nadine Gordimer and Toni Morrison. I wish these were less expensive or streaming on a PBS site so that they could be as widely available. Classic examples of why public television is so valuable and why it's so prized by most Americans whatever their politics.
ELEVEN MOVIES COME TO BLURAY -- SHOULD YOU BUY THEM?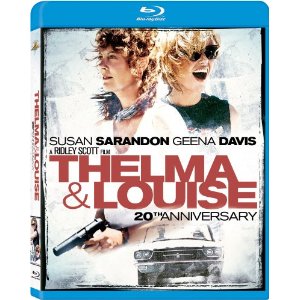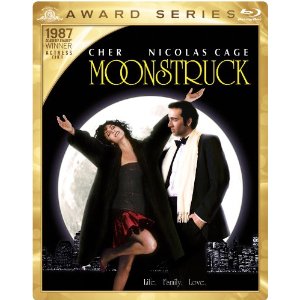 The catalog titles flooding onto Bluray keep coming. Done properly, BluRay is indeed a serious step up in picture quality and (less dramatically) sound. But for many films with fine prints on DVD, I wouldn't feel obliged to upgrade unless the movie is one of your favorites or especially benefits from the sharper image (giant epics, sci-fi spectacles, and the like). Plus, I want to keep encouraging studios NOT to price BluRay DVDs more than regular DVDs. Whenever they're within a few dollars of each other, that's a win in my book for consumers. So here are 11 new titles to hit BluRay.
THELMA & LOUISE ($19.99; MGM) -- Now that all the fuss around the movie has settled down and the hysteria or delight over its feminist overtones has settled down, you can just enjoy it for what it is: a fun lark of a flick with two actresses -- Susan Sarandon and Geena Davis -- that have great chemistry. If you're really into Brad Pitt, his steaming cameo will be more sharply in focus than ever.
THE STRANGER ($15.99; HD Cinema Classics) -- Orson Welles made many more great films than just Citizen Kane. This isn't one of them. It's standard fare about a Nazi war criminal hiding in plain sight in a college town. Hitchcock offered a similar theme much more interestingly in Shadow Of A Doubt. Worse, the transfer here is merely serviceable. However, the price is great for a BluRay/regular DVD combo, a rare offering for a classic older title. Too bad I can't rave about the image.
NETWORK ($19.98; Warner Bros.) -- Obviously, any great film can be enjoyed more with a better print. But for me, Network has always been a grainy, visually uninteresting movie filled with some vivid performances. I also find it a bit dated, no matter how prescient it was about television. So it's a good movie and the print here is a notable step up. Essential viewing at least once, though not one I turn to again and again.
CHAPLIN ($19.99; Lionsgate) -- How does director Richard Attenborough do it? He's a deadly dull filmmaker but he's managed to elicit two exceptional performances: Ben Kinglsey as Gandhi and Robert Downey Jr. as Charlie Chaplin. The movies they're in are more tiresome and ponderous with each passing year but the performances are marvelous nonetheless. This BluRay print is fine, though its a pity we don't get to hear from Downey himself on tackling this role via an audio commentary.
A PRIVATE FUNCTION ($17.97; Image) -- Despite the great Alan Bennett's involvement and a cast that can't be faulted -- Michael Palin, Maggie Smith, Denholm Eliott, Richard Griffiths, Alison Steadman and so on -- this is pretty minor fare about post-war England and how food rationing has turned a black market pig into a treasure that everyone will beg borrow or steal to acquire. Painless but forgettable. The BluRay print is not a notable improvement over the regular DVD so no real need for this one.
ALL THE PRESIDENT'S MEN ($34.99; Warner Bros.) -- A classic thriller, here the BluRay is an improvement (albeit not truly eye-popping) over the regular DVD and it comes in a very nice hardback booklet with lots of photos and a nice essay. But if that's their excuse for charging $35 for a movie that has essentially the same extras as the regular DVD, I'd rather have a boring old plastic case and get it for $15. Mind you, the 2006 Special Edition of the movie on regular DVD is $26.98. This is no way to encourage library building or to get people to switch over from regular DVD.
RAIN MAN ($19.99; MGM) -- The film hasn't aged well in my mind and the BluRay transfer is merely adequate. But if you're a fan and don't own it yet for some reason, this is okay. As an aside, the MGM titles make it a little tricky to access the film's menu and get to the extras, at least on my player.
FIVE CORNERS ($17.97; Image) -- Again, not a step up in visual quality deserving of BluRay. But at least it's priced under $20. Playwright John Patrick Shanley wrote this Jodie Foster oddball and then followed up with his directorial debut, the delightful Joe Vs. The Volcano. A distinctive talent, to say the least.
LAST TANGO IN PARIS ($19.99; MGM) -- I'm not a fan of this film particularly; to me, nothing dates as quickly as a film with pretensions of sophistication and worldliness (as opposed to the real thing). But it's a landmark film, the BluRay looks good and the sound is solid, which is very important when trying to suss out the mumblings of Marlon Brando. Worth plunking down for if you're a fan, though no extras whatsoever if that's important to you.
MEMENTO ($19.99; Lionsgate) -- Long before people were debating the ending of Inception, they were debating the ending and beginning and middle of this tricksy drama about a guy who has extremely short term memory he must leave notes and clues for himself so that when he wakes up with no idea of who he is he can try all over again to piece his life together, stay alive and solve the mystery of what exactly is going on. The film looks great and benefits from a second viewing. But while there are new extras, it already came out on BluRay in a fine edition. This is strictly for those late to the party who haven't bought it yet.
MOONSTRUCK ($19.99; MGM) -- I'm finishing with the most welcome release of them all. Moonstruck remains a charmer and among the best work Nicolas Cage and certainly Cher will ever do on film. The BluRay transfer is fin, but that's not why this is so exciting. The main reason is that Moonstruck is now finally available in widescreen (the way it was shot) in America. Until now, the movie was only available in horrific pan-and-scan that chops off a third of the picture and ruins a movie's visual charm. You had to buy an all-region player and get a DVD from the UK in order to see it properly. Not any more.
NOTE: Michael Giltz is provided with free copies of DVDs to consider for review. He typically does not guarantee coverage and invariably receives far more screeners and DVDs than he can cover each week. Also, Michael Giltz freelances as a writer of DVD copy (the text that appears on the back of DVDs) for some titles released by IFC and other subsidiaries of MPI. It helps pay the rent, but does not obligate him in any way to speak positively or negatively of their titles.
REAL LIFE. REAL NEWS. REAL VOICES.
Help us tell more of the stories that matter from voices that too often remain unheard.