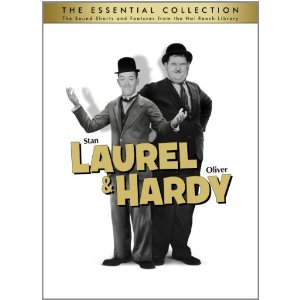 LAUREL & HARDY -- THE ESSENTIAL COLLECTION ($99.98; RHI) -- All my life, I've been told that Laurel & Hardy were the greatest comedy pairing in movie history. But I've had to take it on faith, since the only easily available movies were from the late period of their career while the dozens of sound and silent shorts from the L&H prime remained mostly unseen. Cruelly, the UK released a lavish boxed set a DECADE ago, but fans in the US remained in a fine mess. Until now. This compact boxed set contains more than 50 sound shorts and features from their peak years working for Hal Roach. The sound and picture quality is quite good and the extras are almost overwhelming -- you don't just get the English language shorts, you also get multiple versions of some shorts that were shot simultaneously in other languages like French and Spanish, versions that were often substantially longer to boot. Plus they have the usual extras, like appreciations from other artists like Jerry Lewis and Dick Van Dyke, as well as audio tracks by scholars. But above all you have the shorts and films. I started to watch them chronologically to see how L&H adapted to sound. But then I couldn't help myself and jumped ahead to classics like "Busy Bodies" (one of Stan Laurel's favorites -- and he was the brains of the bunch). It's unquestionably one of the most important releases of the year and certainly the funniest. It's a pity we don't get the silent shorts as well (any fan who wants this set surely wants those included as well). But at $100 for ten discs (and much cheaper on sale), this is a great deal and no one should hesitate. Nonetheless, I do have complaints, mainly about the awful, awful packaging. Go online to any website and you'll hear fans moan bitterly over "cardboard sleeves." And yet DVD makers continue to use them. Why? Are they that much cheaper than other options? The set is nicely compact, essentially the same dimensions as a regular DVD (but thicker), which I love because it fits right alongside your regular collection. Bulky and odd-shaped boxed sets are a pain. That's about all they got right. It looks handsome, with each thick, cardboard page filled with glossy images and stills. But those thick cardboard pages are where the DVDs are hidden and you must slide them out awkwardly every time you want to watch a movie. It's impossible to do without smudging the DVD plus they get easily scratched when you slide them in and out, no matter how careful you are. The ONLY way to safely and easily store DVDs is with the spindle so the DVD can snap into place and be easily removed by the edges. Any sort of sleeve -- especially ones as tight and awkward as these -- is just asking for trouble. I still strongly recommend this set. The quality of the films and shorts inside and the reasonable pricing make it a gem. I'm going to be savoring it for weeks to come. Stan's weepy, deadpan face, Ollie's frustrated stares right into the camera (which kill me every time), their faultless timing -- it gets better and better every time. In a month or two, I'll probably agree with the experts that L&H are the greatest comedy duo of all time.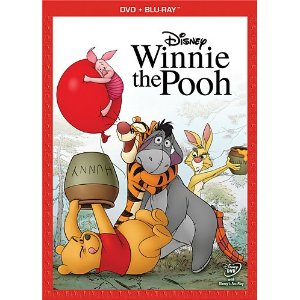 WINNIE THE POOH ($39.99 BluRay combo or $29.99 DVD; Disney) -- Well, this is much better than I expected. It's a gentle, sweet little movie that genuinely recaptures the spirit of the Walt Disney classic, despite new voice actors taking over the ones fans of a certain generation remember so well. Eeyore loses his tail and the whole gang searches for it, with Pooh making sad little detours in order to secure some honey for his rumbly tumbly. That's it, with Zooey Deschanel having a career year with her hit sitcom and the songs she sings here on the soundtrack (not to mention She & Him's upcoming holiday album). The film does include interludes but it is basically one long tale (rather than two or three discrete adventures) so it feels rather long in a way, despite the very brief running time (less than an hour, with ten minutes of amusing credits and a kicker). It's not outstanding, but it does the characters proud.
BARNEY MILLER THE COMPLETE SERIES ($159.99; Shout) -- Twenty years ago, if you asked me to list the best sitcoms of all time, Barney Miller would have been in the top ten. Interestingly, despite bracingly realistic dramas like Hill Street Blues and NYPD Blue and Homicide, most cops would still name Barney Miller as one of the most realistic cop shows -- this captured how it was back in the Seventies. Jokes, boredom, friendship, criminals as regular to the cops on their beat as drunks were to certain bartenders and once in a while life or death drama. Of course, most cops weren't as funny as the detectives of the 12th Precinct, like the budding novelist Harris, the aging Fish, the proudly blue collar Wojo, the shockingly brilliant Dietrich and the rest. In my mind, newer sitcoms like The Office UK and The Royle Family and Seinfeld and the like had pushed it down to the Top 20 or even lower. How would it hold up with that forced laugh track? Well, I've just started season one, but it's wonderful to see how quickly this sitcom found its wry, humane voice, led by Hal Linden in the warm role of a lifetime. I haven't seen these episodes since the rare repeat in the 1980s (I never did enjoy watching shows out of order, even sitcoms) and yet they're so vivid and well-acted, I remember them immediately. I can't wait to reappraise it again but I already know it's an old friend I'm happy to visit with. This set contains the entire series plus season one of the godawful Abe Vigoda spin-off Fish, along with audio commentaries, extras and the like. If you're a serious fan, you might enjoy the oral history I wrote for the New York Post about this gem, when I spoke to much of the original cast. If you're not a fan, this set would make you one.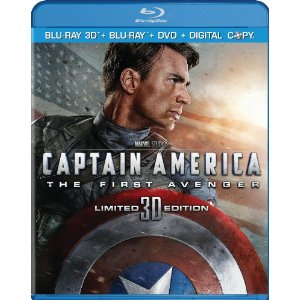 CAPTAIN AMERICA THE FIRST AVENGER ($54.99 3-D BluRay combo or $42.99 BluRay combo or $29.99 DVD; Paramount) -- Usually, if comic book movies work at all they have some really spectacular stunt and action sequences but fall flat when it comes to, you know, the characters. Captain America gets the characters and WW II setting and wholesomely patriotic tone down pat...but its action scenes are repetitive and confusing and dull. Luckily, director Joe Johnston takes his time, setting up the story of a wimpy nerd who keeps getting turned down for military service but does get assigned into a secret unit devoted to creating superhuman warriors. The retro feel of the movie is spot-on, even though again the action is ho-hum, they don't really get across why the bad guys are too crazy even for the Nazis (the baddies are an offshoot of the Nazis), and the 3-D is POINTLESS! Chris Evans carries the shield very nicely; it'll be fun to see how he does next summer in The Avengers. I'm just sorry we won't be able to see Captain America in some other WW II exploits any time soon. He works best in the 1940s.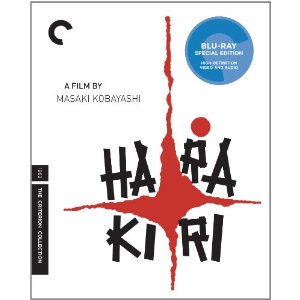 HARAKIRI ($39.95 BluRay; Criterion) -- Hipster Japanese director Takashi Miike just remade this 1962 gem as Hara-Kiri: Death Of A Samurai, an utterly unnecessary remake (shot in 3-D, for some bizarre reason). Why, when the original by Masaki Kobayashi is so enduring? The 1962 classic tells the story of an itinerant samurai who comes to the home of a major figure and asks permission to commit ritual suicide. This apparently is a con pulled by some who are hoping to be bathed in honor and given a new job (there's an oversupply of samurai, apparently). But our hero is deadly earnest and offended anyone would accuse him of such a ploy and the film uses elaborate flashbacks to show what drove him to this moment. Plus, of course, you get some awesome battle scenes. The modest extras includea DGA interview with the director and video of interviews with the star and screenwriter, among others.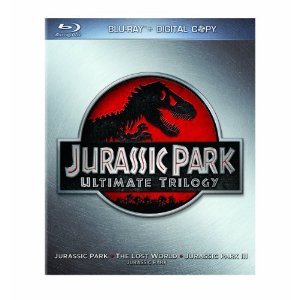 JURASSIC PARK ULTIMATE TRILOGY ($79.98; Universal) -- This BluRay edition of the dino-movies from producer-director Steven Spielberg is simply not up to par. The BluRays look okay but nowhere near as spectacular as they should. It feels like no effort was put into making this as good as possible. Appropriately, one feels much the same thing when watching The Lost World: Jurassic Park II. Director Joe Johnston (who enjoyed new success this year with Captain America) righted the ship on Jurassic Park III, but that's only by comparison. Even the original is a pretty threadbare event, with nothing but the dinosaurs on the loose to entertain (Jeff Goldblum can do only so much). But this is a thrill ride of a series and if older films like E.T. and Close Encounters can look great, there's no reason these shouldn't be treated with the same care. Maybe, like me, Spielberg just doesn't care for them very much.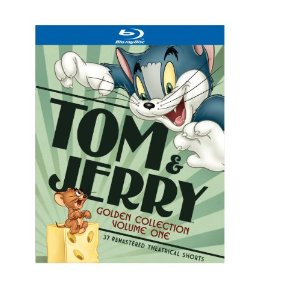 TOM & JERRY GOLDEN COLLECTION VOLUME ONE ($34.99 BluRay or $26.98 DVD; Warner Bros.) -- Cartoon shorts were huge draws in their day and in the 1940s, Tom & Jerry were the kings of the hill. They helped end Disney's monopoly on the Oscar for Best Cartoon and dominated the category for the entire decade, ultimately winning the Academy Award seven times, more than any other character-based series in history. This set presents the first 37 of their 114 shorts created by Hanna Barbera for MGM from 1940 through 1957. (And can anyone explain to me why MGM didn't expand into feature films more seriously?) They're almost all restored beautifully (some are from lesser sources but look fine) and are presented in chronological order and unedited. That's the most welcome news here. Warner Bros. quite sensibly show the shorts in their entirety, including the "sassy" black woman heard offscreen from short to short who is the cat's owner. In one scene she threatens to throw him "Out! O-W-T! OUT!" The shorts are hardly rife with insensitive racial stereotypes (most of them are almost exclusively about the cat chasing the mouse) but it is there from time to time. The studio includes a disclaimer that says these prejudiced attitudes were wrong then and are wrong now but to censor them out (as syndicated versions later did) would be like pretending these prejudices never existed at all. If only Disney would do this with Song Of The South and any other hateful or obnoxious stereotypes that were embedded in popular entertainment. But please realize this is mainly the Tom & Jerry you know and perhaps love. Me, I find it as tiresome as the Roadrunner cartoons -- once you've seen one or two there's really no point in seeing the rest. Sacrilege, I know, but that's how I feel. Still, for fans this is a very welcome set indeed.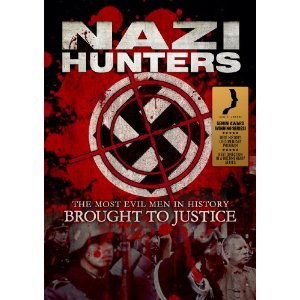 NAZI HUNTERS ($19.95; MVD/Cineflix) -- This eight-episode TV series (made by Canadian and Brazilian partners) is a breathless documentary series with each episode devoted to the hyper-edited recollections of experts and sometimes the people involved in tracking down Nazis on the run like Eichmann and Klaus Barbie. The show is the sort of time-killer you can find on the History Channel, with cheesy reenactments and quick-cut editing to create some sort of excitement around the talking heads. The stories themselves are somewhat interesting and it might be viscerally enjoyable for those who like to see "the most evil men in history BROUGHT TO JUSTICE!" as the DVD says. But well-made? No.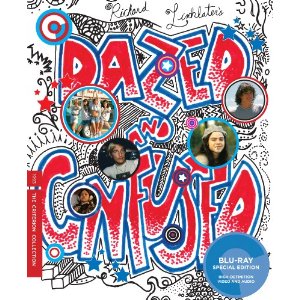 DAZED AND CONFUSED ($39.95 BluRay; Criterion) -- I recently named Dazed and Confused one of the best high school films of all time, so you know I love it. (Check out the full list here.) Criterion has just released their exemplary edition of the film on Bluray, which automatically makes it the version you should buy. You can pretty much take that to the bank on any film released by Criterion. A special shout out to director Richard Linklater and casting director Don Phillips for one of the best round-ups of young talent you'll ever see. (He also did Fast Times At Ridgemont High, so consider this a two-fer Mr. Phillips.)
LUTHER SEASONS 1 AND 2 ($34.98; BBC/2 Entertain) -- Cop shows are filled with characters who will not play by the rules. But even by the rule-breaking standards of the past, Idris Elba's Luther is out of control. Out of control? You think he's out of control? Wait till season two, buster. That's the word from my friend, who has seen both seasons. I'm just in the midst of season one, where Elba's performance (he of The Wire, of course) is the main and practically only draw. Fun but not earth-shaking.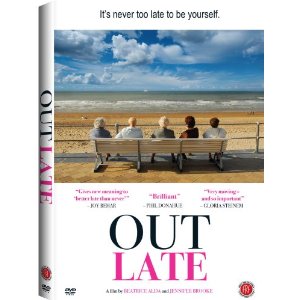 OUT LATE ($24.95; First Run) -- This modest, sometimes moving documentary focuses on people who came out or transitioned genders in their 50s or later. What took them so long? What's it like starting to date someone you really want to date in your Sixties? How'd the kids take it? These are the obvious but interesting questions answered by the five people profiled here. "It's never too late to be yourself" is the tagline but hopefully this film will help give courage to others so they don't wait till retirement to start enjoying life completely and on their own terms.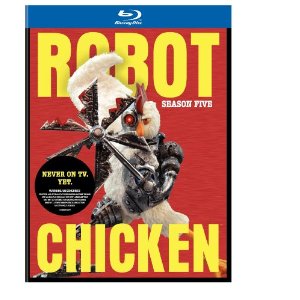 ROBOT CHICKEN SEASON FIVE ($39.99 BluRay or $29.99 DVD; Cartoon Network/Warner Bros.) -- Waiting till a show airs on television is so...20th century. If you love the fast-paced satire of this sketch show by Seth Green, Matthew Senreich and Mike Fasolo, there's no need to wait. The full season set is out now even as the second half of the episodes start to air on Cartoon Network. You get all 20 stop-motion crazy episodes, extras and more fart jokes than you can shake a stick at. (Is that really the reaction one should have to a fart joke? Wave a fan at, perhaps?)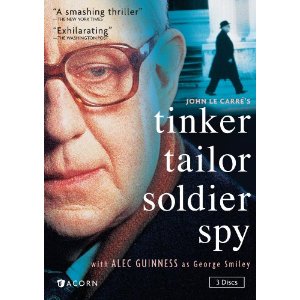 TINKER TAILOR SOLDIER SPY ($49.99; Acorn) -- A new film version of the John Le Carre novel is coming out this year and it's received very good reviews in the UK. But it will hard-pressed to top this subtle, six-part miniseries which starred Alec Guinness as the definitive George Smiley. I can't decide whether to tackle the novel or rewatch this miniseries to prepare for the new film. Watching this again might be unfair however. The new film is sure to pale in comparison. This is a reissue of the earlier version, not newly remastered or with any new extras. And for heaven's sake, pay attention -- you can't multitask through this one or you'll soon be utterly lost.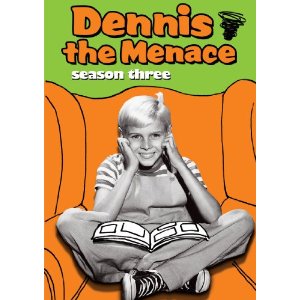 DENNIS THE MENACE SEASON THREE ($29.93; Shout) -- This is the third year in a row in the Top 20 for Dennis The Menace, which aired on Sundays at 7:30 its entire four year run from 1959 through 1963. The instant hit breathed new life into Lassie (which aired at 7 p.m.), the family friendly show that had debuted in 1954 and slipped out of the Top 30. Lassie went on to run for 19 seasons in all and she can thank that adorable tyke who always got into well-intentioned scrapes for doing so. The one-note premise was wearing awfully thin by this time and Gale Gordon did a fine job but it's hard not to miss Joseph Kearns as the original Mr. Wilson. (He died mid-season.) No extras but you get all 38 episodes looking good. The original comic strip is admired by Hank Ketchum was admired by his peers for Ketchum's marvelous technical skill. It's well worth checking out in Fantagraphics' lovely collections.)
NOTE: Michael Giltz is provided with free copies of DVDs to consider for review. He typically does not guarantee coverage and invariably receives far more screeners and DVDs than he can cover each week.