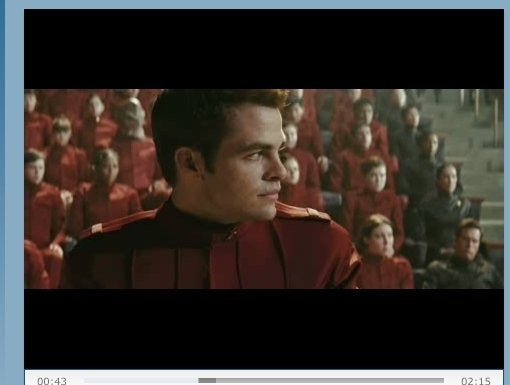 The reboot of Star Trek with a new feature film is getting terrific early buzz. I was very concerned when the first trailer had that goofy shot of a pre-teen James Tiberius Kirk ditching a sports car off the side of a cliff. But everything since then has looked promising, including great early reviews from Variety and Hollywood Reporter.
If you're chomping at the bit for May 8, perhaps the best way to prepare is Star Trek: The Original Series Season 1 on BluRay ($129.99; Paramount). This has every option I wanted in the standard DVD release. You get the entire first season in sterling new prints and sound (stereo or mono) and best of all you don't have to choose between the classic edition and the revamped all-new-special-effects version (which I despise). The set comes with both, along with a host of extras. It's a little more expensive than the most recent standard DVD version, but since you get both versions of the TV show (rather than just the spruced up new version), to me it's a better value. And it really does look smashing. A host of Star Trek DVDs come out the week after the movie opens as well, including BluRay boxed sets of the movies and "best of" DVDs for the various TV shows that only contain four episodes each. (What's the point of that?) But this is the original TV series done right.
OK, lots of catching up to do from the last few weeks, so here it comes:
Pride and Prejudice ($49.95 on BluRay; A&E) -- This is the BluRay edition of the 1995 miniseries starring Colin Firth as the dashing but frustrating Mr. Darcy and Jennifer Ehle as the willful and clever Elizabeth Bennett. Will they both prove too stubborn to admit they are in love? It is no exaggeration to say that this is one of the greatest miniseries of all times and certainly one of the best Jane Austen adaptations of all time. (Only Persuasion and perhaps one or two others come close.) And this is a marked improvement over the standard DVD, which wasn't sterling. It costs $10 more on BluRay, but only $4 more on sale versus the standard version at Amazon. Absolutely essential.
Barbra Streisand: The Concerts ($34.98; Hip-O) -- Is it possible that Streisand is underrated? I'd say so, given her remarkable achievements of the years. But it's been a sad fact that her last great studio CD was The Broadway Album way back in 1985. Ever since then, she's been a perfectionist to a fault when recording an album, glossing over every imperfection with vocal take after take until the life is squeezed out of her performances. The exception has been in concert, where Streisand has to just stay in the moment. (I'm ignoring the likely possibility that she's fiddled with some of her concert releases after the fact.) In this DVD set, you get Streisand in marvelous voice both in 1994 and 2006, along with a third DVD devoted to her TV special about the making of The Broadway Album. Unlike many concert films, there is no frenetic editing here to create "excitement." The camerawork is perfunctory and the cuts random but not distracting -- they let the singing create the drama and Streisand doesn't disappoint. The next time she's recording an album, Streisand needs to treat it like a concert. Rehearse, prepare, then do it live in just a few takes.
Doubt ($29.99 for regular DVD and $34.99 on BluRay; Miramax) -- Doubt was a wonderful play with four powerhouse actors led by Cherry Jones in a performance for the ages. I love Meryl Streep (what film buff doesn't) but couldn't for the life of me understand why playwright John Patrick Shanley would ignore the dream cast in place and put in mostly all new people. I know, I know. Box office. But wouldn't you want to capture the play as well as possible and let the box office take care of itself? The film is a complete misfire from start to finish. Virtually every decision by Shanley is misguided. (I loved his movie Joe Versus The Volcano and have waited for him to direct ever since, by the way.) In the movie, we meet the little boy who Streep suspects is being molested by a priest. Later in the film, it will be a thunderclap of a revelation when the boy's mother indicates she thinks her son might be gay. But that's ruined when the boy walks into church and asks a fellow altar boy if he thinks the pants the boy is wearing make him look fat? Is that really Shanley's idea of how a gay kid in the early 60s might talk? Smaller and larger details are wrong too. During Sunday mass, three or four kids are literally turned around in their seats and chatting away during the sermon until Streep swoops down on them and shushes them up. This would absolutely never have happened. Even today kids might whisper something to the kid next to them (until their parents made them shut up) or even break down in giggles. But just chatting away as if they're at McDonalds? No way. it's just a chance to show how stern Streep is but the result is an inability to suspend disbelief. I was furious at Shanley for quite a while. But the truth is that this play would have been extremely hard to film. Much of its power comes from the theatricality, from the fact that we never see the little boy (or any kids, for that matter). All of that had to change with the film and I don't know that it could have been done well. But it remains a shame that the performance by Jones will only live on in my memory. Actually, if the film would have spoiled that memory by an awkward attempt to recreate it, maybe I'm glad after all.
Hotel For Dogs ($29.99; Paramount) -- Kids love dogs. How else to explain the success of last December's Marley & Me or this nondescript comedy based on the Lois Duncan bestseller? In it, two foster kids secretly adopt a dog and when he runs away, they find him in an abandoned hotel along with a few other strays. Naturally, they decide to care for all of them and hilarity ensues. By the way, if you enjoyed the book, a sequel is coming out soon. I'll bet a sequel comes out for the movie as well.
The Wrestler ($29.98 on regular and $39.99 on BluRay; Fox) -- Mickey Rourke's comeback was also a comeback for director Darren Aronofsky, who saw his last movie -- the scifi romance The Fountain -- virtually ignored. They both got the biggest hits of their careers with this look at a washed-up pro wrestler looking for one last modest stab at success. I found the scenes with his daughter (the usually wonderful Evan Rachel Wood) distracting. But the chemistry between Rourke and stripper Marisa Tomei felt just right. The extras include fun chats with real pro wrestlers.
Mickey and the Beanstalk ($19.99; Disney) -- The first of 3 volumes of Disney animation contains Mickey starring in a retelling of Jack and the Beanstalk along with four other shorts. Disney is the king of feature-length animation and won all the Oscars in sight for many years when it came to shorts, but they're remembered far less fondly than Merrie Melodies, Bugs Bunny, the Fleischer work and just about any other artist creating shorts. It's not wholly fair -- despite being far less anarchic, they're solid works, albeit a bit staid. It's the difference between the original Grimm fairy tales and the sanitized versions with all the scary and sexy bits taken out. Volume 2 has seven shorts, including Three Little Pigs and Volume 3 has Mickey in The Prince and the Pauper, along with four other shorts.
In The Realm Of The Senses ($39.95 on regular or BluRay; Criterion) -- Oshima's erotic masterpiece is given the loving Criterion treatment, complete with audio commentary by an historian, period TV interviews from when the film came out in 1976, a new interview with lead actor Tatsuya Fuji and more. There is an improvement in the image on BluRay, but frankly such care is taken with all Criterion DVDs that it's not as dramatic as it might be. Both look smashing. Also just out is Oshima's spooky Empire Of Passion ($39.95; Criterion) in which a married woman and her young lover kill her husband. Extras include interviews with actors and behind the scenes talent as well as a video essay on the film by historians and new English subtitles.
Bride Wars ($29.98; Fox) -- Kate Hudson and Anne Hathaway are best friends who find their perfect wedding plans ruined by snafus that pit them against one another. Gives chick flicks a bad name.
Top Gear Complete Season 10 ($39.98; BBC Video) -- I'm no gearhead and haven't an adventurous bone in my body so this show has completely passed me by. But like any really good project, it makes you care even if you don't care. The show's stars cruise through the Kalahari Desert and other exotic locales, test out new cars, host celebrities like Simon Cowell of American Idol and Helen Mirren (!) and it's more entertaining than I ever expected.
Nickelodeon/The Last Picture Show ($24.96; Sony) -- Here's a strange pairing: director Peter Bogdanovich's masterpiece The Last Picture Show (1971) and one of his bigger flops, the silent film ode Nickelodeon (1976), starring Burt Reynolds. Even stranger, you get only the director's cut of Last Picture Show (which has only subtle differences, but I wish both were provided) and both the theatrical cut (which is in color) and a director's cut (three minutes longer and in black and white). If you were going to do a boxed set of Bogdanovich, it would clearly contain his three great films in a row: The Last Picture Show, What's Up Doc and Paper Moon. Those are the films on which his reputation rests. (Later works, like Mask, are also worthy.) This double bill makes no sense but if you don't own The Last Picture Show -- and everyone should -- get it immediately.
Glass: A Portrait Of Philip In Twelve Parts ($29.98; Koch Lorber) -- I'm a huge Philip Glass fan but I think that would make me harder on this film than the average music fan. I know so much about his work, it's harder to surprise me. But this two hour documentary by Scott Hicks does a great job of capturing the remarkably diverse work that Glass is creating, from solo concerts to operas to film scores to symphonies. And the bonus DVD contains three hours of extras including some complete performances, chats with composers he's mentoring like Nico Muhly and much more.
The Reader ($29.95 on regular and $34.99 on BluRay; Weinstein) -- This Oscar-nominated film tells the story of a 15 year old German boy who has a romance with an older woman (Kate Winslet) and then years later discovers she is on trial for war crimes. The heart of the film is the fact that she's illiterate and he reads to her; later, in prison she even learns to read herself. The actors are fine (though the present-day scenes with Ralph Fiennes as the boy grown up are stilted) and the score by Nico Muhly is strong, but it's a strange, strange film to say the least. The message seems to be that even war criminals need love. Or perhaps that illiteracy is sad, even if it's a Nazi who can't do it. (She may not actually be a Nazi but she was a prison guard and oversaw atrocities because she was so focused on following orders.) Truly, there is no scene in the film where Kate Winslet's character has learned to read and thus, perhaps, learned to see the world from the point of view of others. And I don't understand why there isn't. Surely that's the whole point of her learning to read -- that she might come to some self-awareness or sense of recognition for what she had done. But no. Nothing of the sort takes place or is even hinted at. So why should I care about her?
Caprica ($26.98; Universal) -- This is the pilot for the prequel to Battlestar Galactica. The show own't start airing till 2010 but they've put out this 90 minute movie now to build aniticipation. It works, sort of. After a very shaky start, the movie throws a spanner in the works via a terrorist act and the real drama begins. Eric Stoltz is good as a dad torn by pain over his daughter's sudden death and driven to download her memories into a new robot he's dubbed a Cylon. Taking place some 50 years before the "downfall" of man, the show is an odd cross between scifi and a soapy drama. I could have done without the fourth shot of women making out in a bar to indicate decadence a la Rome. (And no sign of two men kissing of course; this is the show from creators that finally outed one of the characters on BG -- the traitorous Gaeta -- but only on a webisode.) The rest of it -- filled with vaguely philosophical mutterings about a one true God and what is a soul -- hasn't taken shape yet. I will definitely give the series a shot once it begins airing, but this doesn't inspire loads of confidence.
Nothing But The Truth ($24.96; Sony) -- This is the best movie yet by Rod Lurie, but that is faint praise since I haven't been a big fan of his. A very strong cast (led by Matt Dillon, Alan Alda, a terrific Vera Farmiga and Kate Beckinsale) takes the Valerie Plame case (in which a CIA agent is outed in the press to punish her husband for criticizing the President) and somehow makes it less grey, less interesting. Beckinsale is the journalist who refuses to reveal her primary source. Dillon is the Patrick Fitzgerald-like attorney who wants to show that journalists aren't above the law. Instead of being a patsy for the government, Beckinsale is just doing a good job. Instead of being a good agent who then clouds her image by seeking publicity (that Vanity Fair shoot) Farmiga becomes a martyr. And the finale is a major twist I can't discuss. But I can say that Lurie believes the finale makes Beckinsale a lot more noble and understandable in her determination not to crack. To me, it makes her a lot LESS noble and if that doesn't intrigue you I don't know what will. I would ignore the "inspired by true events" tag however because this movie goes far, far afield of the Plame affair and the idea that this is telling that story is misleading and distracting.
The Hairdresser's Husband ($29.95; Severin) -- This 1990 gem is about a man who was obsessed with the local hairdresser as a little boy and when he grows up finally gets to act on that desire by wooing the new pretty young hairdresser in town. Director Patrice Leconte is a favorite of mine and this 1990 drama was the first of his that I saw -- Monsieur Hire and Girl On The Bridge would follow but this is the gem that first made an impression. Also just out is Leconte's The Perfume Of Yvonne ($29.95; Severin) which I'm looking forward to watching.
Pulling: The Complete First Season ($24.98; MPI) -- This Britcom stars co-creator Sharon Horgan as a bored bride-to-be who dumps her dull fiance in the first episode (just before the wedding) and then finds dating with her cynical friends isn't such fun. It has a certain deadpan appeal, but too often that's crossed up by broad comedy, like having her fiance crawl to her weeping on his knees. Low-key or exaggerated: choose, people!
Road To The Big Leagues ($24.95; IndiePix) -- If you're a fan of the current indie hit Sugar, this look at the Dominican Republic's love affair with baseball is the perfect companion piece. It shows a group of kids who dream of making it all the way, just like David Ortiz and Vladimir Guerrero and a host of others.
The Lost Collection -- More smart branding as Lionsgate takes a group of B movies from the 80s with some good stars and spruces them up by calling them "The best movies you totally forgot about." It would be more accurate to call them "the not-so-bad movies you hadn't thought about in years" but someone was surely waiting for the DVD release of the Risky Business rip-off starring Keanu Reeves called The Night Before, Jon Cryer in not one but two flicks -- Hiding Out and Morgan Stewart's Coming Home, Robert Sean Leonard of House developing blood lust in My Best Friend Is A Vampire and slasher pick Horror High (all of them $14.98 from Lionsgate).
A Jihad For Love ($24.95; First Run) -- Inspired by Trembling Before G-D, Sandi DuBowski's look at gay Orthodox Jews, this documentary looks at the sorely tested faith of gay and lesbian Muslims. And you thought you had it hard.
Seven Pounds ($28.96 on regular DVD and $39.95 on BluRay) -- I loved The Pursuit of Happyness, the first collaboration between Will Smith and director Gabriele Muccino. But this followup came and went without a trace. And wrongly so. It's a well-acted thoughtful drama, albeit with a touch of earnestness. The problem was that it was sold as a mystery -- who is Will Smith playing and what strange plot is this man working on? But in fact the movie itself makes perfectly clear within the first 20 minutes -- or 30 minutes at the most -- that Smith is planning to kill himself and donate his organs to a series of strangers he's tracked down that need a heart, eyes and so on and he's doing it over guilt from a car accident that killed his wife. It's not much of a stretch to realize he was probably responsible for that car accident and that's exactly what we see towards the end of the film. It's beautifully shot and acted with nice restraint by Smith and Rosario Dawson as a woman he falls for, tempting him to abandon his plans. Even the film itself seems to treat Smith's plans as mysterious, even though they've told us all we need to know. If it had just laid its cards out on the table and treated this like inevitable tragedy rather than a puzzle (it would have been gripping to see Dawson try to talk Smith out of it), this could have been a great film instead of just a muted one.
James Bond BluRay Volume Three ($89.98; MGM) -- I'm of two minds about this set. You get one movie from three different Bonds: Pierce Brosnan (the silly The World Is Not Enough, his weakest entry), Roger Moore (Moonraker, also not his best) and Sean Connery (Goldfinger, the greatest Bond film of them all and the mold for all the Bonds that would follow). The good news is that the films look simply amazing; they have been restored with tremendous care and loaded down with extras. The bad news is that it's such a random collection of Bond movies that don't really belong together. All you do is frustrate fans. Anyone who would buy this would also buy the complete Sean Connery set or the complete Roger Moore set and surely that's the only logical way to package them?
Mulligans ($24.95; Wolfe) -- College student brings home his best buddy, who promptly comes out, causing the student's dad to realize HE'S gay too and the two of them start fooling around. I hate when that happens. Earnest and uninvolving.
A Song Is Born ($14.98; MGM) -- A tiresome remake of the tiresome comedy Ball of Fire, in which itself was a play of sorts on Snow White and the Seven Dwarfs. In the original, Barbara Stanwyck loosened up the uptight professor Gary Cooper. In the remake (both were helmed by Howard Hawks), Virginia Mayo puts some shimmy into professor Danny Kaye. That's a serious downgrade in both roles. The only reason anyone cares about this version is the fact that Kaye is "researching" jazz so we get to see great performances by the likes of Louis Armstrong, Lionel Hampton and Mel Powell with Benny Goodman in a supporting role. I'll take Sonja Henie in the ice-skating silliness It's A Pleasure! ($14.98; MGM). At least that movie knows it's absurd.
Skins Volume 2 ($39.98; BBC Video) -- Goofily over the top, this British drama makes Gossip Girl look staid in comparison thanks to hyperactive plot twists that even daytime soaps might blush at. It's saved somewhat by a very appealing cast, led by Nicholas Hoult as Tony, a cad turned vegetable (bus accident, don't you know), Hannah Murray as the nutter Cassie, and Dev Patel of Slumdog Millionaire as the cool, tired of tradition Muslim teenager Anwar.
Pete Seeger: Live In Australia 1963 ($24.99; Acorn) -- I always found Seeger a bit of a pill. (Anyone who would get angry over Dylan going electric is inherently suspect in my book.) Even when Springsteen did that marvelous tribute album, Seeger couldn't help grousing that it should have been more political. But a PBS documentary made me like him more and appreciate all he accomplished in the face of tremendous adversity. Blacklisted in the US, he went overseas in 1963 and found a rapturous audience in Australia. This is a rough TV print but perfectly serviceable and it captures Seeger perfectly: he was never happier than when he was in front of an audience, passing along the tradition of folk music and teaching people a new song.
The Poker Club ($24.96; Sony) -- Actor Jonathon Schaech co-wrote, produced and stars in this I Know What You Did Last Summer for dudes who play poker. He's got good taste in friends: the underrated Loren Dean costars.
American Swing ($26.98; Magnolia) -- Gays are always portrayed as the sex-mad denizens of New York, but this documentary reveals the fascinating story of Plato's Retreat, an Upper west Side club for swingers.
Censored! Sinful! Forbidden! -- All the movies made in pre-code Hollywood have the allure of being naughty, whether they are or not and studios love to capitalize on that. Pre-Code Hollywood Collection ($49.98; Universal) jumps on the bandwagon with six flicks starring the likes of Cary Grant, Claudette Colbert and Tallulah Bankhead. The movies range widely in quality but you've got to like packaging that harkens back to old movie trailers filled with hype by calling them "6 SHOCKING films from the Era Before Rules!" Forbidden Hollywood Volume Three ($49.98; Warner Bros.) is the latest in a series but it might have been dubbed the William Wellman Collection since all six movies here were directed by him. You get stars like Barbara Stanwyck, Loretta Young and Mary Astor vamping it up. But the real shocker isn't sex: it's the socialist vibe of the Depression Era gem Wild Boys Of The Road. Great fun.
A Galaxy Far Far Away ($19.95; Cinevolve) -- A 10th anniversary edition of the documentary about the fans who put the fanatic in...uh...fanatical with their devotion to Star Wars. New extras include mocking video commentary, new interviews with the director and producer, new audio commentary, the original audio commentary, deleted scenes and more.
Fallen Angel ($39.97; Acorn) -- This 2007 UK miniseries stars Charles Dance and Emilia Fox in the unnerving story of how a serial killer arises. Even Dexter might appreciate a woman who kidnaps a little child as bait for snagging a pedophile. Also just out is the so-so Britcom Hallelujah! ($39.99; Acorn), starring Thora Hird as a Salvation Army captain in one of the most godless places in the world: England in the early 80s.
Snoopy's Reunion ($19.98; Warner Bros.) -- Personally, I prefer Linus, but I'm sure Snoopy is arguably the most popular Peanuts character outside of Charlie Brown. But like a lot of great supporting stars, Snoopy is best appreciated in small doses. So this DVD, with Snoopy enjoying a family reunion is definitely minor league Peanuts. Even less entertaining is the dated spoof of Flashdance with Snoopy as Flashbeagle.
Little Dorrit ($49.98; BBC Video) -- The umpteenth adaptation of a Charles Dickens novel by the BBC with a clever angle: the 14 episodes begin and end with one hour parts but the middle 12 are half hour installments with the feverish twists and cliff-hangar endings akin to reading Dickens in a serialized format the way they were originally enjoyed. Like so many recent UK productions of Dickens (especially Bleak House), they seem frightened of just presenting Dickens and feel the need to jazz things up with quick cuts and dramatic camera movements. It's not too feverish and the two leads (Matthew MacFadyen and Claire Foy) are strong quiet presences around which scenery chewing supporting actors like Andy Serkis and Judy Parfitt act up a storm.
BLURAY ROUNDUP -- Here's a rundown of new BluRay releases and whether you should pick them up.
The Day The Earth Stood Still ($39.99; Fox) -- $10 more than the standard DVD but it contains the original classic from 1951. Keanu Reeves is well-cast as an alien but the quiet, talky original makes the remake seem frantic. Good if you're a fan.
The Princess Bride ($34.99; MGM) -- A great, lovable film about the tongue-in-cheek fairy tale of the Princess Bride, her masked lover and Mandy Patinkin looking for revenge. It looks terrific on BluRay, undoubtedly, but it's $20 more than the standard DVD. On the other hand, this BluRay also contains a standard DVD so you've got a copy for the car or the kids and a copy on BluRay for the home entertainment system. If you don't own it, this could be worthwhile. But $20 more is a huge premium.
Slumdog Millionaire ($39.99; Fox) -- Much of the appeal of this Oscar winner is the brilliant cinematography by Anthony Dod Mantle and the music of A.R. Rahman and that comes across spectacularly on the BluRay edition. It's $10 more than the standard edition, unfortunately. If this is at the top of your favorite movies of the year, it might be worth splurging. Otherwise, no.
Sin City ($35.99; Dimension) -- Co-directed by Robert Rodriguez and Frank Miller (who clearly has a lot more to learn if you've seen his solo debut The Spirit), Sin City looks more and more impressive as flicks like Spirit and Watchmen strive to create the same excitement. It's $16 more than the standard DVD but it does contain both a restored theatrical edition as well as a lengthier Uncut Edition that was clearly put together with a lot of care. Loads of extras include Rodriguez hosting a "15 Minute Film School" among much else. A digital copy would have put this over the top. Pricey but worth it for hardcore fans. The Spirit ($39.99 on BluRay; Lionsgate) comes with a BluRay and standard DVD and digital copy and you won't enjoy watching any of them. Overheated and embarrassing adaptation of the classic hero.
No Country For Old Men ($39.99; Miramax/Paramount Vantage) -- OK, so it's $5 more than the original BluRay and $20 more than the standard DVD. That's just way too much. The movie looks great and has a digital copy and Bardem is genuinely spooky as an assassin. But you probably have a Cormac McCarthy poster on your wall if you're ready to buy this. And putting out a pricier Special Edition on BluRay after putting out the already expensive original BluRay release is highly questionable. This is the last thing you need to do when launching a format -- make people who have committed to it feel like they bought a title too soon.
Hellraiser ($29.97; Anchor Bay) -- A spruced-up, good-looking edition of the horror gem starring Pinhead. Lots of extras. It's $15 more than the standard DVD, which isn't a surprise since the movie came out in 1987. Major fans already have the first two Hellraisers, so would they want to pay $59.97 for the boxed set? It comes in a very nifty design that mimics a prop in the movie. But it also contains a complete Hellraiser 1 and 2 on DVD and then Hellraiser again on BluRay. Lots of BuRays also contain a standard DVD, but not often in an entirely new case. Any fan would already have the first two so they're spending an extra $30 just to get the case, assuming they have BluRay. It's a headscratcher.
South Pacific ($34.98; Fox) -- Rodgers & Hammerstein were not treated well by the movies. They produced ground-breaking shows that were softened and blanded up by the time they got to the silver screen. I've seen great live productions of Oklahoma and Carousel and South Pacific, to name three and the movie versions are more like wax museum pieces than exciting renditions of what R&H created. (Only The Sound Of Music, one of their less revolutionary shows, is well captured on film, perhaps because it didn't raise the thorny issues of racism or wife beating and rape that the other shows did and so there was nothing to hide.) This new BluRay edition features a stunning-looking theatrical edition of the movie starring Mitzi Gaynor and Rossano Brazzi. On the second disc, you get the 15 minute longer Road Show version, which is noticeably less impressive. I know it's expensive, but would it have killed them to restore that extra 15 minutes? Fine extras. But watch most of the R&H movies and it's clear that they are ripe for remaking. Hugely popular titles with worldwide name recognition, they shouldn't just be revived on stage or in TV movies. R&H movie musicals can easily surpass the originals with smart casting and some creativity. So what are they waiting for?
Popular in the Community