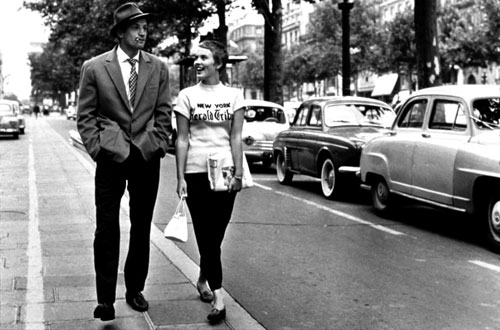 The biggest mistake of Jean-Luc Godard's career was his 1961 masterpiece Breathless ($39.95; Criterion). Yes, this riff on American gangster flicks starring Jean-Paul Belmondo and Jean Seberg was formally daring. But it was also sexy, funny, effortlessly entertaining and audiences loved it. Godard would never make that mistake again. He slipped a few times and made films that were somewhat entertaining, if baffling. But by the Seventies he seemed ashamed and apologetic for having made such an accessible, delightful work as Breathless and made up for it by turning out one dreary film after another. Happily, that glorious mistake - Breathless - lives on despite Godard, and Criterion has delivered its typically marvelous packaging with an impeccable print and loads of extras and essays including an 80 minute making-of documentary.
No such doubts ever plagued director Sergei Eisenstein, who delivered masterpieces his entire career. Perhaps his greatest is Battleship Potemkin ($29.95; Kino), available in a lavish newly restored edition that does justice to his triumph. Some silent films are timeless but still of their era, like the works of Charlie Chaplin and D.W. Griffith. But the riveting, thrilling Battleship Potemkin could have been made yesterday and remains remarkably modern. The only mistake people make about this film is thinking the iconic Odessa Steps sequence is all they need to know about it.
It sounds like George Lucas is making a mistake by plundering the world of Star Wars for a live action TV series. Hasn't he done enough damage with those three dreadful prequels? But the TV series The Young Indiana Jones Chronicles seemed like an awful idea to everyone in 1993 and that didn't turn out so bad. Sure, Lucas ensured the show would be a bit plodding thanks to his desire to make it "educational." And the early episodes with a 10 year old Indy being dragged around the world by his parents and tutor were rather dutiful.
But great casting can solve a lot of problems. When Sean Patrick Flanery popped in as the teenage Indy, the show took off. Flanery had the plucky spirit and gee-whiz enthusiasm just perfect for a young Indy; the adventures became more organic and high-spirited once his parents were mostly out of the picture; and the lectures about history and art and so on faded into the background. Indy still bumped into every famous person on the planet - from Thomas Edison to Tolstoy - but it didn't seem so tiresome with Flanery around to get into real scrapes. (It's a shame he didn't get to make the leap to the movies as young Indy, since Lucas planned to make a trilogy around River Phoenix and Flanery would have been a perfect fit.)
But The Chronicles of Young Indiana Jones Volume One ($129.99; Paramount) isn't the TV show, as such. It contains 7 "movies" cobbled together from 2 episodes each and eliminates the framing device of old Indy reminiscing about his younger days. People shouldn't complain too much, since the show was extremely expensive and hardly a big hit. But it would have been nice to get the old Indy scenes included on the extras or at least the pilot in its oringal form.
Instead we get dozens and dozens of mini-documentaries on the historical figures and eras Indy was involved in, ranging from Norman Rockwell to the suffragette movement. Typically, they're about 20 to 30 minutes long and quite good. So what to say? Those who prefer to see a favorite TV show the way it actually aired will be stuck in limbo for years if not forever, just like the fans of Star Wars who lamented Lucas's ban on the original theatrical edition for so many years. (There will never be enough demand to prompt the release of the show in its original form.) Those who might expect loads of extras about the making of this ambitious, globe-trotting show get nothing. Those who prefer the far more popular teen Indy Flanery must pay to get just two Flanery movies tacked onto the five movies of young Indy, rather than sets devoted to each actor. But any families looking for wholesome entertainment that is - gulp - good for you might trick their kids into watching these tales and the fine history lessons that come with them.
Anyone with sense will tell you that the current theatrical hit The Assassination Of Jesse James By The Coward Robert Ford has to be seen on the big screen. Besides the riveting performance of Casey Affleck as Ford, it's one of the most beautifully shot films of the year. But thanks to flat panel TVs and home theater sound systems, watching even the most visually stunning films at home isn't cheating yourself anymore. So go ahead and buy Days of Heaven ($39.95; Criterion), the Terence Malick film that clearly inspired Jesse James and remains one of the most beautiful films of all time. Your home theater system deserves it.
Was the finale of The Sopranos a mistake? Watch the final episodes all over again on The Sopranos Season Six, Part 2 ($99.99; HBO) and you'll be better prepared to judge whether that abrupt cut to black was brilliant or a brilliant cop-out. No one can argue that James Gandolfini made no mistake when he oversaw the wrenching documentary Alive Day Memories: Home From Iraq ($24.98; HBO), the film that does our wounded veterans the respect of seeing them and acknowledging them face to face.
Also out this week: Disney's animated flick Meet The Robinsons ($29.99; Disney); The L Word Complete Fourth Season ($55.98; Showtime), because lesbians and the people who love them deserve a guilty pleasure just as much as everyone else; the fascinating I Was Nineteen ($24.95; First Run), which depicts a Soviet soldier of German descent returning home as a victor; Heart embraces the trend of artists performing classic albums in their entirety with Dreamboat Annie Live ($19.98; Shout), an April concert that finds Ann and Nancy Wilson in great voice and doing some terrific encores, though a commentary track or full documentary about the actual making of their debut album would have been nice; a three DVD celebration of Rey Mysterio ($34.95; WWE), the "biggest little man" in professional wrestling; director John Huston's triumphant rebound from Annie with Under The Volcano ($39.95; Criterion); Route 66 Season One Volume One ($29.98; Infinity Entertainment Group), the classic anthology series disguised as a Kerouac-ian road trip; A Musical Quartet ($69.95; First Run), a compilation of four marvelous classical music documentaries , which would be even more appealing at a lower price; and The Ruth Rendell Mysteries Set 2 ($49.99; Acorn), a British anthology series with the usual embarrassment of excellent UK actors.
So tell me, is George Lucas making a mistake by setting a live action TV series in the Star Wars universe? Have you ever seen Young indiana Jones? And was Godard a great filmmaker, a one-hit wonder or just a great filmmaker who got bored with the audience?
REAL LIFE. REAL NEWS. REAL VOICES.
Help us tell more of the stories that matter from voices that too often remain unheard.