You bet he is. For me, actors can get on a roll and make good, popular films. But the true sign of a movie star is when they can pull audiences into movies that aren't very good. Steve Carell has been doing that in spades. His animated film Despicable Me struck me as bland and predictable. But word of mouth has been good and it's turned into a $225 million blockbuster. Even Dinner For Schmucks, co-starring the always appealing Paul Rudd, has pulled them in, despite terrible reviews. And then there's Date Night.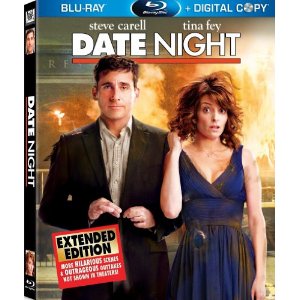 The story of a couple who "steal" a table at a fancy restaurant when they take someone else's reservation, Date Night ($29.98 regular or $39.99 BluRay; Fox) is an After Hours romp where one bit of misunderstanding plunges a suburban husband and wife into dangerous waters. Carell and Tina Fey have nice chemistry as the couple but Date Night is so witless and unimaginative, it's hard to believe the film actually had legs and grossed about $100 million in the US alone. Mark Wahlberg has a supporting role as a client of Fey's who is a muscled god and never wears his shirt. Three different scenes and that's the entire joke: he's in shape and he doesn't wear a shirt. And that's one of the more amusing moments in the film, which is filled with stupid chase scenes and an absurd finale.
As in all these movies, Carell is appealing as an Everyman who just wants to put a spark back into his marriage. In The 40 Year Old Virgin and Little Miss Sunshine he proved he had range and an awkward charm, even if his legacy may still be The Office (and who wouldn't be proud of that?). But Evan Almighty, Dan In Real Life, Get Smart and this latest trio show Carell may lack the one crucial ingredient of a movie star: the ability to pick good scripts. Here's hoping he pulls it together before audiences tire of him.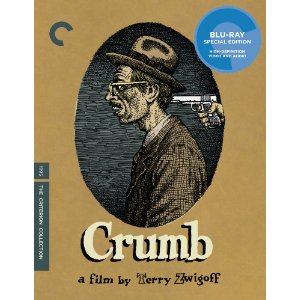 CRUMB ($39.95 regular or BluRay; Criterion) -- Still one of the most jaw-dropping documentaries ever made, Terry Zwigoff's masterpiece is two films rolled into one: an appreciation of Robert Crumb, a major artist in the world of comix, as well as a depiction of a startlingly odd family. It's essential viewing for anyone who loves the movies, very funny and with a twist or two that is genuinely shocking. Several moments are lodged into my brain and will never leave: the one brother who sleeps on a bed of nails and cleanses himself by feeding a very long piece of string into his mouth and out the other end, a glimpse at the private journal of the other even sadder brother and Crumb himself on a couch remembering old times with his mother and saying defiantly, "Well, somebody gave us enemas!" As a tribute to the film, I keep a copy of the 1950 Disney version of Treasure Island always on my DVR. If someone spots it and laughs, I know we're going to get along just fine. Also out is Zwigoff's earlier film Louie Bluie ($24.95; Criterion), an hour long look at the wildly entertaining musician and raconteur Howard Armstrong that serves as an excuse for telling the history of traveling jug bands in their 1930s heyday. Obviously, this is the film that probably gave Crumb the confidence to let Zwigoff into his life so these two films are forever linked in the best possible way.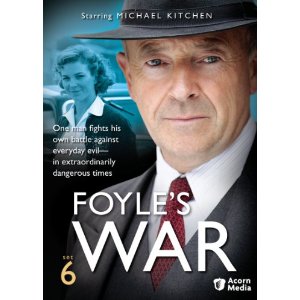 FOYLE'S WAR SET 6 ($49.99; Acorn) -- I'm a huge fan of encouraging TV shows to stop while they're still on top creatively, something very very few series ever manage to do. And Foyle's War was always conceived as concluding the same time as WWII. But here it is, the war is winding down and Foyle -- a brilliant, terse Detective Chief Inspector -- is back on the job. And I'm glad. It's no fun when the "team" -- Foyle, his sidekick Paul Milner and the irrepressible Sam (played by the brilliantly named Honeysuckle Weeks) -- isn't together. And that's what we get off and on for these three new movies. But Michael Kitchen is so good as Foyle that I can't help being pleased at seeing him again. And it's certainly a good sign that the three movies get better and better, with the third hinting that Foyle might just be headed for America. Fine, but for heaven's sake, book Honeysuckle on the same voyage. Also out from Acorn is the latest in an endless stream of Poirot movies. Set 5 ($49.99; Acorn) with three stand-alone features has the temerity to tackle Murder On The Orient Express and while I won't forget the movie anytime soon, Barbara Hershey and Eileen Atkins are a treat alongside David Suchet's definitive characterization. Finally, there's Touching Evil The Complete Collection ($79.99; Acorn) stars Robson Green as the prototypical crime fighter who can instinctively get into the mind of the baddies. It's far less well known in the US than it should be, so dive in to the series, which has eight movie-length adventures.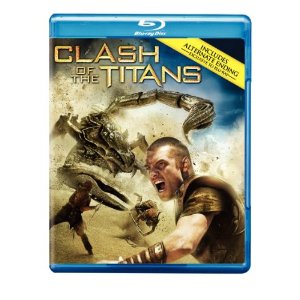 CLASH OF THE TITANS ($28.98 regular DVD or $35.99 BluRay; Warner Bros.) -- Finally we can put aside all the brouhaha about the rushed 3-D (which was pretty bad) and the weekend to weekend box office analysis (ultimately, the movie grossed $490 million worldwide and there will be a sequel) and just deal with the movie on its own terms. And on its own terms, unfortunately, it's awful. But then, so was the original ($34.99 BluRay; Warner Bros.), so it shouldn't be that much of a surprise when they hadn't rethought the movie so much as just reshot it. Sam Worthington has been in this and Avatar and he needs to get himself into a good role real fast or he's going to be having lunch with Gerard Butler soon where they try to figure out exactly where it all went wrong.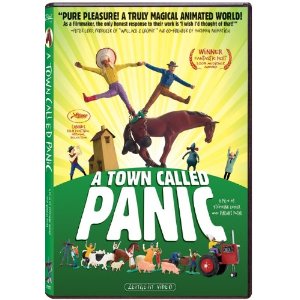 A TOWN CALLED PANIC ($29.99; Zeitgeist) -- This goofily silly stop-motion animated movie tells the anarchic story of Cowboy, Indian, and Horse, three roommates in a sprawling home who bicker and fight and team together to deal with invading aliens, neighbors, and an extraordinary number of bricks. Based on a Belgian children's TV show, this is a stop-motion animated film about the lives of Cowboy, Indian and Horse, three friends who live together in a house next door to a very loud, boisterous farmer. Horse loves the local music teacher but is too shy to admit it. Cowboy and Indian order bricks online to build a BBQ pit for Horse's birthday but accidentally get 50 million bricks instead of just 50. The bricks become a problem, of course. The hyper voices of the characters like the Postman and the Policeman are very winning and the occasional "bastard" and "merde" shows the tone is slightly more adult that the series presumably is. It feels stretched out even at 76 minutes but it does make one long to watch the TV series it sprang from. Twenty two minutes an episode with these guys sounds like a blast.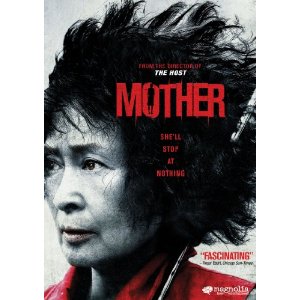 MOTHER ($26.98; Magnolia) -- Bong Joon Ho's The Host -- the best monster movie in years -- was so much fun I can't help being a bit let down by his new film, even though it has merit. A mentally challenged young man is railroaded by the police into confessing to the murder of a high school girl that has shocked the community. He was seen in the area where the body was found, drinking and flirting with another high school girl just hours earlier. Finding a golf ball with his name on it near the body didn't help his case either. What's to investigate? But the young man's determined mother wants to clear his name. She starts by hiring the most expensive attorney in town but he's too dismissive. So Mother stars investigating on her own, discovering that the murdered girl was famously promiscuous and had a cell phone with pictures of all the men that slept with her. Wouldn't any loving mother hide in the homes of thugs to get evidence, hire people to beat up potential witnesses and get information or do just about anything to free her son? Both the mother and her son are well-acted, but after the fifth or so shocking revelation, the story becomes both more far fetched and more predictable. That doesn't take away from the central appeal of the revenge/justice engine that drives the film. But it's ultimately more of a melodrama than a gripping portrayal of what love can drive people to do.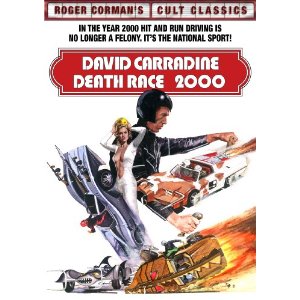 DEATH RACE 2000 ($19.98 regular or $26.97 BluRay; Shout) -- Shout Factory has been lovingly presenting a string of Roger Corman B movies with loads of extras and with the best picture quality they've probably ever enjoyed. But this is the one I've been waiting for: Death Race 2000 is pure popcorn trash, a C or D movie that "satirizes" society's lust for sex and violence while it serves up plenty of sex (or at least glimpses of breasty women) and violence. David Carradine stars as the most successful competitor in Death Race, a competition where you score points for injuring and killing bystanders. The bad guys, hilariously, are not the heads of state feeding bread and circuses to the masses but the protesters who want to stop it. Sylvester Stallone co-stars and they would all go on to better work. It's by no means a good movie, but it's drive-in heaven and really does offer up just about every bonus (even including chats with the composer and the costume designer) you could hope for.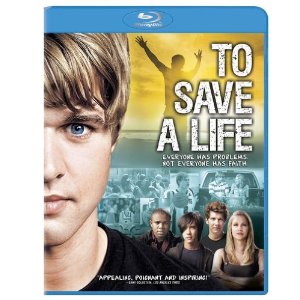 TO SAVE A LIFE ($24.96 regular or $34.95 BluRay; Sony) -- Unless you're a born-again Christian, you probably aren't aware of To Save A Life and the home movie trend it represents. In essence, some megachurches decided a great way to witness was to make a movie. In a "hey kids, let's put on a show" spirit, they funded their own very independent films and used local talent. Then wisely, they would release the film in community after community, with busloads of local churchgoers making a day of it and literally rang up millions in grosses. It was remarkably effective on every level...except the creative one. But with time, these movies have improved a bit and even wisely cast genuine actors in lead roles to carry the heavy lifting. That's the case with To Save A Life, a better than most example of this micro-indie trend. It stars ready for CW handsome actor Randy Wayne as Jake Taylor. He's a kid sucked into the whirl of the popular kids at his high school, even turning his back on his best friend. And don't forget, his best friend is one of the few black kids at school and has a permanent disability because he threw himself in front of a car to save Jake's life. Jake's new friends aren't just cool, of course, they're basically complete jerks. And when his former best pal commits suicide, Jake has a crisis of conscience, accepts Jesus into his heart and uses his skills to turn the heartfelt Christians into the coolest (and most welcoming) clique on campus. To Save A Life does a pretty good job of showing genuine temptation (sex is on everyone's mind), though clearly the deck is stacked against the loser non-evangelicals. (Really, does everyone who's not born again have to be such idiots?) And the lame-brained finale throws common sense out the window just to give our hero a cathartic moment. But if these movies keep improving, they might soon make one that's both good and good at what they want to accomplish. At the moment, it's hard to imagine To Save A Life doing more than entertaining the kids who've already bought into its message.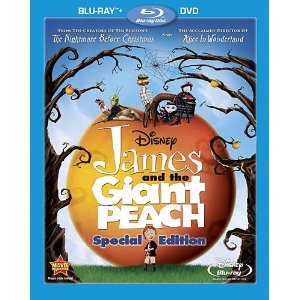 JAMES AND THE GIANT PEACH SPECIAL EDITION ($39.99 BluRay; Disney) -- You know, Pixar isn't the only game in town when it comes to great animated films. Surely Henry Selick deserves more accolades for his terrific string of films: The Nightmare Before Christmas, the live-action animated cult film Monkeybone with Brendan Fraser, instant classic Coraline (which has the best use of 3-D by any movie, period) and James and the Giant Peach. Based on the only book by Roald Dahl that I really like, it captures the black humor of Dahl as James inadvertently crushes his guardians and then heads off on a lark with Miss Spider, Grasshopper, Lady Bug and the rest. No small reason for its excellence is the top-notch score by Randy Newman (one of his best). It's a great reminder that Selick is one of the best talents working in movies today.
NOTE: Michael Giltz is provided with free copies of DVDs to consider for review. He typically does not guarantee coverage and invariably receives far more screeners and DVDs than he can cover each week.
Popular in the Community